Kristen Stewart and Chvrches Are Collaborating for Planned Parenthood
St. Vincent, Zach Galifianakis, and John Legend are involved too.
---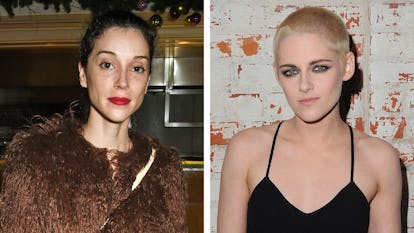 Composite. Getty Images
Kristen Stewart is working a mysterious new project for Planned Parenthood. While the details aren't clear, we do know that the actress, who is increasingly showing interest in directing, went behind the camera for the effort. We also know that one of Stewart's favorite bands, Scotish synthpop outfit Chvrches, is involved as well. She told the Los Angeles Times: "I had been asking them to let me do something for them for a while. … They're so good." The project is musical in nature, and Stewart says it definitely expresses the Planned Parenthood mind-set. "I ended up with a pretty simple but definitive narrative arc that highlights the cause in a sweet but quiet and confronting way," she explained.
Stewart and Chvrches aren't the only ones standing by Planned Parenthood. According to Pitchfork, St. Vincent, Zach Galifianakis, and John Legend are all also working on something for the organization, which provides health care services to 2.5 million Americans annually and is currently under the threat of defunding from Republican politicians. Brandon Stosuy, a former editor at Pitchfork who now serves as the editor-in-chief of the Creative Independent, recently announced as much, sharing a photo of St. Vincent and Legend working together at a piano, with Galifianakis nearby.
It's not clear when exactly the collaborations will actually arrive. Still, the musical endeavors are but the latest show of support for Planned Parenthood from the entertainment and fashion industries. From bright pink displays of solidarity at fashion week to Miley Cyrus and Marilyn Minter's collaboration, notable figures have been putting themselves on the line for Planned Parenthood.
Kristen Stewart, specifically, has been openly critical of Donald Trump for months. Most visibly, Stewart hosted Saturday Night Live this year and used her monologue to joke about the president while telling him that she's "like, so gay."
Watch Kristen Stewart take W's Screen Test: