Kristen Stewart and Stella Maxwell Crashed a Wedding, as One Does
Pizza and beer were involved.
---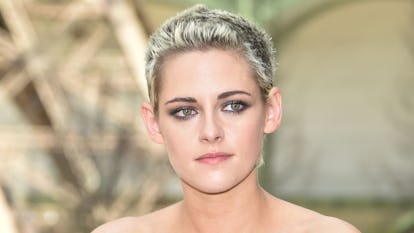 Stephane Cardinale/Corbis/Getty Images
A Victoria's Secret Model and a Hollywood starlet walk into a random wedding, and, well, the brides were actually surprisingly chill with it. Yes, Kristen Stewart and her girlfriend, Victoria's Secret model Stella Maxwell popped into a Winnipeg wedding reception this past Saturday, surprising the two brides, Kirsten and Kayleigh Jennings, who were actually only vaguely aware of who their surprise guests were.
After Kayleigh and Kirsten's backyard wedding, the couple and their guests were celebrating at Pizzeria Gusto, the owner of which has "helped out at an event" for Stewart recently, according to the CBC (Stewart has been in Winnipeg shooting a movie). "The owner came up to me, and he said, 'Hey, is it ok if Kristen Stewart and her girlfriend Stella come and have a few drinks with you guys?' and I was, like, 'Yeah, totally! Yeah, no problem. Um, who is that?'" bride Kirsten Jennings told the network.
Soon enough, both couples were dancing the night away—Kirsten Jennings estimates that Stewart and Maxwell stayed at the party from 10 p.m. to 1 a.m. "I actually wasn't as starstruck as I thought I would be," said Kayleigh Jennings, though Kirsten Jennings noted that her "Aunt Linda was extremely excited."
"They looked just like two normal girls. They look a little Hollywood, but if we didn't know who they were, I don't know if I would have known," said Kirsten Jennings. The couple treated their new guests like they would anyone else: They showed them "Southern hospitality. Winnipeg hospitality" said Kayleigh Jennings, an Oklahoma native.
The newlyweds have been together since 2010, or, to put it terms of Stewart's career, since the release of Twilight: Eclipse. They met while bartending in the Cayman Islands, according, and eventually relocated to Canada in part because same-sex marriage wasn't federally recognized in the United States yet. But their next move will be to Austin, Texas, to get out of the Canadian cold.
No word on whether Stewart and Maxwell were feeling the need to check out a wedding for any particular reason, but the pair are known for random outings. They've previously been spotted at Moschino shows, Fourth of July parties in France, and hanging out car windows trying to get the perfect selfie.
RELATED: Why Don't We Take Kristen Stewart, Actress, Seriously?
Watch Kristen Stewart Take W's Screen Test:
Kristen Stewart's Hair Evolution, from Gothic Glamour to Blonde Buzz-Cut
Kristen Stewart received critical acclaim for her role in "Into The Wild," and stellar marks for her beauty look at the premiere in 2007.

FilmMagic
Rocking tousled locks, rosy cheeks and a subtle smoky eye, Stewart looked fresh and youthful in 2008.

Getty Images
Attending the screening of the 'The Twilight Saga: Eclipse' in New York City, Stewart wire her golden brown locks in a tousled boho braid with a red smoky eye and a nude lip.

WireImage
At the "The Twilight Saga: Breaking Dawn – Part 2" premiere, Stewart was a vision of romance with big soft curls, a light golden eye and a red lip.

WireImage
Attending the Costume Institute Gala in New York City, Stewart let her bold purple eye makeup shine by pulling back her brown hair and keeping the rest of her makeup neutral.

FilmMagic
Stewart looked like a rockstar at the premiere of Still Alice in 2014 with an edgy haircut and frosted blue eyeshadow.

FilmMagic
A messy low ponytail perfectly complimented Stewart's dramatic black winged smoky eye at the premiere of American Ultra in 2015.

FilmMagic
At the New York Film Festival premiere of her latest film, Billy Lynn's Long Halftime Walk, Stewart wore her bleach blonde hair in a short cut that showed off her playful pink makeup.

Getty Images
Attending the Film Independent at LACMA screening of her new film Personal Shopper, Stewart paired her chic black eyewear with a dark smoky eye and red lip while keeping her brunette pixie slicked back. (2017)

Photo by Getty.
A daring new look for Stewart, the actress debuts her freshly buzzed platinum blonde hair at the IFC Films Personal Shopper premiere in Los Angeles in 2017.

Photo by Getty.
Just before the 2018 Oscars, Stewart debuted a mullet.

Getty Images
Kristen Stewart and her mini rattail attended a photocall at the 71st annual Cannes Film Festival at Palais des Festivals on May 8, 2018.

Getty Images
Kristen Stewart's take on a rockabilly quiff was front and center at a screening for *Knife + Heart (Un Couteau dans le Coeur) at the 71st Cannes Film Festival on May 17, 2018.

Getty Images
Kristen Stewart's dirty blonde coif was on display at the Chanel show as part of the Paris Fashion Week Womenswear Fall/Winter 2019/2020 on March 05, 2019 in Paris, France.

Getty Images
Kristen Stewart's fiery tips and bleached brows shocked the crowd at the 2019 Met Gala celebrating "Camp: Notes on Fashion" at The Metropolitan Museum of Art in New York City.

Getty Images
Kristen Stewart wore a slicked back pink pompadour fastened with black barrettes during the 45th Deauville American Film Festival on September 13, 2019 in Deauville, France.

Getty Images
Kristen Stewart is still growing out her formerly blonde pixie now that Charlie's Angels is in theaters.

Getty Images