Kristen Stewart, Unfiltered and Unapologetic
The actress, who is starring in three films at the New York Film Festival, cuts loose on the fashion industry, our hang-ups with sex scenes, and her ever-present anxiety with fame: "I'm so fucking masochistic," she says.
---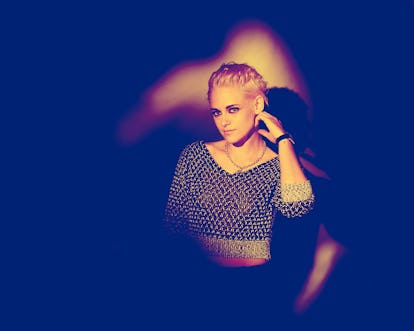 To say 2016 is treating Kristen Stewart well would be a gross understatement. Earlier this year, the 26 year-old became the first American to win a César award (the French equivalent of an Oscar) for her performance in Olivier Assayas's film Clouds of Sils Maria. Since then, she has starred in no less than five movies, including Woody Allen's Café Society and the dystopian love story Equals. And at the New York Film Festival at Lincoln Center right now, she appears in three projects: the sister of a soldier returning from Iraq in Ang Lee's Billy Lynn's Long Halftime Walk, a celebrity assistant and medium mourning the death of her twin brother in Assayas' metaphysical thriller Personal Shopper, and a Montana lawyer-cum-teacher who captures the affections of a lonely rancher in Kelly Reichardt's Certain Women (opening October 14th).
On a balmy fall day, Stewart, whom Assayas recently deemed "the best actress of her generation," sits in a hotel room nursing a cold and speaking in a fast-paced stream of multi-clause, expletive-dappled sentences that suggest her mouth can barely keep up with the thoughts racing through her head. Dressed in a biker jacket, white tee and tweed short shorts, she seems as unfiltered and candid as the often raw image she projects onscreen.
Your character Beth in Certain Women is a bit of a cipher. We only really see her through the lens of someone else [Jamie, the rancher]. What was the draw for you in that respect? And how do you approach someone who is unknowable to the audience? There is a remoteness that I had to step outside of myself to acquire. Certain characters that you play can either reveal aspects of yourself that just aren't apparent to you until you go, "Oh wow, I do have a bit of that." [Beth] is somewhat at this stage of her life [where] she's not giving a whole lot to other people. She's had to insulate [herself] and not in a malicious way, but I think she's super fucking self-absorbed, you know what I mean? So tired and self-protective. Beth is super… not cagey, but very quietly guarded. And I think her presence is somewhere inside. Which is to me, I'm, like, splattered. I'm completely not like that. She's quiet, she's really still, she's exhausted and totally desirous of something she feels like she'll never have, which to me is validity. She wants to feel valid. I think that's a through line in the movie. They all want something they can't have. Or they're all up against an immovable object. They're all on a grind. And it's not self-aggrandizing. It's not like a more typical commercial female story where it's like, "These women are fighting for a great cause and it's moral." It's small. They are stories you wouldn't typically focus on — they're not mundane, they're so beautiful in their regularity. There's this opposition to structure, the way things are. You have one woman [played by Michelle Williams] in a marriage who's obviously toying with the conventional dynamic of that or messing with it. And then you have one woman [played by Laura Dern] who is acknowledging the illogical nature of bureaucracy and how men don't really listen to women when they speak in that environment. And then you have a girl who just wants a friend and is looking in the wrong place. And then a girl who just wants to be fucking valid and is looking in the wrong place. And nobody really resolves anything. None of them. [Kelly Reichardt] shows you this quiet struggle and it's over. And that's so true to life. Not all things worth making a movie about find a resolution. Or, not all things worth making a movie about are easy to describe in a slug line. It's so hard for me to tell people what this movie's about. Like, I don't know, women in Montana? Like living there? Living lives?
Jamie may be looking for a friend in Beth, but there's also an undercurrent of romance there. She's not quite sure how she feels about her, but she has a crush on her, for sure. And doesn't know why she feels so weird around her.
Do you think Beth has any clue whatsoever to the impact she has on Jamie? I genuinely think when [Jamie] comes to her [office] at the end, that she's like, "What the fuck." It's so painful. Oh man, it's so fucking painful. It's not an unrequited love story, but it has the gut-punching effect of one. [Lily Gladstone, who plays Jamie] is so good in that scene. And it's so small. She doesn't do much of anything, it's just, "Well, I knew if I didn't start driving I'd probably never see you again." And I'm like, "Yeah… bye!" It's fucking terrible! It's like, 'Aww, man!' I really don't think that Beth ever looks at her. I barely look at her. I'm looking at my food, I'm looking at my phone, I'm wondering what time it is, I've gotta get in the car… and I usually play the person who's quietly watching someone.
I was thinking that when I was watching it and wondering if that was tough for you to be the one who's… … Talking shit! Yeah, it's painful. It's weird because as an actor, most of my experience has been just being incredibly observant and it was weird to have to shut off and recede into myself. But not in the way that I normally recede into myself. This was a receding that was cold — it was really cold. I feel bad for people like that. Something's going to happen to Beth and she's gonna realize how deeply she's buried herself inside and she's not just okay with everything.
Kelly's films are so, so quiet. So little happens, but so much happens. You've been in much bigger, more demonstrative films and roles. What was it like to work with a director whose aesthetic is so quiet? I love her movies. I think they don't feel like anybody else's movies. It's super vulnerable to do nothing on screen or on a set. Most actors, you just grow accustomed to showing stuff. You show people how you're feeling. You tell a story. And in this case it's just so much more vulnerable and telling when you just sit in something. She'll roll for a really long time; the takes go on forever. There is something really beautiful about mundane things. And there's something really, really beautiful about living. You can write a story and then really deliver it to someone, but that in itself isn't true. So the only way to capture something that feels super authentic is to sit around and wait for it to happen. Most people don't have the patience for that, most people aren't willing to take risks like that. It's a risk. And she really does create an environment and instills it with this faith. She allows you to be comfortable not being in control in any way. There's no expectation. Usually on a movie set you have sides, you have scenes and marks on the floor, and there are things that are supposed to happen by the time we call "Cut!" And for her it's just not like that. And what you end up seeing is people just living.
In Certain Women, you're part of a very small slice, whereas in Personal Shopper you're in practically every scene. How exhausting was the a role of Maureen? She's going through so much emotionally. It was a lot. I had just finished Café Society in New York, which was lovely, just fun. But still somewhat taxing. I didn't have a day off in between. I got on a plane and we were shooting two days later. I think we kind of grossly underestimated the workload. The movie ended up being really fucking hard. We worked six-day weeks, 16-hour days. And it's good because you have to earn that look. I look like I'm fucking so exhausted and crazy in the movie, which is so perfect! Traumatic loss, especially for someone who is already too neurotic and contemplative and contemplating infinity — but a traumatic loss like that, especially the death of a twin… She cannot make sense of any of her existential questions. Nothing has an answer and she's not okay with it. For anyone who's dealt with anxiety or just been not able to process space and time and having a physicality and a soul and all those basic questions — "Are we alone?" and "Is this fucking real?" — those questions are scary, but they're ones you kind of push down. This is a movie about somebody who has lost herself completely to a point where those things are debilitating. And god, that would suck. I've gotten — not close to that, but I can understand that mental struggle. But I've never hung so low. So that was isolating and terrible, and also I never stopped running around. It was freezing fucking cold and lonely. She's the loneliest person I've ever played. She's completely fucking alone. She's isolated herself utterly. And it's sad. And then [she] has weird identity issues? She's like, "I'm attracted to those things, but I don't respect it."
Yes, she has a tough relationship with all of the high-end fashion she pulls for her celebrity client. On the one hand, she's enthralled by it; on the other, she's scared of it. I'm curious how that plays out for her, but also how it plays out for you. You're someone who is in the world of fashion, modeling for Chanel, but it doesn't define you. How do you feel about dipping your toe in there and then stepping back out? In fashion, the people who do it really well and love doing it and are naturally doing it, it's the reason they're the most successful ones doing it. Because they're fucking artists, man, and one of the coolest things about my job is being able to be around other people making shit. And it's not what I do. But it all kind of comes from the same place. So for me it's fun to be a part of someone's vision. It's something I've always enjoyed. And, not to sound ridiculous, creating iconic images that say something. I know it sounds silly, but telling a story with a garment, putting it in the right environment, walking it the fuck around correctly — it's beautiful to me. And also these people, they're really fucking smart. Everyone that works at Chanel and all the costume designers I find to be beautiful artists are some of the coolest people I've ever met. It's not what I do, but I love to be around it. So it just works out for everyone. But I also acknowledge and fucking disdain the other aspect that that world attracts, which is fucking blatant… not just superficiality, but, like, mean people. Fucking really aggressive c—ts! I'm sorry. Really aggressive people. People who would walk over your dead body. So those people are not artists. But that's why fashion gets a bad rap. But it's a pretty diverse world, I have found. But in the movie, [Maureen] loves that shit. She really, really admires it. And at the same time, doesn't think she's worth it. And is like, 'What the fuck am I thinking? Why do I think I could ever…?' But then is so obsessed with it. And then looks at herself and is like, 'I'm not that. I want to be that. But I will never be that.' So then she resents it and calls it bullshit. But wants it.
You mentioned vulnerability earlier with regards to working with Kelly. There's a different kind of vulnerability in Personal Shopper, in terms of your nudity, the sex scene. Was that something you hesitated on at all? I wasn't apprehensive. I feel super great with director Olivier [Assayas], as well. The scenes in which I don't have clothes on or the scenes that seem "risqué" from an outsider's perspective, there was no acknowledgment on his part. They're very fucking French. We are weirder about shit like that. You kind of have to take yourself personally out of it. My personal feeling about that is that I'm really unashamed, but within the context of the story, there's a lot of shame. She lives and breathes fucking shame and guilt. And so it's kind of nice to see someone stripped and bare, totally bare. There's a strength in it. There's an aspect of sexuality in the movie that's so lonely and that is just one of the saddest things. She's not with anyone. Like the sex scene? Totally alone. She's interacting with a fake person on a phone. And there's just something so fucking raw about it, and without that stuff it would be a different thing. I think people are way, way, way too precious about that. It is precious, that's probably the wrong word to use. I still want women's bodies and the way they want to reveal them, it should be a precious thing, I don't want to de-sexualize it in some way. But at the same time, I'm not weird about it. I'm pretty open. I think people are a little too fucking weird about it, to be honest, but that's kind of why I was like, "I'll do it."
You alluded to anxiety earlier on when you were talking about Maureen's existential questioning. And you've spoken before about your anxiety issues. Being an actress and growing up in front of everyone the way you have is probably the worst thing a person who is anxious could do. It seems almost masochistic. I am so fucking masochistic.
So has that anxiety abated for you? And what keeps driving you? You're basically doing something that, as you've described it, is against what your nature would want of you. It is. It really is. Honestly, I haven't done a press day in a while and this is great and I've really enjoyed this. This is totally fine. But this morning I was like, "Fuck!" I really have to push myself. On a constant basis, I'm always like, "Okay, fucking just do this!" I feel that way about projects I choose. There's one movie next year that I'm going to do. And I talked to the director the other day and I was like, "It's really weird, I read the script and it's so fucking easy for me, I should do it." But then alternatively, there are parts where I'm like, "Oh god, this is gonna kill me." And that's what I'm most excited about. That's when I really get amped.