Kourtney Kardashian Calls Out "Kylie Billionaire Jenner" for Her Entitlement in KUWTK Teaser
"No one says anything because she's Kylie Billionaire Jenner."
---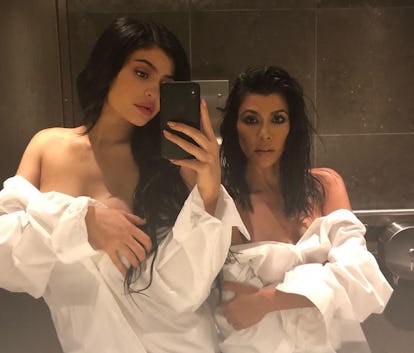 instagram.com/kourtneykardash
Kylie Jenner may be the most financially successful member of her family, thus far at least, but she's not immune to their criticism. In a new look at Keeping Up With the Kardashians her sister Kourtney Kardashian takes aim at the youngest member of the clan. According to the eldest Kardashian-Jenner child, the founder of Kylie Cosmetics needs to work toward more personal growth.
Kourtney has had enough of Kylie's entitlement, as she says in a teaser for the next episode of the 16th season. "She has this like, entitlement—no one says anything because she's Kylie Billionaire Jenner," Kourtney tells matriarch Kris Jenner over the phone, who has just called her up to complain about Kylie. Kourtney's comment comes as Kris and Kylie are in the middle of a feud over Kylie's office space, which the mother of Stormi Webster claims Kris is trying to overtake.
"My office that I just got and pay way too much a month [for]—I've spent so much time making it perfect," Kylie vents to Khloé Kardashian, adding that Kris is "just doing too much with my office." That includes taking Kylie's parking spot, which she cares about more than anything else, office-wise, as she says. "It's just getting out of hand," Kylie complains.
Of course, Kris has her own side of the story, which she explains to Kourtney. "Kylie's been so territorial. I'm not sure what's going on," Kris tells her, adding, "In front of everybody at the office she's like, 'Don't ever park in my parking space again. It's the one thing that means something to me. I've worked so hard,' " she recounts to Kourtney over the phone. "I'm like, oh my goodness. I was on an important call and she locked me out of the office because she needed to do her work."
For Kylie, though, the last straw came when Jenner gave a "grand tour" of the office space to Khloé and Scott Disick without Kylie's permission. "I told her not to show any of you guys until I was there and could give you the grand tour… It's Kylie Cosmetics!" Kylie tells Khloé, annoyed. "How is she going to hide this when the office is done and you walk up and the door is glass, [with] my logo."
Khloé doesn't see Jenner's response as "entitled," though. Instead she tells Kylie, "Listen, bitch. There's no f—ing friends and loyalty in the game of being a billionaire." Buckle up for this one.
9 Times the Kardashians Wore Vintage Clothes, From Gucci to Versace
Kylie Jenner wore a shortened vintage Gucci dress for her 21st birthday party in Las Vegas in August 2018. The original Tom Ford for Gucci dress appeared on the spring/summer 2000 runway.

Photo by @kyliejenner.
At her family's annual holiday gathering in December 2017, Kim Kardashian wore a vintage Christian Dior dress, from the John Galliano for Dior Fall/Winter 1997 ready-to-wear collection.

@ryanseacrest/Getty Images
On a trip to Japan in March 2018, Kourtney Kardashian wore a vintage denim two-piece from the Alexander McQueen "The Eye" Spring/Summer 2000 collection.

Photo by @kourtneykardash.
Kim Kardashian wore a gold vintage Versace maxidress to the premiere of The Promise in April 2017.

Tara Ziemba
Kendall Jenner wore a vintage Chanel 1990s tweed suit during an appearance on The Tonight Show Starring Jimmy Fallon in February 2017.

Theo Wargo/Getty Images
In May 2018—just days after stunning in a vintage black Versace minidress for a 2018 Met Gala afterparty—Kim Kardashian wore another vintage gold Versace gown from the Spring 1995 collection to a dinner for Business of Fashion in New York.

Condé Nast Archives; Dimitrios Kambouris/Getty Images for the Business of Fashion
Kourtney Kardashian tossed on a vintage button-up Chanel blouse during her Italian summer getaway in 2018.

Photo by @kourtneykardash.
Kim Kardashian showed up to the 2010 White House Correspondents Dinner wearing a vintage Valentino gown that used to belong to her mother, Kris Jenner.

MANDEL NGAN/Getty Images
Kim Kardashian opted for a vintage gold (there's a pattern) Balmain dress with a matching Judith Leiber phone-shaped clutch in July 2018 at Pusha T's wedding.

Photo by @kimkardashian.