Kylie Jenner Made Her First Onstage Appearance at "Hubby" Travis Scott's Astroworld Tour
After she revealed that she rents extra hotel rooms to store her clothes and makeup while on tour.
---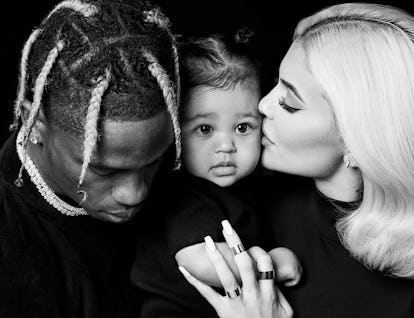 instagram.com/kyliejenner
Kylie Jenner and Travis Scott's relationship may not be the emotional roller coaster of so many of their A-list peers' couplings, but they did ride one together on Wednesday evening. The couple, parents to Stormi Webster, made their onstage debut as a couple at the rapper's Astroworld tour stop at New York City's Madison Square Garden.
After Scott referred to Jenner as his "wife" at the show, the pair hopped onto the makeshift roller coaster that Scott has been riding on stages across the country while touring his latest album. Naturally, Jenner had her phone in hand to document the whole thing. She later shared a photo of the moment on her Instagram Story, circling herself and helpfully noting, "That's me."
While Jenner made her first onstage appearance on the tour only this week, she's been traveling with Scott and their daughter since the Astroworld bonanza first kicked off. To do so, Jenner requires two hotel rooms, as she revealed in a video diary, released Thursday, detailing how she gets ready for each of Scott's shows. "Me and Travis have our own room and then I always get a second room," she said in the clip, "for my wardrobe, my makeup, and also Stormi."
To recap, Jenner and Scott share a hotel room, and then they also rent an extra room just to store all of Jenner's clothes and makeup, and to ensure that Stormi gets the personal space she needs. Jenner didn't share whether or not Stormi sleeps in her own room, but she did say that her daughter's room functions as something of a mobile playroom. In the video, she revealed that she books the extra room so Stormi can "play around and have more space when we're in hotel rooms, since she always travels with us."
As for the fashion and glamour department of the extra room, Jenner keeps things as orderly as possible. "I pack my outfits before I leave on all my trips, so I just hang them up," she explained. "I always unpack and I'll hang up all my outfits—so it's super easy and I don't really have to think about it."
Jenner has instead been spending most of her mental energy on her daughter and her "hubby," of whom she's been especially supportive throughout the Astroworld tour. Earlier this month, when Scott held his first music festival, Jenner shared a tribute to him on Instagram, posting photos of him with Stormi alongside the caption, "Only the people around you really know how hard you work. I love to watch you make all your dreams come true."
Related: Kylie Jenner and Travis Scott Are a Theme Park Couple