Kylie Jenner and Travis Scott Are a Theme Park Couple
This might be the basis of their relationship, to be honest.
---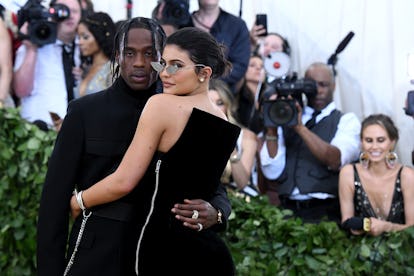 Photo courtesy of Getty Images.
There are people who enjoy theme parks, and then there are "theme park people." There is now a growing amount of evidence to suggest that Kylie Jenner and Travis Scott are not only the latter, but that a joint enthusiasm for theme parks appears to be the special sauce the brings them together.
While much was made of the revelation in their GQ cover story that the couple says they don't really go on traditional dates and rarely even go out to dinner (Scott apparently does not have patience for restaurants), it would seem like the couple gets all the bonding they need out of riding roller coasters together at theme parks across Southern California.
According to reports, the couple shut down a theme park for a private event for at least the second time in their relationship last night. The official occasion was a listening party for Scott's new album Astroworld, but the couple seemed to get in some quality time together as well.
"They shut down Six Flags Magic Mountain and had a big listening party for fans and friends," a source told E! News. "Kylie and Travis had the best night walking around the park and going on rides."
The night followed a similar one in April in which Jenner had the same park shut down to celebrate Scott's birthday with a cake that featured tiny pastry versions of Jenner, Scott, and their daughter Stormi enjoying a confectionery roller coaster together.
Even when Jenner was in the midst of hiding her pregnancy from the world, she and Scott braved the risk of paparazzi to go to Universal Studios' Halloween Horror Nights last October for a joint date with Kendall Jenner and her then companion Blake Griffin.
And in fact, the couple's first date was at a theme park. "We went to Legoland together and we didn't speak," Jenner told GQ. "I later learned that it's just his standoffish personality."
Legoland? Wow. You really love theme parks if Legoland is your first date as adults.
Of course, we should note that the recent theme-park-related activity in the Jenner-Scott household might have something to do with the fact that Scott's recent album Astroworld is named after a now defunct theme park near his hometown of Houston (the cover art imagines a Scott-themed park, while Scott has said he wants to make his tour dates feel like an amusement park). Still, that's proof that Scott was a dyed-in-the-wool theme park person before he met Jenner.
Don't accuse Jenner of changing her spots for a man, either. She too has a long history of epic theme park trips. She's been spotted at the same Six Flags Magic Mountain numerous times over the years with past boyfriends, and once chartered a private jet to take all of her friends to America's theme park mecca of Orlando.
They're just two theme park people who have found each other and are now a theme park couple. Of course, if Jenner really does become a billionaire one day, maybe the duo can open a theme park of their own.