Go Inside Kylie Jenner's Over-the-Top 21st Birthday Party
Kylie Jenner got her 21st birthday festivities started the second the clock struck midnight on August 10.
---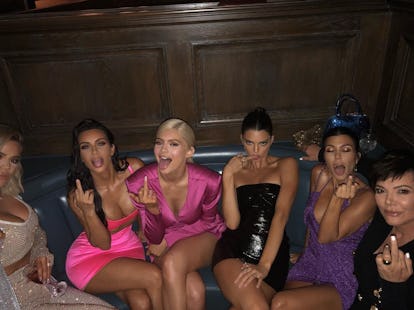 Photo by @kyliejenner.
Most people wait until the night of their actual birthday to get the festivities started, but not Kylie Jenner. Before the clock struck midnight on August 10, the youngest Jenner kicked off her 21st birthday with all of the trappings. There was cake, there was a speech by the Kardashian matriarch, Kris Jenner, there were outfit changes, there were broken Barbie dolls everywhere; it was a birthday fit for a self-made billionaire.
It may seem like Jenner has been celebrating all month long (just a couple of days ago, Jenner shared a snap of herself on Instagram wearing a "party animal" hat), but as of today, the youngest Kardashian is officially of legal drinking age, and her party is only just getting started.
As for her birthday look, Jenner rolled up to her birthday dinner with a long blonde ponytail and a fuschia dress before changing into a glittery bodysuit.
All of her sisters were there (yes, even Kourtney Kardashian, despite her alleged "feud" with her family that's been going on all week), and, of course, her best friend Jordyn Woods was present to capture the party every step of the way. Everybody turned 21 last night! You know, figuratively speaking.
Of course, no 21st birthday party would be complete without a sentimental speech from Mom, so Kris Jenner led the countdown to midnight and got teary-eyed over watching her daughter "grow up and give birth to baby Stormi."
Kim Kardashian West (who jokingly chided Kourtney and Scott Disick for sitting next to each other "just like an old married couple, on your phones") captured some birthday content for Instagram Stories, and jumped into a giant ball pit with Khloé Kardashian. For some reason, Dave Chappelle was also there and did a karaoke of "Killing Me Softly" (the Lauryn Hill version, obviously) with Travis Scott. Other special guests included Caitlyn Jenner and French Montana, and the spirit of Rob Kardashian Sr. (an artist rendered a caricature of the entire blended family and plastered it on the walls of the birthday venue).
The cake served to guests appeared to be a multitiered dessert with sprinkles, little liquor bottles lining the icing, and a Kylie Jenner–inspired Barbie doll face planted on the top (the poor doll broke her leg by the end of the night, according to Jenner's Instagram).
In all seriousness, Jenner's birthday function looked genuinely fun, and hopefully baby Stormi's babysitters from Thursday night will be able to swap with some other babysitters for the inevitable round two tonight.
Related: Kylie Jenner and Stormi Webster Got a Million Likes in 8 Minutes on Instagram