LACMA's Lamps, an Instagram Favorite, Have Quite a Drama-Filled History
An Indonesian café just copied the artist, Chris Burden, who turns out to have been a copycat himself.
---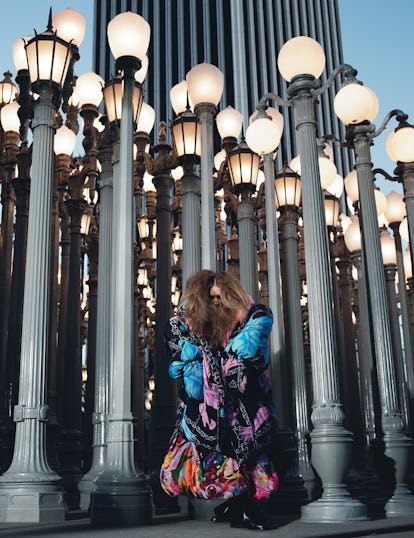 Photographed by Willy Vanderperre, styled by Edward Enninful
There are two things the late artist Chris Burden is widely known for: enlisting a friend to shoot him in the arm for the sake of performance art, and his installation of more than 200 street lamps from the 1920s and '30s that have stood sentinel in front of the Los Angeles County Museum of Art since 2008. Urban Light, it's titled, has been one of L.A.'s signature Instagram sensations since the app's invention, finding popularity amongst tourists, residents, and Leonardo DiCaprio alike. (DiCaprio's foundation paid for an eco-friendly revamp by replacing the incandescent bulbs with LED ones earlier this year.)
Naturally, then, people have been up in arms about the café Rabbit Town essentially recreating Burden's work in Indonesia without giving the artist any credit—and reportedly blocking users from tagging @LACMA in the comments. (We have @diet_prada, Instagram's resident fashion copycat watchdog, who is apparently now taking on the art world, to thank for pointing out this out.)
Alas, if only things were so simple. The copycatting doesn't end at just Burden and Rabbit Town (which appears to have also knocked off Yayoi Kusama for good measure). Dig a little deeper—on the internet, or in the comments section of @diet_prada's post—and you'll find that there's more than one copycat involved. Long before Urban Light's 202 lamps went up in 2008, the artist Sheila Klein installed 25 lampposts in a parking lot in East Hollywood as an homage to the city the year after the Los Angeles riots. (Klein was of course working with a significantly smaller budget.)
Like Urban Light, Klein's Vermonica was a local signature, becoming even more of a gem as its surroundings turned into a strip mall dominated by a Staples. Even before that, though, the installation's popularity was clear: the posts, which were on loan, managed to outlast their scheduled one-year run to a quarter of a century, before they were moved to a different location without Klein's consent, at which point she declared the posts on display no longer her work. ("Context is everything," she said at the time, making it clear that she'd specifically chosen to erect her work in a space that had been burned down and wrecked by the riots.)
Oddly enough, Burden apparently never mentioned Vermonica during his lifetime. Klein, on the other hand, seems to have quite the laid-back Californian attitude when it comes to the similarities: "We're all mining the same shaft," she said simply last year.
Related: Chris Burden's Street Lights: New York vs. Los Angeles