Lady Gaga Delays Chromatica: It "Doesn't Feel Right" During a Pandemic
Lady Gaga said it "doesn't feel right" to release an album amidst a global pandemic, but promised that "Chromatica is still very much on the way."
---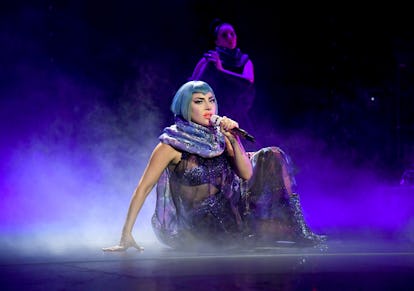 Photo courtesy of Getty Images.
For the past few years, and especially in the past few weeks, Little Monsters have been waiting with bated breath for the release of Lady Gaga's sixth studio album, Chromatica.
After the February release of the album's first single and music video, "Stupid Love," fans of Gaga were elated to hear that the album was slated to drop on April 10. Mother Monster promised a colorful disco-pop record that would exist in contrast with her most recent studio album, Joanne, which showed the pop star stripped down to some of her countrified, singer-songwriter roots.
But as of right now, Gaga's fans will have to wait a little bit longer to hear the rest of Chromatica, as she has now delayed the release indefinitely.
"This is such a hectic and scary time for all of us, and while I believe art is one the strongest things we have to provide joy and healing to each other during times like this, it just doesn't feel right to me to release this album with all that is going on during this global pandemic," the singer shared on her Instagram, referring to the rapid spread of the new coronavirus that has shaken up the lives of millions of people across the world and killed thousands in a matter of weeks.
"Instead I prefer that we spend this time focusing on finding solutions," Gaga went on. "It's important to me that the attention is on getting essential medical equipment to healthcare professionals, making sure kids who depend on public schools for meals get the assistance they need, and that we help those who will be financially impacted by this pandemic." She then acknowledged the postponement of her Las Vegas performances in the month of May, and that she still plans to tour the album this summer.
Another blow to the fans is that Gaga apparently had a secret Coachella set lined up for this spring, too. The festival has been rescheduled for October, but there is no confirmation on whether or not Gaga will appear.
Surely, everyone could have used the encouragement of an uplifting dance pop album right now. Despite the delay of Chromatica, there is still a possibility that it could leak between now and whenever its release date may be. "Stupid Love" allegedly leaked weeks before the single and video were officially released by Gaga, and even Dua Lipa's album Future Nostalgia, which was slated for April 3, reportedly leaked a couple before she announced that she would give the album to her fans a week ahead of schedule. Sufjan Stevens also dropped a surprise joint album with his stepdad this week, Bright Eyes released new music for the first time in almost 10 years, and Rosalía just premiered a ballad called "Dolerme." We were counting on Chromatica to get us through quarantine, especially now that dancing is helpful addition to the list of much-needed at-home workouts.
Gaga did not reveal a specific date, but promised that Chromatica would come out sometime in 2020 and that it is "still very much on the way." She also acknowledged that once this is all over, and the album is officially out, she will "make it the most bombastic celebration of all time."
The singer signed off by referring to her fans as "kindness punks" (an idea from "Stupid Love" that she also recently turned it into a collection of 50 stories called Channel Kindness, in which acts of kindness are supposed to inspire readers) and asked everyone to "practice kindness in these trying times" while imploring everyone stay at home until the coronavirus pandemic is over.