Lady Gaga Took in the Dodgers Game Like a Scene Out of Sex and the City
This is one way to handle a heat wave.
---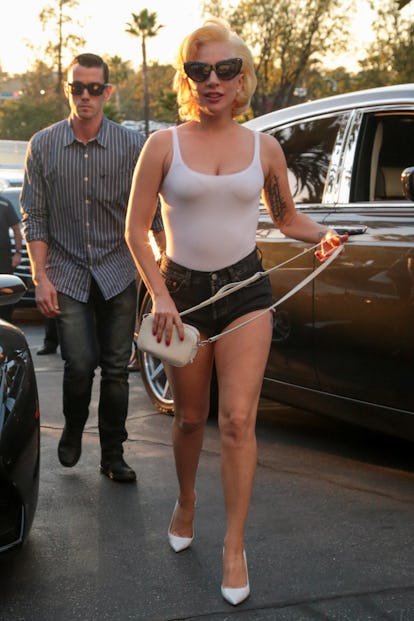 Pressphotobank/Bauer-Griffin/GC Images
Lady Gaga could not be more excited for Los Angeles' Dodgers to be playing in the World Series. The artist was so committed to supporting her team that she braved the current heatwave — and a world record for the World Series Game 1 at 103 degrees, as ABC reports — to watch on from the crowd. It helps that Gaga wore as little as possible in order to beat the heat. The pop artist channeled Marilyn Monroe in cat-eye sunglasses with a platinum blonde bob and full brows in a figure-hugging outfit consisting of a white tank top and denim shorts, white stilettos and a white crossover bag. While her outfit was relatively low-key, especially for an artist who's gone through every phase from zany pop star Gaga to avant Gaga, her entrance was anything but. Gaga emerged from a Lamborghini Huracan, before posing with fans and making her way into the stadium.
Inside, Gaga sat next to player turned baseball executive Joe Torre, who she later posted a photo with on Twitter. "When you got the best seat in the house. Next to Joe Torre and your best friend since you were 4," she tweeted.
Aside from chatting with those two, Gaga spent part of the game channeling one of the more iconic scenes from Sex and the City, where Carrie, Samantha, Miranda and Charlotte passively take in a Yankees game. Gaga even kicked up her heels like Sarah Jessica Parker, which was all the more appreciated considering there won't be any more opportunities for future moments like these in Sex and the City.
She wasn't the only celebrity in attendance. Kirsten Dunst was also in the stands, watching the Dodgers take out the Houston Astros alongside her BFFs and Woodshock collaborators the Rodarte sisters, Kate and Laura Mulleavy. "There's no crying in baseball!" they captioned a video of themselves singing "Take Me Out to the Ball Game."
Jerry Seinfeld was also in the crowd.
As was Rob Lowe.
Jason Bateman didn't miss attending the game either, though he did try to brainstorm some ideas to avoid the heat. "Excited to go to Dodger Stadium tonight," he tweeted. "But, how fast do you think we could get a roof and A/C hooked up?"
Clearly he didn't get the same shorts shorts memo as Gaga.
Related: All Five Living Former Presidents Plus Lady Gaga Appeared Onstage to Benefit Hurricane Relief
Lady Gaga + Mugler: