Both Lady Gaga and Rami Malek Dressed as Edward Scissorhands for Halloween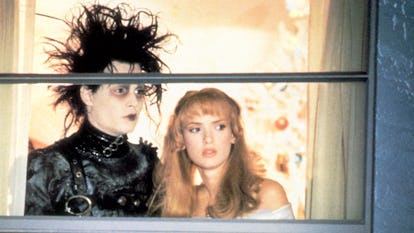 Courtesy Everett Collection
It's rare to see two celebrities wearing the same Halloween costume, but this year it seems that people were short on ideas. In addition to both Kim Kardashian and Demi Lovato dressing up as the singer Selena Quintanilla, both Lady Gaga and Rami Malek attended Halloween parties as Edward Scissorhands, the title character from Tim Burton's 1990 film starring Johnny Depp, who originated the role, and Winona Ryder.
Both of their looks were traditional, with the character's face slashes, black leather stomach bondages, white blazers, and general pallid and ashen skin. So, as the generic term dictates, who wore it best? First up is the recently engaged Gaga, who debuted her look on Instagram with the cheeky caption: "Would you like a hair cut!" (Yes, yes we would.):
Meanwhile, Internet boyfriend and Mr. Robot star Malek attended the Jonathan Ross halloween party in London while keeping his deathly hands in check.
Halloween Couples Costumes Ideas That Are Celebrity Approved
Kourtney Kardashian and Kim Kardashian as Michael Jackson and Madonna at the 1991 Academy Awards.

Kourtney Kardashian/Instagram
Jonathan Cheban and Kim Kardashian as musical icons Sonny and Cher.

Kim Kardashian/Twitter
Gwyneth Paltrow dressed as her character in David Fincher's Se7en.

Gwyneth Paltrow/Instagram
Zoë Kravitz and Karl Glusman as Marla Singer and Tyler Durden from Fight Club.

Zoë Kravitz/Instagram
Doug Middlebrook and Ariana Grande as the feuding Joan Crawford and Bette Davis.

Ariana Grande/Instagram
Marina Diamandis and a friend dressed up as Fiorucci Angels.

Marina Diamandis/Instagram
Zayn Malik and Gigi Hadid as Spider-Man and The Black Cat from Marvel Comics.

Gigi Hadid/Instagram
Cameron Esposito and Rhea Butcher as Jack Twist and Ennis Del Mar from Brokeback Mountain.

Cameron Esposito/Instagram
Gabrielle Union and Dwayne Wade as Milli Vanilli.

Gabrielle Union/Twitter
Chloë Grace Moretz and Maika Monroe as Kenickie Murdoch and Danny Zuko from Grease.

Chloë Grace Moretz/Instagram
Tristan Thompson and Khloe Kardashian as Khal Drogo and Daenerys Targaryen from Game of Thrones.

Khloe Kardashian/Instagram
Kyle Draper and Laverne Cox as Jeannie and Major Nelson from I Dream of Jeannie.

Kyle Draper/Instagram
Mike Rosenthal and Jen Atkin as Napoleon and Pedro from Napoleon Dynamite.

Jen Atkin/Instagram
Ryan Seacrest and Kelly Ripa as Handmaids from The Handmaid's Tale.

Ryan Seacrest/Instagram
Wells Adams and Sarah Hyland as Eleven and Dustin from Stranger Things.

Sarah Hyland/Instagram
Amber Rose and her son, Sebastian Taylor Thomaz, as Tiffany and Chucky from Child's Play.

Amber Rose/Instagram
Sarah Michelle Gellar and Freddie Prinze, Jr. as Andy and Duckie from Pretty in Pink.

Sarah Michelle Gellar/Instagram
Watch: Ali Michael Scares New Yorkers in High-Fashion Halloween Costumes