Lady Gaga Resurfaces With a Surprise Performance at Gramercy Park Hotel, Her First Since Canceling Joanne Tour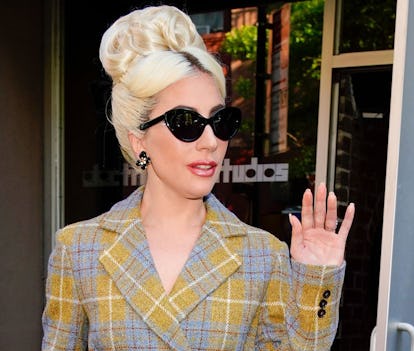 Gotham/GC Images
Lady Gaga has been deep in transformations ever since 2013's ArtPop, when she took being avant-garde to a self-parodying level, but now classic Gaga has returned. Last night, the pop star was her old self when, after a day that consisted of three public outfit changes, she popped up at New York City's Gramercy Park Hotel for a surprise set. The performance was her first since she abruptly cancelled her Joanna World Tour due to the "severe pain" she detailed in Five Foot Two, her Netflix documentary about her struggle with fibromyalgia.
Without any notice, Gaga showed up at the Rose Bar in a red dress with a frilly tulle cape, where she performed a handful of covers backed by a five-piece jazz band. The set was a throwback to 2014 Gaga, when she released a duet album with Tony Bennett dubbed Cheek to Cheek. At the time, Gaga explained her love of jazz to Vogue, saying, "I started singing jazz when I was 13 and I discovered it before then. My mom used to play Billie Holiday on Sundays, I found Ella Fitzgerald—who's my absolute favorite jazz singer—and my father listened to Frank Sinatra and Tony Bennett. So part of me knew in my heart that many of my fans would fall in love with jazz the same way I did, because we're very similar."
As for Gaga's ladylike outfits yesterday leading up to her performance, they may have been in preparation for her surprise set. "Truthfully, I like to be as comfortable as possible when I'm onstage singing jazz," she's said before. "I don't like to be thinking about if I look beautiful or not, or if there's any sex appeal. Those things are distractions for me. I need to sing with my whole body and mind. I have to really focus on my vocal inflections. I don't like to have any choreography or routine. I just want to feel totally natural, and I believe that will produce the most honest interpretation of the song. That's the way you do justice to jazz, when you give all of yourself." Hopefully, soon, she'll be doing so back on tour or with her anticipated Las Vegas residency at MGM Park Theater.