Lady Gaga Cancels Remainder Of Joanne Tour Due To Pain Issues
The singer suffers from fibromyalgia
---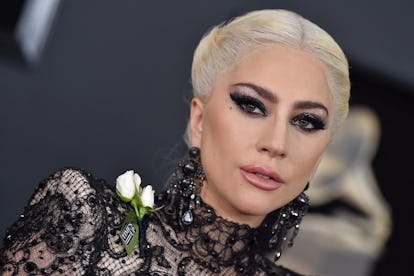 Photo by Axelle/Bauer-Griffin/FilmMagic
Powerhouse pop star Lady Gaga is cancelling the final ten dates of her Joanne world tour. The singer made the announcement on Instagram, posting a message from Live Nation alongside a personal message to her European fans, promising to return to their cities when she is able. "I'm so devastated I don't know how to describe it. All I know is that if I don't do this, I am not standing by the words or meaning of my music. My medical team is supporting the decision for me to recover at home. We're cancelling the last 10 shows of my Joanne World Tour," she wrote. "I love you, but this is beyond my control."
The message from Live Nation cited "severe pain" as the reason for scrapping the last leg of the tour. The Instagram post was flooded with supportive messages from fans wishing her well and hoping that she feels better soon.
The reason for the pain is (we assume) that Lady Gaga suffers from fibromyalgia. The often misdiagnosed and little-understood condition causes widespread musculoskeletal pain; as anyone who has seen her Netflix documentary Lady Gaga: Five Foot Two can tell you, she's been treating her symptoms with, among other things, medication, which can be very hard to sustain alongside an active touring schedule.
But if you're a diehard Gaga fan, you'll still have plenty of opportunities to see her perform. She hasn't yet announced whether or not the latest round of health issues will affect her Las Vegas residency, which is set to begin at the end of the year, but hopefully this time off will help her recover. And don't forget that she's starring in the (latest) remake of A Star Is Born, co-starring and directed by Bradley Cooper. The film was originally set to premiere this May but has been pushed back to the Fall…does this mean it's in bad shape and needs a lot of work, or that it's a masterpiece worthy of award season consideration? Time will tell, and we'll be waiting. In the meantime, wishing Gaga all the best as she takes a much-deserved break.
Related: Lady Gaga Says She Will Not Be Billed as Her Real Name, Stefani Germanotta, for A Star Is Born
Grammys 2018: See Lady Gaga, Cardi B, and More of the Biggest Stars in Music on the Red Carpet
Lady Gaga attends the 60th Annual GRAMMY Awards at Madison Square Garden on January 28, 2018 in New York City. (Photo by Kevin Mazur/Getty Images for NARAS)

Kevin Mazur
Cardi B attends the 60th Annual GRAMMY Awards at Madison Square Garden on January 28, 2018 in New York City. (Photo by Kevin Mazur/Getty Images for NARAS)

Kevin Mazur
Lana Del Rey attends the 60th Annual GRAMMY Awards at Madison Square Garden on January 28, 2018 in New York City. (Photo by John Shearer/Getty Images)

John Shearer
Camila Cabello attends the 60th Annual GRAMMY Awards at Madison Square Garden on January 28, 2018 in New York City. (Photo by Steve Granitz/WireImage)

Steve Granitz
SZA attends the 60th Annual GRAMMY Awards at Madison Square Garden on January 28, 2018 in New York City. (Photo by Lester Cohen/Getty Images for NARAS)

Lester Cohen
Jaden Smith attends the 60th Annual GRAMMY Awards at Madison Square Garden on January 28, 2018 in New York City. (Photo by John Shearer/Getty Images)

John Shearer
Kesha attends the 60th Annual GRAMMY Awards at Madison Square Garden on January 28, 2018 in New York City. (Photo by John Shearer/Getty Images)

John Shearer
Janelle Monae attends the 60th Annual GRAMMY Awards at Madison Square Garden on January 28, 2018 in New York City. (Photo by Jamie McCarthy/Getty Images)

Jamie McCarthy
Elton John attends the 60th Annual GRAMMY Awards at Madison Square Garden on January 28, 2018 in New York City. (Photo by Kevin Mazur/Getty Images for NARAS)

Kevin Mazur/Getty Images
Kelly Clarkson carries a white rose at the 60th Annual GRAMMY Awards at Madison Square Garden on January 28, 2018 in New York City. (Photo by Kevin Mazur/Getty Images for NARAS)

Kevin Mazur
Tyler, the Creator attends the 60th Annual GRAMMY Awards at Madison Square Garden on January 28, 2018 in New York City. (Photo by Jamie McCarthy/Getty Images)

Jamie McCarthy
Rita Ora attends the 60th Annual GRAMMY Awards at Madison Square Garden on January 28, 2018 in New York City. (Photo by Kevin Mazur/Getty Images for NARAS)

Kevin Mazur
Pink with her daughter Willow Sage Hart attend the 60th Annual GRAMMY Awards at Madison Square Garden on January 28, 2018 in New York City. (Photo by Lester Cohen/Getty Images for NARAS)

Lester Cohen
Cyndi Lauper attends the 60th Annual GRAMMY Awards at Madison Square Garden on January 28, 2018 in New York City. (Photo by Christopher Polk/Getty Images for NARAS)

Christopher Polk
Nick Jonas attends the 60th Annual GRAMMY Awards at Madison Square Garden on January 28, 2018 in New York City. (Photo by Jamie McCarthy/Getty Images)

Jamie McCarthy
Hailee Steinfeld attends the 60th Annual GRAMMY Awards at Madison Square Garden on January 28, 2018 in New York City. (Photo by Kevin Mazur/Getty Images for NARAS)

Kevin Mazur
DJ Khaled and his son Assad attends the 60th Annual GRAMMY Awards at Madison Square Garden on January 28, 2018 in New York City. (Photo by Lester Cohen/Getty Images for NARAS)

Lester Cohen
Miley Cyrus carries a white rose at the 60th Grammy Awards on January 28, 2018, in New York. (ANGELA WEISS/AFP/Getty Images)

ANGELA WEISS