The Grande Dame of Green
A visit with the Dowager Marchioness of Salisbury, one of England's most revered garden designers.
---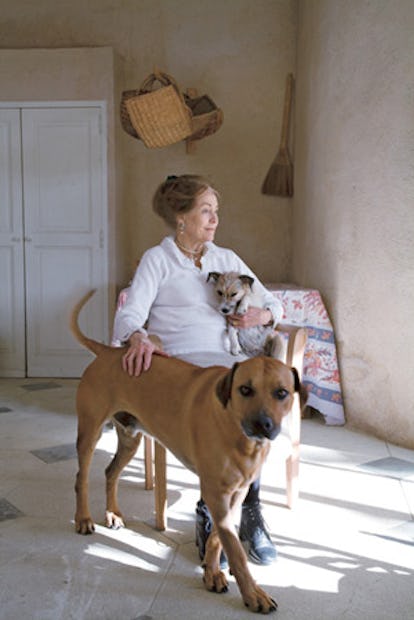 In England she has long been considered the garden designer of the establishment. Yet the Dowager Marchioness of Salisbury actually flaunts her lack of professional qualifications. "I'm completely untrained," she says in the drawing room of her Continental retreat, the 18th-century Château de St. Clou, in Provence, France.
Born Marjorie Wyndham-Quin to a distinguished British naval officer and his wife, and educated by governesses at her family's estates in Ireland and Wales, she never suspected a career was in the cards. Her marriage in 1945 to the future Sixth Marquess of Salisbury destined that she would become chatelaine of two of England's most storied stately homes, Cranborne Manor and Hatfield House.
Lady Salisbury, now 86, took a particular interest in restoring the elaborate gardens on both properties. She was just following her instincts, she says, honed from plotting little gardens as a child. But the results were so beguiling that friends began asking for her help. With those friends being the likes of Lord Brabourne (grandson of Lord Mountbatten), Prince Rupert Loewenstein and the Prince of Wales, a thriving occupation was born, albeit one she kept limited. Though she is known for strict, controlled layouts and historical scholarship, her gardens frequently feature flamboyant elements too, such as baroque topiaries and grand parterres. Upon the death of her husband in 2003, Lady Salisbury handed over Cranborne and Hatfield to their eldest son, following English tradition. Being torn from the twin jewels upon which she had put her stamp hardly slowed her. She bought a town house in London, where she took up residency for the first time in her adult life, and repaired to Provence. There, between assignments, she wrote A Gardener's Life, a captivating account of her accomplishments, with chapters on all her major gardens, photographed by Derry Moore. (The book was published in December 2007 by Frances Lincoln.) Though she refuses to hire an assistant or use a computer, her business is flourishing. In 1997 she took on one of her biggest projects, Peter Brant and Stephanie Seymour Brant's 222-acre White Birch Farm in Greenwich, Connecticut, the latest phase of which is landscaping for the adjacent Brant Foundation Art Study Center, which will open to the public next spring.
Dressed as she customarily is in an elaborate high-collared lace blouse with a stunning choker of diamonds and pearls, Lady Salisbury seems a regal figure straight from the Victorian age, an impression reinforced by her ramrod-straight posture and perfect diction. But, in fact, she has often been ahead of her time. In 1948 she became one of the very first gardeners to go organic, when she banned pesticides from Hatfield.
Most of England's traditional horticultural community snickered at her eccentricity. "I was written off as a complete nutcase, a crank," she says. When she was finally vindicated, Lady Salisbury never gloated. "I'm just glad people have discovered that [these chemicals] are unsafe."
From the beginning, her aesthetic improvements to her husband's historically important estates won rave reviews. Both properties came into his family in the first years of the 17th century from his direct ancestor and namesake, Robert Cecil, who was secretary of state to Queen Elizabeth I and chief minister to her successor, King James I. When Lady Salisbury arrived at the palatial homes, their once magnificent gardens were neglected and overgrown. Restoration of such treasures was a daunting task. "One felt very responsible," she says. "One didn't want to make a mess of it." She delved into Hatfield's archives and found lists of the plants purchased in the 1600s. She also traveled to Italy to study Renaissance gardens.
Lady Salisbury's labors transformed the garden into one of England's most acclaimed. Its admirers included Prince Charles, who asked her to help lay out the grounds at Highgrove, his Gloucestershire estate, in the early Eighties. The collaboration made the Prince the target of satirists after it gained wide currency that, at Lady Salisbury's supposed suggestion, he was talking to his plants. "The poor fellow never lived that down," Lady Salisbury says. Attempting to set the record straight, she declares the story "ridiculous" but professes her belief that, "if you love and care for your plants, it makes such a difference."
In the mid-Eighties, Lady Salisbury and her husband, a onetime member of Parliament with whom she had seven children, embarked on a major adventure shortly after he stunned her by proposing they purchase a house abroad. Though thrilled at the prospect, she cautiously replied, "Don't you think your family has enough houses already?" Enticed by the idea of a place in the sun, they visited several properties in the Vaucluse region of Provence and ended up buying the Château de St. Clou. The imposing square structure with towers on all four corners, built around 1770, was abandoned and dilapidated. Even the garden had become a rubbish dump. "But there was something about the atmosphere we liked," she recalls. The couple spent the next 20 years restoring the château to its original glory. (An uncle of the infamous Marquis de Sade once resided there. According to Lady Salisbury, he "was almost as wicked as his nephew," and folklore has it that the Marquis took refuge there when the authorities came after him.)
Over a simple dinner of roast chicken served by a housekeeper who refers to Lady Salisbury as "Madame la Marquise," the lady of the house demonstrates her distaste for pretension. Reminiscing about the many summers she and her husband spent in Venice, she scoffs when conversation turns to the costume ball given by Charlie de Beistegui in 1951, an event that soon became legendary as one of the great parties of the century. "We were asked but declined," she snaps. "Everybody on the Lido was sucking up to Charlie [for invitations]. We were appalled, and fled. We soon heard it was awful."
Lady Salisbury brightens considerably when she talks about her many years, in the Eighties and Nineties, driving semitrailer trucks (or "articulated lorries," as she calls them), delivering to Poland vital supplies she'd procured from donors. She had become deeply sympathetic to the plight of impoverished Poles, to whom she felt Britain owed an enormous debt. Arguably, she says, Britain might have lost the critical Battle of Britain—and thus World War II—had it not been for the courageous and skilled Polish pilots who escaped their country after it was invaded by the Nazis and joined the decimated ranks of the Royal Air Force.
Lady Salisbury also professes a fondness for America, where she came to work only late in her career, chez Brant. When she began the White Birch project, she was struck by significant differences from England. Though the Brants seemed to employ, she says jokingly, "hundreds" of gardeners, she was shocked that many were "contract" employees, not permanent staff, as they would be on a large English estate. At her urging, the couple hired a permanent resident head gardener, with happy results. But Brant, "an enthusiastic tree man," as she describes him, blanched at the six-foot saplings she initially sourced, typical of what one would order in England. Brant says with a laugh, "She told me how great they would look in 100 years." "Peter wants an avenue to be an avenue—right now," says Lady Salisbury. Having grown accustomed to ordering 20-footers, she observes, "I've realized it's rather wonderful to see immediate results."
"I think the world of her," Brant adds. "She's dead serious, as well as delightful. I wouldn't consider using anyone else."
The biggest surprise Lady Salisbury encountered at White Birch Farm came a few years ago. On a previous visit, she had suggested the owners install a classical feature such as an obelisk or belvedere on a commanding spot on the property. When she returned she found Jeff Koons's Puppy, a colossal topiary planted with more than 80,000 annuals. Her initial astonishment soon gave way to affection. "I have quite fallen in love with it," she says. As she observes in A Gardener's Life, "It [has] a certain mad suitability."