Brazilian Beauty Lais Ribeiro Gives Back
By collaborating with Bottletop on a campaign.
---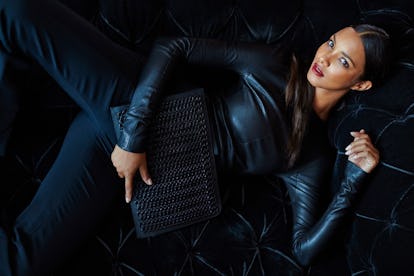 Last year, supermodel Candice Swanepoel starred in a campaign for Bottletop, a non-profit that works with skilled artisans around the world to create fashionable accessories out of, of course, bottletops. Today, her friend (and "Perfect Ten" co-star) Lais Ribeiro has been named the new ambassador for the brand. Here, Ribeiro, a native Brazilian, talks about her collaboration.
How did you get involved with Bottletop? Candice was the last ambassador for Bottletop, and she recommended me because of the amazing work they're doing in Brazil. They've empowered so many women and I can't wait to tour the factory and meet them!
How often do you go back to Brazil? I go back every six months and even more when I have jobs there.
What are your favorite places to hang out in Brazil? My favorite city is Rio and I love staying at the Hotel Fasano.
How would you describe Brazilian style? I think most Brazilians have a chill, relaxed style.
What is your favorite part about being from Brazil? I'm proud of my heritage. The amazing energy of the people is always uplifting.