On the Loose in Lamu
Where do European jet-setters and grubby backpackers collide? On the island of Lamu, Kenya's fabled haven for aristocrats and other fugitives.
---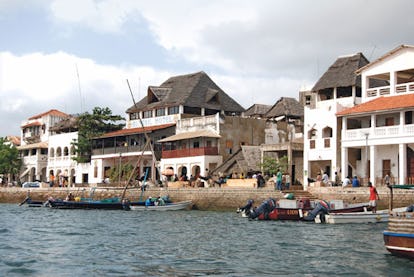 If you mention to anyone that you're heading to Lamu, an island on Kenya's Swahili coast, you're bound to be asked one of two questions: "Isn't that the chic resort where Sienna Miller, Princess Caroline of Hanover and the London art crowd like to go?" Or, "Isn't that the grubby backpacker's hangout where the streets are covered with donkey crud?" People might also inquire whether Lamu is a conservative Muslim enclave where alcohol and above-the-knee skirts are no-no's, or if it's a chilled-out party town.
The fact that these contradictory questions all elicit the same answer—"Yes"—goes a long way toward explaining Lamu's appeal. With its rich and raffish history as an Arab trading post, its idyllic beaches and its downright bizarre mix of characters, the island may be Africa's ultimate exotic hideout.
"Lamu has always been its own little world," says Carolyn Roumeguère, a local jewelry designer whose pieces are worn by Nicole Kidman and Donna Karan. "And there have always been glamorous people coming here too. It's just that nobody used to notice."
What you think of the island will depend on which of its two neighboring villages you stay in—dusty, atmospheric Lamu town, or posh, serene Shela—and, more crucially, when you go. During the island's brief high season at Christmastime, the place morphs into a sort of African St. Barths, packed with Hello! magazine regulars doing various things that couldn't be featured in the party pages. For years, Prince Ernst of Hanover, who with his wife, Princess Caroline, owns a three-­story house on Shela's waterfront, threw a huge bash on the beach, flying in a sound system from Nairobi and a DJ from Europe. (The couple has stayed away in recent seasons, though Ernst is still involved in a lengthy court battle with a German hotelier, who claims he had to be hospitalized after the Prince assaulted him during a drunken argument in 2000.)
Every January, after the heavy-duty Euro crowd goes home, Lamu largely reverts to its centuries-old ways. Lamu town, the main settlement on the island and a UNESCO World Heritage site, is a kind of mini Zanzibar, with about 25,000 residents, 2,200 donkeys, 26 mosques and two cars. It's the sort of place where Paul Bowles might have settled if he'd taken a wrong turn in Tangier. In the winding alleyways, fully veiled women scurry toward the outdoor market, their eyes darting beneath black bui-buis. Evidence of the town's Indian, Persian, Omani and Portuguese influences is visible in the coral stone houses, with their carved teak and mahogany doors. Though there are a few interesting museums and one or two decent cafés, the main pastime for visitors is strolling around, watching the traditional dhow sailboats in the harbor while pretending not to notice the open sewer drains lining the streets.
Over in Shela, meanwhile, even the donkeys seem more relaxed and well groomed; you'll see them nibbling on the bougainvillea blossoms that shopkeepers leave at their doorsteps. At Fatuma's Tower, a British expat named Gillies offers yoga classes in the restored home of a Swahili noblewoman, and at a shop called Aman, the merch includes $800 pashminas embellished with ostrich and flamingo feathers. In the past decade, dozens of wealthy foreigners have restored Shela's old villas or built new ones with swimming pools and fire pits. (Virtually all the houses can be rented by the week; see "Lamu 411.") Most of these home owners come to town only a few times a year, and their absence is a mixed blessing: The village can seem eerily abandoned, but it offers a welcome break from the clamor of London or even that of Lamu town. At the edge of the village, past a starkly contemporary hilltop villa built by American Psycho producer Chris Hanley (locals call it Hollywood Heights), is a truly magnificent, dune-backed beach that rarely draws more than a handful of people. It stretches westward for eight miles.
What Shela and Lamu town have in common is a cosmopolitan, seen-it-all attitude that is like catnip to free spirits and well-to-do misfits. American writer-filmmaker John Heminway (No Man's Land), a longtime Lamu regular, says that has been true since European runaways began trickling in a half century ago. "The first arrivals were real eccentrics who wanted to escape something—maybe their families, maybe society, maybe the law," he explains. Heminway made a documentary about one such figure, Latham Leslie-Moore, who was believed to be an illegitimate son of Edward VII. In the Fifties Leslie-Moore converted to Islam and appointed himself sultan of his own nation-state on an island off the coast of Tanzania; forced out, he retreated to Lamu, where his servants carried him around town in a sedan chair. As for the later waves of Lamu pilgrims—artists, socialites, ordinary tourists—each crowd "feels like they discovered the place," says Heminway. "But what is amazing is that over all this time, the bones of the society that made Lamu attractive to these people are still intact."
One constant since the late Sixties has been Shela's main hotel and social hub, Peponi. The word means "paradise" in Swahili, and you might not find that name much of a stretch if you spend an afternoon eating mangrove crab on the port-side patio. After dark, the crowd at the adjacent outdoor bar (one of the few places on the island where alcohol is served) is about as motley as you could find anywhere. On any given night you might see sunbaked upper-class Englishmen going native in traditional cotton kikoyi sarongs (some more convincingly than others); bejeweled fortyish Italian women unwinding after an afternoon on water skis; Sting or Ethan Hawke or Kate Moss; and one or two Masai warriors–cum–souvenir salesmen, wearing their homemade bracelets and other merchandise around their wrists and necks. ("I don't need a store—I am the store!" one joked to me. "And I'm always open, 24-7.") One section of the bar is known semi-facetiously as "bad boys corner," where friendly young dhow sailors schmooze for boating clients and/or meal tickets. (Don't be surprised if the Rasta-haired crewman on your sailboat has an iPhone that's newer than yours—courtesy of his "girlfriend" in Stockholm.)
Whatever you do in Lamu, be sure to spend at least a day cruising around the nearby islands on a dhow. After dropping anchor, the crew will grill some snapper while you snorkel or swim, and they'll serve it later with fresh mango and lime. The dhows are built the same way as in the days when they transported spices along the coast, though their names have changed: I spotted one Beyoncé, and word has it that there's an Obama under construction. As you head back to Shela, you'll sail past a cluster of palms sheltering Manda Bay resort, where honeymooners as well as Paul Allen and Jerry Hall camp in $1,200-a-night banda huts.
Authenticity junkies who don't mind being awakened by braying donkeys might prefer to sleep right in Lamu town, at a place like Baytil Ajaib, a gorgeously restored 17th-century Swahili town house with four suites set off from a central courtyard. Co-owner Malik Weaver (né Paul Weaver, a former banker from Detroit) spent 10 years reconstructing the building's mwangati beams and intricate plasterwork. Perhaps Weaver's boldest move was hiring a Masai man, Wilson Sakimba, to be the hotel's chef—virtually unheard of in Kenya. The Masai don't eat fish or chicken, which means Sakimba won't always taste the dishes he prepares. His lobster tagliatelle, in any case, is delicious.
Like most year-rounders, Weaver raises an eyebrow at what he calls the "fabettes"—the celebs and fashionable types who have been flocking to Lamu in growing numbers—though he notes that they haven't managed to change the place very much. Sandy Bornman, the stylish South African blond who owns the boutique Aman, points out that Lamu's nightlife options are still far too limited to compete with Saint-Tropez. "Here, you can either have a drink at Peponi, or you can have a drink at Peponi," she says. One season, a group of blinged-out Russians gave Shela a try, but they never returned. "I guess there weren't enough discos here, or hookers," Bornman says.
Even those who come to Lamu for its raucous holiday scene tend to slip away at some point, heading off to one of several pricey hideaways that evoke Gilligan's Island, albeit with better food. British artist Tracey Emin favors Kiwayu Safari Village, which is reached either by plane or by an alarmingly bumpy, 40-mile speedboat ride through the mangrove channels along the Kenya mainland, north toward the Somali border. The lodge's 18 open-air, thatch-roofed bandas overlook a pristine beach that's part of a marine reserve, with a game reserve right next to it, so it's here that you'll likely have that requisite East Africa experience: a wildlife encounter inside your hotel room. No sooner had the steward dropped off my suitcase than a monkey hopped through the window to inspect it.
Kiwayu's co-owner Simone Pelizzoli is a native Ken­yan whose father bought the land in the Seventies, when elephants still hung out on the beach. Today tourism in Kenya is slowly picking up again after the violence in the wake of the country's 2007 presidential election. While some visitors might be nervous about Kiwayu's proximity to southern Somalia, where pirates menace the coast, Pelizzoli prefers to focus on the upside. At least the unrest serves as a deterrent to new Club Meds and, paradoxically, protects the things that lured travelers here in the first place. Pelizzoli makes this observation after returning from a late-afternoon walk on a deserted beach with her husband and their two-year-old daughter, who spent an hour and a half bouncing on dried seaweed and running after crabs.
"Often," she says, "when there's bit of trouble somewhere, the beauty remains, doesn't it?"