Lana Condor Is Ready for Her First Fashion Week and the To All the Boys I've Loved Before Sequel
Plus she shares what she and Noah Centineo are talking about ahead of the sequel.
---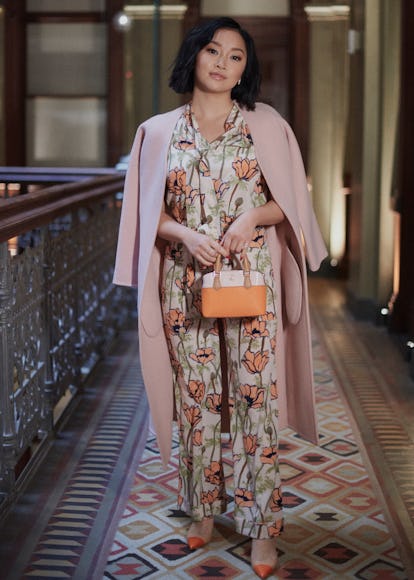 LEA WINKELR
When most people go to Buzzfeed, they find out what Vanderpump Rules cast member they're most like based on their favorite types of cheese. When Lana Condor goes to Buzzfeed, however, she walks away with more—namely, a brand new puppy named Emmy. "I did one of their videos with puppies, and she was one of them, and I just fell in love," Condor explained. "I wouldn't leave the building without her. Buzzfeed was like, 'Lana, you have to leave.' And I was like, 'Nope.' "
Spoiler alert: Condor got her way, as any of the 22,000 people who follow @lilemmythepup on Instagram are well aware. It's an enviable follower count, especially for a page that's only been active for 10 days, and a testament to Condor's rising star. Since her breakout role as the lead in this summer's Netflix hit To All the Boys I've Loved Before, Condor has become one of Young Hollywood's most in-demand actresses, with 6.5 million followers—and now a ticket to New York Fashion Week.
Condor—and Emmy, asleep at the foot of her hotel bed—had just arrived from Los Angeles, and was in the final stages of glam ahead of the Tory Burch fall 2019 runway show on Sunday. It's her first fashion show ever. "I've always wanted to go, but I've always wanted to do it right," Condor said. "This is what I know: It's very squished. Because you see all the pictures and everyone is shoulder to shoulder. But I'm so excited to go to Tory for my first one." For the occasion, the 21-year-old had selected a floral-print set with matching pink jacket. "I'm pretty much like a full-on child," she said. "This is very youthful and fun, but still professional. I love color and I love prints."
By her own admission, the fashion realm is a new one for the actress. "I've always been into fashion, but I've never known the world. This year has been my introduction," she said. "I'm a Taurus, so I love pretty things." Her favorite style stars are a varied group, including Emily Blunt, Olivia Munn, Sofia Carson, and "Gigi and all those It girls—I do watch them."
Lately, Condor has been rubbing shoulders with those very people. "It's fun," she said of going to industry events. "The best part is the people watching." Does she ever get starstruck? " If I see someone at a party, we are on the same playing field," she said. "I only get starstruck when I'm working with someone. A couple of years ago, I did [the 2016 film] Patriot's Day, and I was sitting in the hair and makeup chair and someone touched my shoulder, so I turned, and it was Mark Wahlberg wearing this bright pink polo shirt. He was like, 'Hey, so happy you're here.' You don't usually expect to be tapped on the shoulder by Mark Wahlberg, so I gasped and all I could think to say was, 'I love your shirt.' " Then, there was her J.Law encounter. "Oh, my god, I was so starstruck when I first met Jennifer Lawrence," she said of her X-Men: Apocalypse costar. "At that point, you just try to smile."
After the success of To All the Boys I've Loved Before, though, it's others who may be starstruck by Condor. "Constance Wu, I was really excited when we met," Condor said. "The writer of Manchester by the Sea came up to me and was like, 'Hey, I love your movie.' " It's hard to think of two more different films, but therein lies the charm of TATBILB. "It breeds a really kind audience," Condor said. "I got very lucky with that." It's also a really, really big audience. "I premiered it, and the next day I got on a flight to shoot Deadly Class, so my phone was on airplane mode. When I landed, my first indication was seeing my followers grow. I think I hit a million in a day."
Naturally, the TATBILB was green-lit for a sequel, which Condor says will start filming "really, really soon," although she has yet to receive a script. "I was freaking on the phone with Noah [Centineo, her costar in TATBILB] the other day, like, 'Do you have the script?' " she said with a laugh. Script aside, she's mainly looking forward to reuniting with the cast, despite staying in constant communication at all times. "The sisters and I have our Covey group chat," she said.
In the meantime, Condor's keeping busy. She currently stars on Sy-Fy's Deadly Class, about an elite academy of assassins—basically, just about as big of a change as you can get from the wholesome Netflix film. "I had a really hard time, because they are so different," she said. "It was kind of like whiplash." The role requires quite a bit of physical endurance, as well. "My body hurt so bad," she said. "I did boxing, hand-to-hand combat, and sword-fighting, and all the things. But it was worth it, because you feel like a badass." The show filmed in Vancouver, allowing the cast to bond with those of other shows that film in the city, including The Chilling Adventures of Sabrina and Riverdale. "It's kind of like actor college, because we all live in the same vicinity," she explained.
This week, she'll also premiere Alita: Battle Angel, directed by Robert Rodriguez and written by James Cameron, which she filmed a few years back. "I was so brand new—still am—but that was such a crazy experience," she said, adding that the final film is "fucking amazing."
But for now, it was time to head out the door and into the world of fashion. "At least in my short, very small experience with fashion, it's supposed to be fun," she mused as she put the finishing touches on her look. "I have a very eclectic style, but most importantly, I like to be comfortable." Interestingly enough, her ensemble included a pair of precariously high stilettos. "My background is in dance, so my feet are dead," Condor shrugged. "I can walk in anything."
Related: Noah Centineo Has Some Relationship Advice For His To All the Boys I've Loved Before Character