Sofia Carson Is Just as Excited About the Pretty Little Liars Spinoff As You
The former Disney star and future Liar attended her first New York Fashion Week, hitting the Marc Jacobs show on Wednesday.
---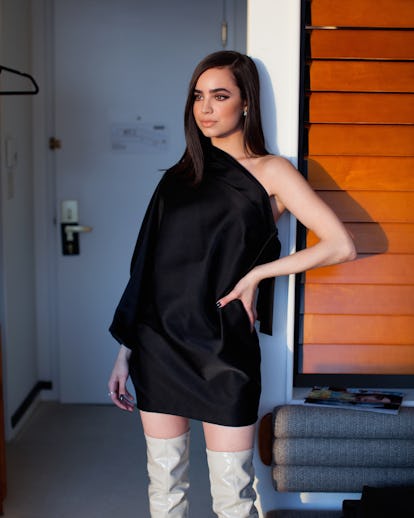 Sofia Carson can really multitask. That much was evident when she sang and danced her way through a breakout role in 2015 in the uber-popular Disney Channel musical Descendants, where she starred as the Evil Queen's teenage daughter. But cut to three years later, and she's still making the rest of us look bad as she applied an impeccable layer of nude lipstick while carrying on a full conversation with ease.
On Wednesday, the 24 year-old actress was holed up in The Standard hotel preparing for her first Marc Jacobs fashion show during New York Fashion Week. "My first fashion week was last year and it was in Paris; I did Dior, Giambattista Valli, Moncler," Carson recalled. "Actually, do you want to hear an incredible story? Azzedine Alaia invited me to come to his atelier and I got to meet him and he dressed me. That was so surreal. That was one of those 'pinch me' moments."
She was equally excited to finally see Jacobs's show in person, after having worn many of his designs on the red carpet before. "I first learned about Marc by Marc Jacobs when I was 12, and had all those backpacks—and I still have them because they are so durable," she said.
For this particular occasion, Carson had selected a Marc Jacobs black mini dress, thigh-high white go-go boots, and a standout baby pink winter jacket. The look just so happened to match with the ensemble chosen by her Valentine—her younger sister Paulina, who had traveled with her to New York from Los Angeles for the next few days for a little extra bonding time in the city. "We're just going to have a sisters weekend," Carson said.
It was looking to be one of her last free weekends for the actress, who had a busy few months ahead of her, coming off the success of last year's Descendents 2. "It is always nerve-wracking to do a sequel," she said. "Luckily, the first one was so loved by so many, and by us, as well. The second one was so exciting to do. The music was so amazing, and spoke to people around the world. To land in Paris and hear people sing, and then in Brazil and Tokyo. I was like, 'We aren't going to have fans in Tokyo.' But it was the biggest premiere yet. It was crazy."
Carson will head back to Tokyo in just a couple of weeks, to perform the new singles she released last year. "I wrote my first song when I was 10," Carson explained. "And my grandmother was babysitting us and I think we were annoying her and she said, 'Guys, leave me in peace.' I wrote a song called 'Leave Me Alone' about a crazy heartbreak, at 10 years old. I've always tended to write songs about love that were really intense and dark."
She cited everyone from Elvis Presley and the Beatles to Ed Sheeran, Taylor Swift, and Pink as inspirations, before landing on Cher as the ultimate icon, for her success as both a singer and actress. "I've always loved Cher, because she was able to do both."
With the recently announced Pretty Little Liars spin-off The Perfectionists beginning production in just a few weeks, Carson will step into one of the lead roles in one of the most highly anticipated—and secretive—series around. Needless to say, she's pretty excited. "I was obsessed with Pretty Little Liars. It's all I watched," she said. "My agent asked if I'd be interested in going in for the spinoff and I was like, 'Are you kidding me? Yes please exclamation point, exclamation point.' I went in first for another role to meet with Marlene [King, the creator of the series] and the writers, and then I got the call back to go in for Ava. I went in and tested, and Marlene called me the next day and said, 'Congratulations, you are my new pretty little liar.'"
"The reaction from everyone has been really, really special," she went on, after a deep breath. "I am really excited. It is such a beautiful legacy that they've created, so to be a part of it and continue it, I feel really honored."
The spin-off, like the original, will be helmed by King, with a female-led crew and cast, which is something that's very special to Carson. "I remember when I first watched the show years and years ago, she was one of the first people to write in a gay character, and in such a beautiful way," she said. "All of her females are so strong and empowered and each of them is so different. I'm so excited to work with Marlene, as a female director, as well."
Thanks to her success with Disney, Carson has amassed a large, devoted fan base of young fans, and she is not taking that platform for granted. Along with the de rigueur glamour shots on her Instagram account, which boasts nearly 10 million followers, she isn't afraid to get political, for example documenting her involvement at the Women's March.
"Growing up, if I was able to have a voice and make a difference in young girls' lives, I wanted to be able to use my voice," she said. "My message has always been to empower young girls. In everything that I do, every song that I write, every role I take, I'm very careful about what I put out in the world, because girls can be influenced so easily. And to be able to influence them is an honor. We're in such a crazy time in women's history and the history of the world. We've always felt like empowered women because we were raised by my mom and grandmother, who are very strong. We've always been proud to be a woman. I always try to be as vocal about that as I can, because the generation under us is going to be even more unstoppable."
Related: Troian Bellisario On Life After Pretty Little Liars