Dylan Sprouse Is Focused on Opening His Brooklyn Meadery At the Moment, But Still Has Plans to Return to Hollywood
While his twin brother is busy in Riverdale, Dylan Sprouse is forging his own path.
---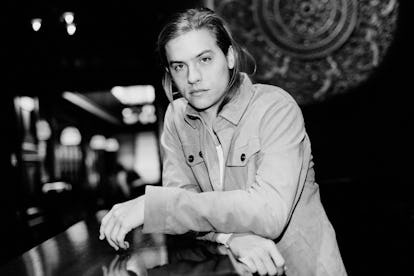 © Shawn Brackbill
It's never too early to talk about alcohol when you're talking to Dylan Sprouse. On Wednesday morning, the actor emerged from his hotel room at 11:30 a.m. ready to attend his first Hugo Boss menswear show and talk about his latest projects, which include opening a meadery at the William Vale Hotel in Williamsburg, Brooklyn, in the near future.
"That was a long time coming," Sprouse said, who looked very Brooklyn-chic for the occasion, wearing a pair of rolled-up jeans, a t-shirt and an oversized jacket (his hair was pulled back into his standard man-bun). "I started [brewing beer] when I was 16. Brew kits are more accessible than they've ever been. Home-brewing is bigger in the United States than it has ever been. But that was eight years ago, and I'm wiser for it now."
He's not only wiser, he's also the youngest Master Brewer in the United States, according to the website for his bar All-Wise Meadery. "I'm a very busy guy right now," he acknowledged.
But that's nothing new. Sprouse is used to juggling a lot of tasks. He and his brother Cole have been acting nearly their whole lives, and have been in the spotlight since 2005, when they began co-starring on the Disney Channel series The Suite Life of Zack and Cody. When the show wrapped in 2011, the brothers both enrolled in NYU, and eventually graduated in 2015. But while Cole recently returned to acting with a role on the hit TV show Riverdale, Dylan has been quietly focusing on his own projects–that are not limited to mead.
Yes, that's right: Both Sprouses are acting again. Dylan recently starred in a thriller that was released direct-to-video last year, and will get a wider viewership when it is released on Netflix next week. He also just recently wrapped on two short films, and has another in the works.
"The thing is, it was never a decision for me to never return to acting," he said. "It was just a decision for me to take a break. It was just time; we had given enough time to kind of stay away. At the same time, I wanted it to coincide with my meadery being up and running."
And just because he hasn't had a cameo on Riverdale doesn't mean you can't keep your hopes up for the brothers to reunite on screen. Sprouse understands the appeal. "There's an allure to us both doing things," he said. "It only stands to benefit us because people are interested in seeing the progression of both of us."
Watch: Dylan Sprouse Reads Dylan and Cole Sprouse FanFiction
So what's next? Well, first a fashion show. Then, Sprouse will head to China for five months to film a yet-to-be-announced project. "I have never been, so I think it is going to be a little bit of a culture shock," he said. "That's a long time. I'm going to come back speaking Mandarin, I think."
It's certainly far from Brooklyn, which begs the question: What's the mead scene like in China? "They do have Chinese beer, and apparently it is very strong," he shared. "I haven't had enough to know whether or not I like it…."
So there's something else to do. After learning Mandarin.
Dylan Sprouse Prepares For His First Hugo Boss Show During New York Fashion Week
Dylan Sprouse at the NoMad Hotel before the BOSS show during New York Fashion Week Men's on February 7th in New York City. Photo by Shawn Brackbill for W Magazine.

© Shawn Brackbill
Dylan Sprouse at the NoMad Hotel before the BOSS show during New York Fashion Week Men's on February 7th in New York City. Photo by Shawn Brackbill for W Magazine.

© Shawn Brackbill
Dylan Sprouse at the NoMad Hotel before the BOSS show during New York Fashion Week Men's on February 7th in New York City. Photo by Shawn Brackbill for W Magazine.

© Shawn Brackbill
Dylan Sprouse at the NoMad Hotel before the BOSS show during New York Fashion Week Men's on February 7th in New York City. Photo by Shawn Brackbill for W Magazine.

© Shawn Brackbill
Dylan Sprouse at the NoMad Hotel before the BOSS show during New York Fashion Week Men's on February 7th in New York City. Photo by Shawn Brackbill for W Magazine.

© Shawn Brackbill
Dylan Sprouse at the NoMad Hotel before the BOSS show during New York Fashion Week Men's on February 7th in New York City. Photo by Shawn Brackbill for W Magazine.

© Shawn Brackbill
Dylan Sprouse at the NoMad Hotel before the BOSS show during New York Fashion Week Men's on February 7th in New York City. Photo by Shawn Brackbill for W Magazine.

© Shawn Brackbill
Dylan Sprouse at the NoMad Hotel before the BOSS show during New York Fashion Week Men's on February 7th in New York City. Photo by Shawn Brackbill for W Magazine.

© Shawn Brackbill
Dylan Sprouse at the NoMad Hotel before the BOSS show during New York Fashion Week Men's on February 7th in New York City. Photo by Shawn Brackbill for W Magazine.

© Shawn Brackbill
Dylan Sprouse at the NoMad Hotel before the BOSS show during New York Fashion Week Men's on February 7th in New York City. Photo by Shawn Brackbill for W Magazine.

© Shawn Brackbill
Related: Riverdale's Lili Reinhart Declares "I Am Not Betty Cooper," and Speaks Candidly About Her Struggles with Anxiety