Lana Del Rey Is The Third Woman To Break a Chart Milestone We Didn't Even Know Existed
Who knew "Born to Die" was still on the charts?
---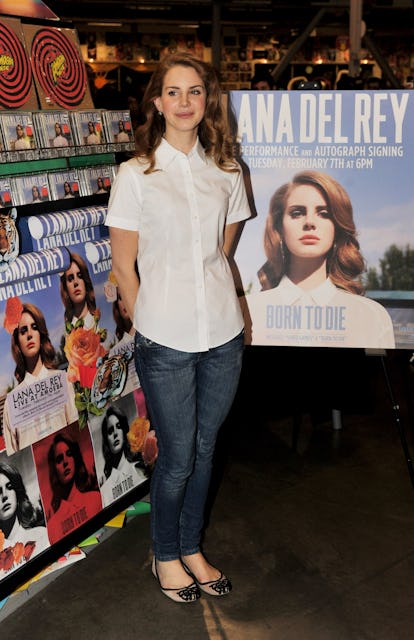 Getty
A lot has chanced since January 27th 2012, but one thing hasn't: Lana Del Rey's breakthrough album Born to Die is still on the Billboard 200 charts. To put that in perspective, in 2012 Obama was still in his first term, Gossip Girl had only just gone off the air, and the first Hunger Games movie hadn't even premiered yet. We barely even knew who Jennifer Lawrence was then! Yet, through all those changes, the album, which included tracks like "Summertime Sadness" and "National Anthem," has managed to stay amongst the 200 most popular albums in the country in any given week.
Indeed, according to Billboard, Born To Die recently celebrated its 300th weeks on the charts. That's significant, as Del Rey becomes just the third woman in history to have a solo record survive that long on the charts. The only others are Carole King's seminal album Tapestry, which lasted 318 weeks on the chart, and Adele's 21, which held on for 359.
What separates Del Rey's album from those two however is that Born To Die never reached number one on the charts, whereas Tapestry spent 15 weeks there and 21 was queen of the charts for 24 total weeks. Life only ever managed to reach number two. Making Del Rey's situation even more unique is that the album only ever sold 1.5 million traditional units, and most of its staying power, at least in recent years, is attributed to it's allure on streaming platforms.
Though, the achievement does come with a caveat: between 1991 and 2009, the albums chart had policies that made it nearly impossible for records to rack up such long runs. If older albums dropped below 100 on the chart they'd be deemed back catalog albums and moved to other charts.
Still in a world where fans are obsessed with statistics and sales, the milestone does matter, and makes a certain amount of sense for Del Rey. While many artists churn out music with an eye towards sending radio-friendly single up the charts to number one immediately (sometimes through controversial means), Del Rey, placing herself amongst a background of so much nostalgia, is clearly out to make classic music with staying power. It seems, at least with Born to Die, she accomplished just that.
Related: Lana Del Rey and Børns Release 2018's First Eco-Jam "God Save Our Young Blood"