Lana Del Rey and Børns Release 2018's First Eco-Jam "God Save Our Young Blood"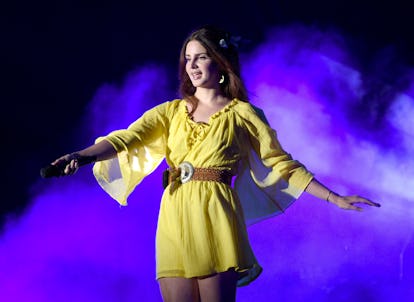 C Flanigan/Getty Images
Justin Timberlake announced his upcoming forest-themed album Man of the Woods today, but Lana Del Rey and Børns actually snuck in to release the first big eco-friendly jam of 2018 with their new collaboration "God Save Our Young Blood." The track is the latest to be released ahead of the debut of Børns' sophomore album Blue Madonna, and was inspired by the story of the Garden of Eden.
"I'd been looking at these different translations of the story of the Garden of Eden," says Børns according to his label's website, "and I was thinking about the idea of how we kind of kicked ourselves out of paradise, and how that relates to the current state of humanity and the earth. The song is like a plea to nature or to love: the thing that's going to bring us together, but also eventually destroy us."
Youth, ruined paradise, biblical allusions, lyrics about car headlights and coastlines, wispy ruminations on love: you can totally see why he invited Del Rey to jump on the song as his duet partner. It's right up her alley.
It's a stripped-back slowjam that ebbs and flows like the tides and breaks down, momentarily and appropriately, for Børns to plea, "God save the ocean, God save the breeze. Save the words form my lips, save the birds, save the bees, save me one last sip as your strip on the beach." It's the kind of song that makes you want to quite your job to volunteer in a national forrest and have a short lived by tempestuous affair with an anti-fracking activist. It also, importantly, makes you want to save the bees, in case you didn't already want to.
Børns, by the way, has been on our radar ever since we named him "the cutest guy at New York Fashion Week: Men's". He's also become a frequent Gucci favorite, wearing the Italian label's eye-popping suits almost as often, if not more so, than Harry Styles. His next album Blue Madonna (which we named one of the albums to get excited about in January 2018) debuts on January 12th.
Related: Lana Del Rey Casually Confirms She Indeed Hexed Donald Trump
Ring in The New Year By Popping Bottles With Your Favorite Celebs