Justin Timberlake Announces New Album, Man of the Woods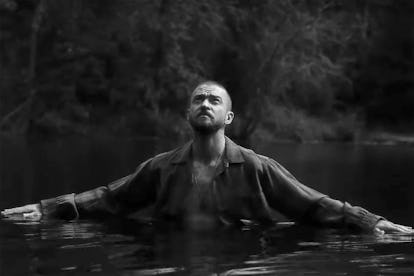 Justin Timberlake/Youtube
At long last, Justin Timberlake has announced the release of a new album.
His latest effort is called Man of the Woods, which may or may not be a reference to the fact that the word "timber" is in his last name, but definitely seems to reflect a recent intense interest in nature. Per a teaser video released January 2, this new album is inspired by Timberlake's wife, Jessica Biel, their son, Silas, and camping. "This album is really inspired by my son, my wife, my family, but more so than any other album I've written, where I'm from. And it's personal," Timberlake says in the teaser.
In the video, JT sports a beard, models a leather jacket over a denim jacket, wades in a river, runs through a field, records in a studio with Pharrell, kisses Jessica, looks at some horses, walks across a log arms akimbo, wears a multicolored blanket in the snow, and some woman doing voiceover compares the experience to "like Wild West…but now."
The first single off the album drops Friday. It's the singer's first since this past summer's sugar rush of an earworm "Can't Stop The Feeling!" from the Trolls soundtrack which, in addition to having an exclamation point in the name of the song, was a huge chart-topper. The full Man of the Woods album will be available on February 2, not coincidentally two days before Timberlake performs at the Super Bowl Halftime Show.
Related: Justin Timberlake Doesn't Want Any Wardrobe Malfunctions at the 2018 Super Bowl Halftime Show
A Photographic Guide to Everyone Rihanna Has Reportedly Dated
Rihanna began her tumultuous relationship with Chris Brown when she was just 17 years-old, when the two met at the 2005 Vibe Awards. Here, the couple are pictured at the 2007 MTV Video Music Awards.

Getty
In 2008, the pair claimed to be just friends, despite getting close for a performance at Z100's Jingle Ball in 2008 (and plenty of paparazzi photos pointing otherwise).

Getty
Four years after the domestic violence case heard around the world, Rihanna and Chris Brown reunited at the 2013 Grammy Awards before splitting for good.

Getty
In 2007, Rihanna was rumored to be seen out and about with actor Josh Hartnett—a relationship she later denied. The two were photographed together that year, albeit during an appearance on TRL.

Getty
One of Rihanna's few confirmed relationships was with Matt Kemp, outfielder for the Los Angeles Dodgers. The pair dated for just under a year in 2011.

Getty
If the Internet were to have their way, Rihanna would have settled down with Drake long ago. The pair have long been connected, since performing together at the 2011 NBA All-Star game.

Getty
Three years later, the pair were spotted on a rumored date at a Los Angeles Lakers basketball game in April 2014.

Getty
Soon after, Rihanna and Drake got up close and personal for a performance at the 2011 Grammy Awards.

Getty
The duo reunited for a performance of their song "Work" at the BRIT Awards 2016 at The O2 Arena on February 24, 2016 in London, England.

Getty
A few months later, Drake would present the singer with the Michael Jackson Video Vanguard Award at the 2016 MTV Video Music Awards, where he would announce he's been in love with her for many years.

Getty
Rihanna was spotted with race-car driver Lewis Hamilton at several events, including the the 2014 British Fashion Awards, but Hamilton claimed the two were just friends.

David M. Benett
Drake isn't her only co-performer that Rihanna's been rumored to also have a romantic tie with. Following their own performance at the Video Music Awards in 2012, it was thought that the singer was dating A$AP Rocky.

Getty
Another rumored, never confirmed conquest of Rihanna? Justin Timberlake. The two were seen together at the 2014 amfAR LA Inspiration Gala honoring Tom Ford, where they both attended as a guest of the designer.

Getty
Rihanna reportedly spent a good deal of 2015 dating Travis Scott. The two were spotted with mutual friend Kanye West at the Vogue 95th Anniversary Party in October of that year.

Getty
And just the day before, the pair took in the French Ligue 1 match between Paris Saint-Germain FC and Olympique de Marseille at Parc des Princes stadium.

Getty
Just last year, Rihanna was thought to be dating none other than Leonardo DiCaprio, as they were spotted together at Coachella.

Getty