Justin Timberlake Doesn't Want Any Wardrobe Malfunctions at the 2018 Super Bowl Halftime Show
There will be no wardrobe malfunctions at Justin Timberlake's 2018 Super Bowl Halftime show.
---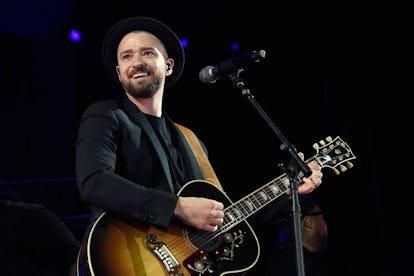 Kevin Mazur/Getty Images
Justin Timberlake has officially announced he will join the ranks of Michael Jackson, Prince and Beyoncé with a headlining performance at the 2018 Pepsi Super Bowl Halftime Show. In a video that seems like a possible tip of the hat to Abbott and Costello's "Who's on First?" routine, BFFs Justin Timberlake and Jimmy Fallon engaged in some dad joke wordplay about "halves" and "time" before revealing that the former *NSYNC singer and unofficial SNL cast member will be tasked with giving the performance of a lifetime at the United States' most-viewed television event of the year.
Justin Timberlake first performed at the Super Bowl Halftime Show in 2001 with *NSYNC, alongside Aerosmith, Britney Spears, Mary J. Blige and Nelly. Just three years later, the last time Timberlake performed at the MTV-produced 2004 Super Bowl Halftime Show, a wardrobe malfunction known as "Nipplegate" rocked the nation. During a performance of "Rock Your Body" with Janet Jackson, Timberlake grabbed her bustier and accidentally exposed her breast on national television. Corporate sponsors of the show were unhappy with the incident, and the Federal Communications Commission received over half a million complaints about Jackson's indecent exposure that lasted just 9/16ths of a second. Viacom, the parent company of CBS and MTV, settled with paying the FCC $3.5 million later that year.
While both Jackson and Timberlake insist that the reveal at the end of "Rock Your Body" was accidental, Jackson's reputation was sullied. Not only would Jackson never perform at the Super Bowl again, but she was reportedly blacklisted at the time by Viacom media entities, with MTV, VH1 and numerous other radio stations pulling her music videos and songs. It was not until a full decade after Nipplegate when the former FCC chairman Michael Powell admitted to acting unfairly towards Jackson.
In a recent interview with NBC, Timberlake cheekily assured that an incident like Nipplegate "won't happen this time" at what will be his third Super Bowl halftime performance. Timberlake is a dad now, so don't expect any performance "gags" either. The "Can't Stop The Feeling" singer insists that as of right now there also won't be any Gaga-inspired acrobatics, but the goal is to just get everybody to dance. Don't hold your breath for a Janet Jackson duet, as the singer is still reportedly banned from appearing on the show, but do keep your fingers crossed for a NSYNC reunion (it's happened before), or at least the best FutureSex/LoveSounds* live medley you'll ever hear in your entire life.
Celebrating Madonna's Most Show-Stopping, Jaw-Dropping Live Performances
June 10, 1985: American musician Madonna performs onstage during 'The Virgin Tour' at Madison Square Garden. Photo by Gary Gershoff/Getty Images.

Gary Gershoff
May 21, 1985: Madonna performs on the Virgin Tour at the St. Paul Civic Center. Photo by Jim Steinfeldt/Michael Ochs Archives/Getty Images.

Jim Steinfeldt
July 13, 1987: Madonna performing on stage during her Who's That Girl tour. Photo by Ebet Roberts/Redferns.

Ebet Roberts/Getty Images
July 29, 1987: Madonna performs on the Who's That Girl Tour at the St. Paul Civic Center in St. Paul, Minnesota. Photo by Jim Steinfeldt/Michael Ochs Archives/Getty Images.

Jim Steinfeldt
November 6, 1990: Madonna's Blond Ambition World Tour. Photo by Kevin Mazur Archive/WireImage.

Kevin.Mazur/INACTIVE
July 24, 1990: Madonna performs at the Feijenoord Stadium during her Blonde Ambition tour in Rotterdam, the Netherlands. Photo by Frans Schellekens/Redferns.

Frans Schellekens
October 14, 1993: Madonna performs during her Girlie Show Tour at Madison Square Garden. Photo by Ke.Mazur/WireImage.

Kevin.Mazur/INACTIVE
October 14, 1993: Madonna performs during her Girlie Show Tour at Madison Square Garden in New York City. Photo by Steve Eichner/WireImage.

Steve Eichner
September 2,1993: Madonna performs the Girlie Show at the 1993 MTV Video Music Awards in Los Angeles,California. Photo by Frank Micelotta/Getty Images.

Frank Micelotta Archive
July 21, 2001: Madonna performing during the first show in the North American leg of her 'Drowned World Tour 2001' at the First Union Center. Photo by Frank Micelotta/ImageDirect.

Frank Micelotta Archive
July 21, 2001: Madonna performs at the kickoff of the U.S. leg of her 'Drowned World Tour' at the First Union Center. Photo by Harry Hamburg/NY Daily News Archive via Getty Images.

New York Daily News Archive
August 28, 2003: Madonna, Britney Spears and Christina Aguilera perform the opening act at the 2003 MTV Video Music Awards. Photo by Kevin Kane/WireImage.

Kevin Kane
May 26, 2004: Madonna performs onstage during her 'Re-Invention' World Tour at The Great Western Forum in Inglewood, California. The outfit she is wearing is designed by Christian LaCroix. Photo by Frank Micelotta/Getty Images.

Frank Micelotta
June 2, 2004: Madonna performs onstage during her 'Re-Invention' World Tour 2004 at the Arrowhead Pond in Anaheim, California. Photo by Frank Micelotta/Getty Images.

Frank Micelotta
September 1, 2004: Madonna performs on stage at the Palais Omnisports de Bercy in Paris, during the France opening concert of her 'Re-Invention' World tour. Photo by Bertrand Guay/AFP/GettyImages.

BERTRAND GUAY
September 20, 2006: Madonna performs during her 'Confessions' Tour at th Tokyo Dome. Photo by Jun Sato/WireImage.

Jun Sato
August 1, 2006: Madonna performs onstage at the first London concert of her 'Confessions' World Tour at Wembley Arena. Photo by Dave Hogan/Getty Images.

Dave Hogan
September 1, 2009: Madonna performs on stage during her 'Sticky and Sweet' tour concert in Tel Aviv's Yarkon Park. Photo by Jack Guez/AFP/Getty Images.

JACK GUEZ
November 6, 2008: Britney Spears sings a song with Madonna on stage during the Sticky and Sweet tour at Dodger Stadium in Los Angeles, California. Photo by Joe Scarnici/WireImage.

Joe Scarnici
February 5, 2012: Madonna performs during the Bridgestone Super Bowl XLVI Halftime Show at Lucas Oil Stadium. Photo by Kevin Mazur/WireImage.

Kevin Mazur
February 5, 2012: Madonna performs with Nicki Minaj during the Bridgestone Super Bowl XLVI Halftime Show at Lucas Oil Stadium. Photo by Al Bello/Getty Images.

Al Bello
August 28, 2012: Madonna performs during the MDNA North America tour opener at the Wells Fargo Center. Photo by Kevin Mazur/WireImage.

Kevin Mazur
November 20, 2012: Madonna performs her final performance of her U.S. 'MDNA' tour at American Airlines Arena. Photo by Larry Marano/Getty Images.

Larry Marano
September 10, 2015: Madonna performs onstage during her 'Rebel Heart' tour at Bell Centre in Montreal, Canada. Photo by Kevin Mazur/Getty Images for Live Nation.

Kevin Mazur
January 27, 2016: Madonna performs during the "Rebel Heart Tour" at Coliseo Jose M. Agrelot in San Juan, Puerto Rico. Photo by GV Cruz/WireImage.

GV Cruz
November 7, 2016: Madonna holds a rally to support Hillary Clinton at Washington Square Park in New York City. Photo by Noam Galai/Getty Images.

Noam Galai
Watch: Riverdale's Lili Reinhart Talks Boy Bands, Lizzie McGuire, And Other Pop Culture Obsessions
Riverdale's Lili Reinhart Talks Boy Bands, Lizzie McGuire, And Other Pop Culture Obsessions