Lana Del Rey Is a Doomed Showgirl With Wolf Friends in Album Teaser
It's completely Del Rey, and yet completely different.
---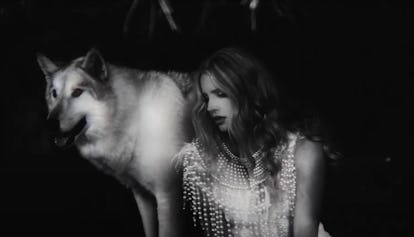 via Lana Del Rey's YouTube.
It's sort of amazing how many variations Lana Del Rey can squeeze out of her central aesthetic theme of moody American nostalgia. The 25-second teaser clip for her long-awaited next album Chemtrails Over the Country Club is no exception. Where the introductory visuals for her last album, Norman Fucking Rockwell!, gave us doomed Californication, the announcement video for Chemtrails may be best described as "cursed showgirl."
The album and first single will arrive on January 11th, but until then, fans have the clip to obsess over. In its short run time, Del Rey manages to present a rough biographical sketch for the variation of her persona she's projecting this time around: an idyllic suburban childhood filled with above-ground pools at a country club, some sort of fateful crash in a vintage red convertible, and then a life spent as a showgirl always bedazzled in Swarovski crystals—who also may or may not be a werewolf.
In other words, it's distinctly Del Rey in its Instagram-filtered depiction of a good girl forced to go bad by forces out of her control, with a little B-movie horror thrown in. Yet, it's completely different from her previous album cycles. You can say a lot about Del Rey, but you can't say she's not truly an image auteur.
Chemtrails arrives as her first follow-up to Rockwell, Del Rey's most critically acclaimed album by far. The 2019 album ended up on several "Best of" lists, and scored Del Rey her first Grammy nomination for Album of the Year. The album was also her first collaboration with Jack Antonoff. He'll return for Chemtrails.
While the title of the album may incidentally remind you of noted conspiracy theorist and golf club owner Donald Trump, Del Rey debunked any ties to the former president. In an Interview magazine discussion with Antonoff earlier this year, Del Rey said the album is inspired by her friends and siblings.
"I hear Chemtrails and I think 'work,' but I also think of my stunning girlfriends, who so much of the album is about, and my beautiful siblings," she said. "'Chemtrails' is the title track because it mentions them all and it mentions wanting so much to be normal and realizing that when you have an overactive, eccentric mind, a record like Chemtrails is just what you're going to get."
In the meantime, Del Rey has also gotten engaged to singer Clayton Johnson, though it's unclear whether that recent romance will have provided any inspiration for the album.
Related: Lana Del Rey Recruits Jack Nicholson's Grandson For Norman F-cking Rockwell Cover