The Best Twitter Reactions to the Lana Del Rey Drama
From Beyoncé memes to deep analyzations of media and race.
---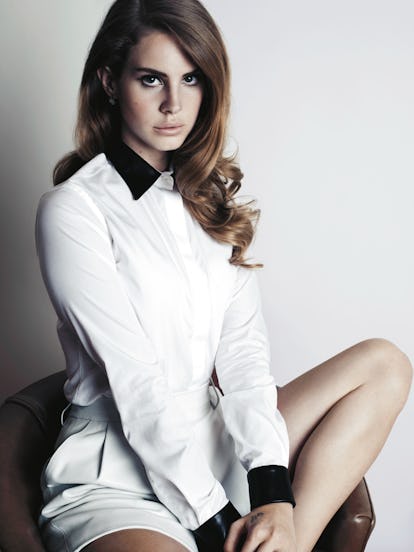 Jacob Sutton
It's been a tough year for certain fans of Lana Del Rey who consider themselves to have good politics. First, the 34-year-old singer told the New York Times that she is "not more of a liberal than I am a Republican." Then, she started dating a cop. Then, just as that relationship was starting to fade into the past, Del Rey once again called attention to her questionable outlook. In the early hours of Thursday, she posted an Instagram essay comparing how she and seven specific women in the industry are treated (and promoting her two upcoming poetry books). As the comedian Joel Kim Booster summarized the aftermath: "It feels like Lana is dating TEN cops today."
A portion of readers were always going to jump to conclusions. The fact that Del Rey's post is lengthy, and in a teensy font that's extremely hard to read, only made matters that much worse. (Why Del Rey didn't make use of the second slide's swath of blank space and enlarge the font remains unknown.) Most visible are the names in the first—and most contentious—paragraph. "Now that Doja Cat, Ariana, Camila, Cardi B, Kehlani and Nicki Minaj and Beyonce have had number ones with songs about being sexy, wearing no clothes, f—ing, cheating, etc," Del Rey began, "can I please go back to singing about being embodied, feeling beautiful by being in love even if the relationship is not perfect, or dancing for money – or whatever I want – without being crucified or saying that I'm glamorizing abuse?"
"I'm fed up with female writers and alt singers saying that I glamorize abuse," Del Rey continued. "In reality I'm just a glamorous person singing about the realities of what we are all now seeing are very prevalent emotionally abusive relationships all over the world." (She is also "not not a feminist," she added.)
Deeply buried in the essay is Del Rey's thesis: She just wants to sing about what she wants to sing about. That's valid. But the rest of the essay, not so much. Did Del Rey really have to name names, or create a contest of who's been most verbally abused?
Why didn't Del Rey call out the media or critics, instead of naming seven specific names? And how did she come about focusing on the women she chose? Three of the women just made chart history, and one is on her way to getting two no. 1's. But some began to suspect there was something else at play.
There was one exception on Del Rey's list: "She threw Ariana in there for some diversity," one user wryly theorized. (Others questioned if Del Rey, an Ariana stan, even knows that Grande is white.) Del Rey herself, of course, is a white woman. And yet, she inexplicably made the following argument:
Regardless of your stance, the fact Del Rey decided to stir up other passionate fanbases requires some form of courage. "She deadass came for the arianators, beehive and the barbz," one Twitter user noted. "She brave."
Del Rey might as well have called an assembly for disgruntled stans. First up, the Beyhive, which has been flooding Twitter with pleas to help Beyoncé and Meghan Thee Stallion's "Savage" remix make even more history.
Arianators have also made a strong showing. As for Banks, there aren't so much stans as spectators eagerly awaiting her response. "She's awake," one wrote when reposting Banks's first tweet: "What did she do?" Despite her follow up—"I have no energy for that today"—Banks predictably continued to weigh in. (The heated tweets Del Rey and Banks exchanged in 2018 hold the rare title of standing out among Banks's countless celebrity feuds.)
Ten hours later and 74,000 comments later, Del Rey is staying mum. (Perhaps she's saving it for those poetry books.) Also silent: Rihanna, who remains blissfully uninvolved.