The Lana Del Rey and Radiohead Legal Battle Is Heating Up
Radiohead once also had to settle for borrowing melodies.
---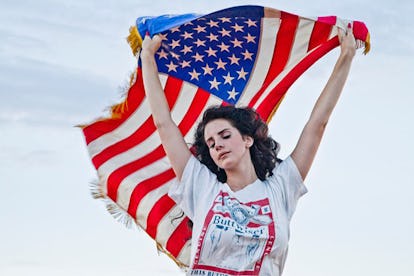 Lana Del Rey's music brings to mind a film noir past full of Cadillacs and daddies. Radiohead's portends a dystopian future with androids and anarchy. They do not have all that much in common, but the singer-songwriter and the band have been locked in a heated legal battle since some fans noticed a similarity in the melody from Del Rey's "Get Free" and Radiohead's 1993 breakthrough single "Creep."
Well, over the weekend, Del Rey took to Twitter to confirm that Radiohead has taken legal action. It hasn't resulted in a lawsuit yet, despite Del Rey's assertion otherwise, but Del Rey revealed lawyers for the two sides have been in talks for months.
"It's true about the lawsuit," she wrote. "Although I know my song wasn't inspired by Creep, Radiohead feel it was and want 100% of the publishing – I offered up to 40 over the last few months but they will only accept 100. Their lawyers have been relentless, so we will deal with it in court."
Radiohead's camp, however, is now disputing certain elements of Del Rey's description of the situation. In a statement released to Variety, reps for the band say no lawsuit has been filed, and it's not true that they would only settle for 100 percent of publishing.
"As Radiohead's music publisher, it's true that we've been in discussions since August of last year with Lana Del Rey's representatives," read the statement. "It's clear that the verses of 'Get Free' use musical elements found in the verses of 'Creep' and we've requested that this be acknowledged in favor of all writers of Creep.' …To set the record straight," the statement continues, "no lawsuit has been issued and Radiohead have not said they 'will only accept 100 %' of the publishing of 'Get Free'."
Here's where thing get even more complicated: Radiohead was once in a similar situation with "Creep." The band borrowed chord progressions and melodies from the Hollies' 1972 song "The Air That I Breathe," but no credit was giving upon initial release. Eventually, however, a compromise was worked out where the song's writers Albert Hammond and Mike Hazlewood were giving credit and a percentage of royalties. "Radiohead agreed that they had actually taken it," Hammond once said. "Because they were honest they weren't sued to the point of saying 'we want the whole thing'. So we ended up just getting a little piece of it."
So, technically, if the Radiohead camp go its way, the band, Hazlewoord and Hammond would be credited as co-writers of "Get Free" alongside Del Rey and co-writers Rick Nowels and Kieron Menzie.
Even if Del Rey maintains she didn't purposefully borrow the riff, Variety reports that Radiohead has a strong case. Which might not be a surprise. Ever since the estate of Marvin Gaye successfully sued over similarities between Gaye's song "Got To Give It Up," and Robin Thicke's "Blurred Lines," there's been an uptick in similar legal action and settlements. Ed Sheeran gave credit to the writers of TLC's song "No Scrubs" on his song "Shape of You." Likewise, Sam Smith added credit for Tom Petty on his track "Stay With Me." In the oddest recent circumstances, Taylor Swift preemptively gave credit to Right Said Fred after someone along the way noticed a melody from her single "Look What You Made Me Do" was reminiscent of the novelty hit "I'm Too Sexy."
It's not a situation everyone in the music world likes (sometimes things do end up sounding like other things even if that wasn't the intent), but it is the legal reality now.
These situation almost always involve only melodies and chord progressions, and not other elements, less definable, elements of songs, which would open up a whole more lawsuits. All musicians are influenced in someway by other. Lana Del Rey, for example, seems to be inspired by your parent's old vinyl collection. Radiohead meanwhile, ditched their original Brit Pop sounds as exemplified by "Creep," and reinvented themselves after lead singer Thom Yorke got really, really inspired by the IDM put out by influential electronic record label Warp. Yet, there's legal limits to how much inspiration you can take, even if it's accidental.
In any event, here's the two songs:
Related: Lana Del Rey Confirms "Cola" Was Partially Inspired By Harvey Weinstein