Divine Detox
Reveling in a clean colon and clean architecture at Europe's chicest new spa.
---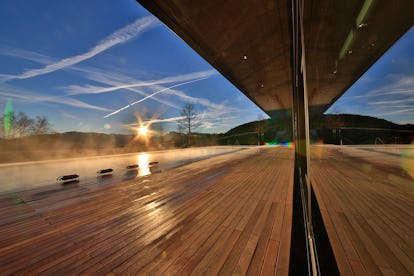 It's probably a good thing I didn't bother to read the fine print about the detox program I was about to embark on at Lanserhof Tegernsee, a new 70-room, 70-million-euro medical spa on the edge of Lake Tegernsee, in Marienstein, Germany, until I was firmly strapped into my Lufthansa seat. Forty-five minutes after I started thumbing through Dr. Erich Rauch's Health Through Inner Body Cleansing: The Famous F.X. Mayr Intestinal Therapy—the bible of the Lanserhof wellness program—I considered feigning illness to force an emergency landing. Virtual starvation? Daily diarrhea-inducing bitter salts? Self-enemas? The glossy brochure I'd first seen had mentioned only gourmet spa cuisine, sybaritic massages, detoxifying seaweed body wraps, and energizing Dead Sea salt scrubs. Or, at least, I thought it had. Rauch's book, on the other hand, talks about tea fasts and dry-bread-and-milk diets and includes topics like "Sluggish Bowels Lead to Unattractiveness," illustrated with harsh line drawings depicting various types of intestinal decline. I couldn't figure out if I was the Sower, which means I carry my potbelly around like a sack of seed, or the Bass Drum Player—same idea, bigger belly. Neither boded well for my visit.
Unsexy though they may be, the bowels get star billing in Mayr Therapy, the brainchild of Franz Xaver Mayr (1875–1965). The Austrian physician maintained that health is centered in the gut and that most people have compromised, toxic digestive systems—or, to put it in layman's terms, seriously clogged plumbing. Mayr Therapy aims to clean and invigorate the internal organs via "intestinal purification," which involves strict fasting, "chew training" with stale bread (each mouthful must be chewed slowly 30 to 40 times to encourage optimum salivation), de-acidification, all manner of natural supplements, and then the gradual reintroduction of plain (read: bland) foods. It's the opposite of a raw-food or juice cleanse. In fact, say goodbye to salad, because raw vegetables (increased flatulence, distended abdomen, irritated intestines—oh, my!) are discouraged in most Mayr-inspired programs.
Like the original Lanserhof in Austria, the sprawling state-of-the-art medi-spa at Tegernsee offers customized diets, therapeutic treatments, and fitness programs organized around the brand's proprietary LANS Med Concept—which melds a "modern, evolved" version of the Mayr method with holistic practices (shaman or energy healer, anyone?). I'd read recent stories about jetsetting Euros and Russian oligarchs going to rather drab places to take the old-school version of this carb-heavy, bathroom-centric cure du jour. But I'm not a girl who handles privation well. I want to have my cake, er, stale bread, and eat it too. And I don't want to do it in a hovel. Luckily, the German architect Christoph Ingenhoven (a Lanserhof devotee) designed Tegernsee with aesthetic snobs like me in mind.
A sort of modernist monastery, the sprawling clean-lined spa is built around a courtyard filled with ivy and 40-year-old pines. In a nod to local Bavarian architecture, vertical bars of larch unify the building's exterior and interior. The effect is simultaneously austere and inviting, as are the enormous guest rooms, which are soothingly spare but contain every possible creature comfort, including heavenly bed linens and pillows, remote-controlled fireplaces, and more closet space than my Manhattan apartment.
I'd enlisted a friend, Eva Karayiannis, the stylish owner of London's Caramel Baby & Child shops, to be my partner in detox. We were both sick of feeling tired, sluggish, and stressed, and a week away from work and family (not to mention fair-weather friends like tequila and Burgundy) seemed like a great idea. I needed to shed some weight, and for some inexplicable reason, Eva, who is as slim as a reed, was looking to drop a few pounds, too. She also wanted to quit smoking.
By the time we arrived at the spa (it's about an hour by car from Munich Airport), we'd pored over Rauch's scary book—and made a deal with our driver: If we couldn't hack it on the inside, he promised to spirit us away to a nearby tavern for beer and sausages. Feeling relieved to have an escape plan, I waited for Eva to finish the last cigarette before entering the building we would call home for the next week.
Our first lunch made the jailbreak contingency seem silly, as we greedily downed fennel herb soup, followed by tender medallions of venison with celery root puree and lingonberries. I could definitely get used to chef Maximilian Jäger's Energy Cuisine, as it's called. After lunch, we unpacked and explored. We decided to hit the saltwater pool and sumptuous sauna and agreed that the gym (equipped with a zillion dollars' worth of Italian Technogym equipment) was chic enough to induce workout lust.
My first appointment was for mental coaching with Christian Schubert, an Austrian psychologist who sees guests at Tegernsee on Sundays. Mental coaching? Was someone trying to tell me something? Turns out, that someone was right. Schubert was so skilled that we had a "breakthrough"—tears and everything—during our first (and, sadly, only) session. By asking me a series of eerily perceptive questions and listening keenly to my responses, he was able to home in on the relationship between recent events in my life and some health issues I'd been having.
Still, painful self-analysis did nothing to distract me from my growing hunger pains, so my roomie and I went to the dining room on the early side of the dinner hour. We had both opted to wear skirts. "This may be a health farm, but that's no reason to let the side down," Eva said. Unlike at other spas, no one at Tegernsee shows up in the dining room in a bathrobe. A fellow guest, the Hamburg-based art dealer Vera Munro, came to breakfast most mornings in a drop-dead kimono cinched with an Alaïa belt. It was just as well we had "dressed" for our lovely dinner of carrot soup and salmon that night, because once the real program began, there would be no reason to live, let alone get dolled up.
In the morning, we were out before sunrise for Active Awakening in the Wood, a brisk nature walk with some light stretching. My "bioimpedance measurement" with Oliver Müller, one of the fitness instructors, was a bit of a downer. A cruel computer confirmed what I already knew—I had too much fat, not enough muscle—and informed me of something I didn't: The water in my body wasn't making it into my cells. Next up was a physical with Elke Benedetto-Reisch, Tegernsee's medical director. The petite, pretty blonde (who was, incidentally, wearing the most elegant oxblood-colored stethoscope I've ever seen) put it to me bluntly: "You are malnourished, toxic, and your digestive system isn't working properly." By evening, she said, she would have prescribed my regimen for the rest of the week.
Eva and I had been introduced to the Chewing Trainer regime at breakfast. You choose a crispy spelt roll, spelt crispbread, crunchy buckwheat toast, or a bone-dry rice or corn cake, and are allowed a supplement of a small bowl of sheep- or goat-milk yogurt, avocado spread, cheese curd with cumin, or runny porridge (corn, quinoa, spelt, or oat). It's a bit disconcerting to hear fellow diners crunching each bite 30, 40, or even 50 times, but the din of your own mastication tends to drown them out after a while. Lunch involves yet more arduous chewing, but thankfully there are a few extra savories on the menu. You can have three boiled baby potatoes instead of bread, and there are tantalizing protein offerings, like a scoop of salmon tartare or a sliver of locally smoked rainbow trout. Truth be told, the food at Tegernsee, though spartan, is delicious—when you're allowed to eat it.
Toward the end of our first full day, I had an otherworldly detox-drainage massage by Fridolin Zombori, a gifted 24-year-old therapist who models on the side, and was feeling blissed out. I'd worked up quite an appetite since my very petit déjeuner, so, needless to say, my spirits sank when I arrived at dinner and spied our repast—a Chewing Trainer for Eva and only a pot of herbal tea with a small wedge of orange for me. Benedetto-Reisch had decreed that I would have Lans Med tea (and only tea) for dinner every night. And I had to sip it with a tiny spoon to feel sated. I knew I shouldn't complain. Two lovely girls from Kazakhstan were on a total tea fast, and the poor things moved around with the dreamy slow-motion gait of the famished. But by 9 p.m., my stomach was growling loudly. I tried to think about how purified my digestive system was going to be—and the 10 pounds I was bound to lose. Even though Eva was allowed more food than I was, both of us began to get a little testy. I walked into our suite on Day Two to find her pilfering my in-case-of-emergency trail mix. (I had bought it at the airport, nibbled some on the plane, and then hidden what was left in my carry-on.) When I selfishly locked the remaining contraband in my room safe, Eva stared at me in shock, and then we collapsed in fits of laughter.
But over the next five days, things improved dramatically. I (almost) got used to having tea for dinner and submitted willingly to all manner of treatments in the pristine all-white Lans Med center. Standouts included a peace-inducing hour of craniosacral therapy, several deep-tissue massages, a detoxifying wrap and bath, and a series of intravenous infusions of vital lipids, electrolytes, and oxygen that made a noticeable difference in my energy level. Even colon hydrotherapy didn't seem so bad in these surroundings. I dozed off to classical music in the relaxation room with warm packs of fragrant Alpine hay on my midsection. Private progressive-muscle-relaxation sessions, as well as yoga, weights, and snowshoeing, also helped melt away the tension. I began to feel lighter and more energized, even bolting out of bed in the morning before my alarm went off. I had a lot of cleanses under my belt, but this one made me feel the cleanest and most clear.
When it was time for my final medical exam with Benedetto-Reisch, I couldn't wait to get on the scale, convinced I had lost some serious baggage. "We don't focus on weight here at Lanserhof," she said. I do, I thought churlishly. But I was stunned to hear that, six days of privation and exercise later, I'd lost barely more than a kilo, or about three pounds. I flushed with disappointment. "We focus on making you healthy and shifting your body mass," said the doctor, taking out her measuring tape. Sure enough, my chest, hips, and waist had shrunk by a collective four and a half inches.
I did feel fantastic, and I definitely looked better, but I knew a week wasn't enough time to see the full benefits. (The folks at Lanserhof recommend a minimum stay of two weeks.) To that end, I brought home three dense bricks of buckwheat bread and six boxes of Lans Med tea in my suitcase. I won't pretend I'm still having liquid dinners, but I have learned to limit my portions. And gluten and caffeine are staying off the menu for now, as is cow's milk. I've developed an affinity for stale bread and have stayed true to my chew training. A week after my return, I'd dropped three more pounds and was getting compliments on how "fresh" I look. I don't know about you, but that's something I can really sink my teeth into.
A sunrise view from the pool at Lanserhof Tegernsee. Courtesy of the spa.
An illustration of Lake Tegernsee. Courtesy of the spa.
The all-season saltwater pool. Courtesy of the spa.
A minimalist guest room and balcony. Courtesy of the spa.