Fashion's It Girl: Lara Stone
After years of toiling in the modeling trenches, Lara Stone has her moment.
---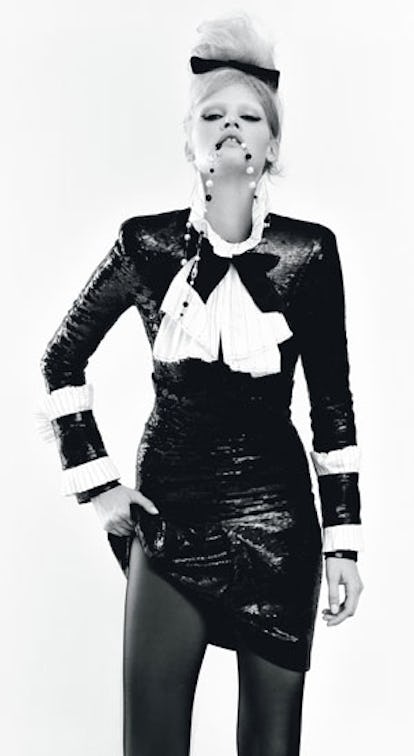 Like most so-called overnight successes, Lara Stone is a fashion darling many years in the making. And as is typical of the stories behind suddenly white-hot commodities, Stone's narrative contains a moment when she almost chucked it all. She was living in Paris, the city where at 15, during a family vacation from her small Dutch hometown, she was discovered in the metro by a model agent's wife. "Three and a half years ago, I was really ready to quit," says Stone, now 25 and curled up in a loose black T-shirt and leggings on a leather bench at New York's Park Avenue Armory, where she is about to slip into decidedly sexier garb and channel a naughty schoolmistress alongside a gaggle of male models for a shoot with photographer Steven Klein. Her voice is low and soft, and she speaks carefully, as if she might disturb someone lurking nearby. Throughout her late teens, Stone recalls, she worked regularly, doing mostly regional print in places like Tokyo and Barcelona. But those jobs tapered off—hence the moment of despair. In a last-ditch effort at career resuscitation and at the urging of an old boyfriend, she switched agents; the new team, at IMG, aggressively sent her out as a "fresh face"—even though, Stone says, "everybody in Paris knew me, because I'd been there for so long and I'd been doing castings all the time."
The strategy worked. This new yet precisely the same as before Stone—whose feline features, languid gap-toothed smile and voluptuous frame had previously scored her plenty of European catalog work but no major runway work or editorials—caught the eye of Riccardo Tisci, who was casting his fall 2006 Givenchy couture show. "When I [first] saw Lara, I was coming out of my studio to go into another room, and I crossed Lara in the corridor, and I took her straightaway," says Tisci. "She was supershy. I asked her a few questions, I took a Polaroid and I looked at the agent and said, 'I want Lara exclusively.' I fell in love."
The fashion pendulum had swung in Stone's favor, and soon she was all over the place: kohl-eyed and poured into a slightly sheer, button-down cardie at the spring 2008 Prada show; lying supine on a bed, her bare chest obscured by a furry handbag for a Juergen Teller photo shoot. At Isabel Marant, for whom Stone has walked in the last three shows and who calls Stone "a kind of alien—she's a mix of a warrior and Brigitte Bardot," she appeared fresh-scrubbed and dressed in a snappy henley shirtdress, proving a chameleon-like adeptness at morphing into whatever particular image a designer wants to project during a given season.
There is nothing girlish about Stone. Nor is there anything boyish; Klein calls her "the girl with the X-rated lips." She's neither coquette nor vamp; her seduction lies in her womanliness—the breasts, the hips—and perhaps also in the palpable ambivalence Stone feels toward the industry that she finds herself at the top of at the moment. She lives in London now and avoids fashion parties, though she visibly shudders when asked what she might want to do after the klieg lights shut down. "When I think about my job now, it's so easy. Because you get so much free time, you get to travel everywhere," she says. "The people are nice and fun and easy and relaxed. You get to smoke at work. You make lots of money." Stone pauses. "Where are you ever going to find another job where you don't have a boss or responsibilities, really, except to get on an airplane and just show up? It's a bit worrying."
The other thing that has Stone fretting is her body, an irony given how many photographers and designers see in her a refreshing aesthetic shift away from the prepubescent boy figure that has lately dominated fashion. Bruce Weber, who has worked with Stone several times since her Givenchy re-debut, says, "To me, Lara is part Marlon Brando, part Thelonious Monk and part Robert Mitchum. She's big, bad and beautiful."
"She had this sexual awareness," the photographers Mert Alas and Marcus Piggott recall via e-mail of meeting Stone two years ago, on a shoot for this magazine. "Normally when we are shooting, we are looking to create a character, and the great thing about Lara is that she is naturally already such a strong character herself [that] she inspires us to take a better picture." But Stone has struggled with the role of healthy poster girl (she is, it should be noted, a very lithe five feet ten). "A lot of people say it's nice to see someone who won't break in half when you touch them," she says with a sigh, rolling a pack of cigarettes around in her hands. "But I am still a woman and a person, and if you're compared and confronted with your colleagues, and they're all half your size, you think, F—, I'm really fat! And then on other days, I'm like, Oh, I'm not that bad." Coming to terms with her charmingly gapped front teeth has been an easier journey, however, despite the suggestion from a certain editor in chief that she might get them fixed. "She was just wondering what we were going to do about my teeth," Stone says, laughing, "and I thought she was talking about the fact that they are so yellow, so I told her I would quit smoking, which I still haven't done." Now, Stone adds, "I quite like them. It makes me different."
In many of Stone's photographs and in her runway work—about which she has anxiety too, though mostly because her size-7 feet make walking in the size-8 and -9 samples more of a clomp than a strut—the notable quality is a lack of emotion: Unlike her contemporaries, such as Sasha Pivovarova, who often has the look of a lost nymph in the forest, or even Gisele, who has become her own universally recognized brand, Stone works like a blank canvas, a grown-up who is content to let her collaborators paint their fantasies upon her. It is a role that seems to suit her just fine. Asked if she likes fashion, Stone glances up, shows a flash of those famous teeth, and says, "I like my job."