Larry David Addresses Jennifer Lawrence's Crush on Him While on Late Night with Seth Meyers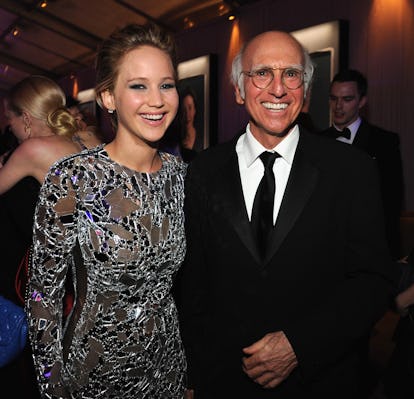 Kevin Mazur/VF14/WireImage
As Curb Your Enthusiasm fans are aware, where there's Larry David and women, there is comedy. That was especially the case when David was questioned about Jennifer Lawrence's crush on him while appearing on Late Night with Seth Meyers. A refresher: Back in 2015, the actress told the show host, after revealing her own crush on him, that "I gave Larry David my number, but he never called me. But he also might have been married! I don't know. Apparently I don't ask about these things. I'm so not that girl… I would never go after another woman's man. I always forget about Step 1: Find out if he already has a wife," Lawrence said. "I get so carried away and go into the delusion of like, 'Oh, my god! We're in love!'"
Two years later, David has addressed this specific incident.
"She sat right here and she said she had a crush on you and she also said she had a crush on me," David told Meyers. "When you heard that she had a crush on me as well, you seemed quite displeased that we were lumped togethe,r as if that detracted from the ego trip that you were on."
For David, the crush was apparently invalidated by the fact that she also had a crush on Meyers. "I'm not gonna lie, it would have been better if it was just me," he said. "When she said you, I too was disappointed." When Meyers asks how he would feel if it had been George Clooney she mentioned instead of Meyers, David says, "I don't want George Clooney in the picture either, I want it [to be] just me. To me, it takes away from the crush if she's mentioning other people. How special is it then for me? It's not that special. You got a crush on me? You got a crush on him? No good. I want the big crush."
David also talked about his own indecisiveness, specifically around doing a ninth season of Curb Your Enthusiasm, which arrives this Sunday, October 1, six years after the last one. Later, David weighed in on his super fans, specifically ones who have gotten tattoos of his face. "I have crossed paths with [fans]," he said. "Here's the thing about that: people who are fans—once they meet me they're so disappointed so quickly. In two minutes… the disappointment is etched on their face. 'This is the guy I wanted to meet? There's nothing to him.'" David also explained his thoughts on whether or not he'd date a woman who had a tattoo of him: "You look down and see that on her shoulder? It'd be like making love to myself—which I have done."
If you want more Larry David in your life, you can listen to an oral history of Curb Your Enthusiasm with the comedian and the rest of the cast ahead of the show's premiere.
Jennifer Lawrence reveals her cinematic crush: