Curb Your Enthusiasm Gets Oral History Treatment on Origins Podcast
And, obviously, it's hilarious.
---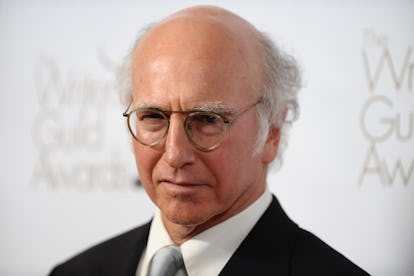 Jason LaVeris/FilmMagic
At least one good thing will come from 2017: This October, Curb Your Enthusiasm is coming back to HBO for its ninth season after a six-year hiatus. In honor of this momentous occasion, which will give the world a new reason to tune into the network's primetime lineup now that Game of Thrones has wrapped, the cast sat down for an oral history of the show with author James Andrew Miller for his new Origins podcast. Obviously, the results are hilarious.
In the six-episode series, everyone from creator and star Larry David to Cheryl Hines, Susie Essman, Richard Lewis, and J.B. Smooth reflect on how the show became the beloved boundary-pushing comedy it is today. 17 years ago, when Curb Your Enthusiasm started, Essmen remembers that the improvised show, which operates without a script, was a relatively DIY operation. "We had no budget, nothing," she says. "We didn't have our own dressing-room trailers. We were all running around whatever house we were in finding a bathroom and changing and getting makeup done in the half dark. It was such a low-budget operation. And then finally, in season three or four, we got one trailer that we all shared. Cheryl, Larry, Jeff and me, we all shared the trailer together. We liked it when it was like that."
What Curb Your Enthusiasm fans may not know is that the show actually began as a one-off. "It started out as a one-hour special, and the idea was Larry returning to stand-up comedy, and they wanted to do sort of a mockumentary of his return to stand-up," Hines explains. "When it started out, even the one-hour special, it was all improvised."
Of course, it took barely no time for the show to grow into something much larger — as hard as it was at times to watch. One of the biggest highlights of the podcast is when David compares Curb Your Enthusiasm to a horror film because of the many squirmy scenes. "You know, when people told me after the show started airing that they had to leave the room for some scenes because they were cringing and they couldn't bear to watch — it was like a horror movie — I had no idea it was having that effect on people," he recalls. "That was a complete surprise to me, and I liked it. I liked that they couldn't see it. But I never really gave it that much thought. I was just trying to do funny shows. I never felt I was going too far. I felt I was doing what I wanted to see."
That is probably because, according to Richard Lewis, there is very little actual divide between David's on-screen and off-screen antics. "Because it's so real, and it gets really intense sometimes," he says. "Our fights are almost no different on the show except maybe in how loud they are in real life."
While David is not sharing any information about the upcoming season, which airs October 1st, he has given a status update about the character he plays on the show. "Every day confirms, more and more, he's right!," he recently told TIME. "He's right about everything; he's rarely, rarely wrong. And when he is, he apologizes. I think a lot of people are afraid to apologize. I love to apologize. I was raised to apologize. My mother insisted always. Even if I was 100% right, she would insist, 'Larry, you be the man, go ahead. Tell him you're sorry!'But I didn't do anything! 'I don't care. Tell him you're sorry!'"
Related: Julia Louis-Dreyfus Is Bonded to Larry David By Their Misery
See What's Trending in W Video: