Lars von Trier's 'House That Jack Built' Posters Stir Controversy With Contorted Bodies
Female characters are referred to as "incidents."
---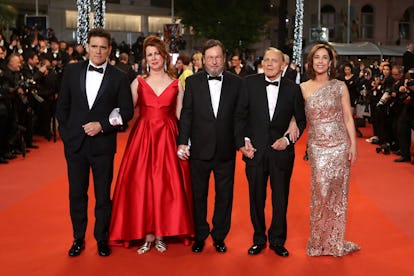 VALERY HACHE
File seeing Uma Thurman and Riley Keough's bodies tied up and contorted under things we'd never expect to see, but now can't stop looking at.
On Wednesday, seven teaser posters for Lars von Trier's forthcoming serial killer drama The House That Jack Built surfaced online causing an array of confusion, shock and controversy. Each poster features a different character from the film, but Uma Thurman, Riley Keough, Siobhan Fallon Hogan and Sofie Grabol — the four women featured in the marketing — are labeled as "incidents" not by their names. They're also tied up in a way that their bodies are contorted. It's not easy to look at and it's igniting conversation. Dillon's poster, which features him as the male lead, calls him by his character's name "Jack."
The House That Jack Built initially stirred up controversy after it premiered at Cannes Film Festival for its violence towards women, children and animals. Several people walked out of the movie's first screening and reviews for it were divisive. Though von Trier was pleased with the response.
"[It] made me very relaxed," von Trier told Cineuropa at Cannes about viewers' reactions. "It's quite important not to be loved by everybody, because then you've failed. I'm not sure if they hated it enough, though. If it gets too popular, I'll have a problem. But the reception seemed just about right."
The movie features Dillon in the lead role as a man who recalls the four murders the helped him develop as a serial killer. His four victims are Thurman, Keough, Fallon Hogan and Grabol.
The film is set to open Nov. 29 in Denmark.