Laura Dern and Her Mother Diane Ladd Say They've Both Been Sexually Assaulted
Laura Dern and Diane Ladd are the latest actresses to speak out against Hollywood's systematic sexual misconduct, revealing their own traumatic experiences.
---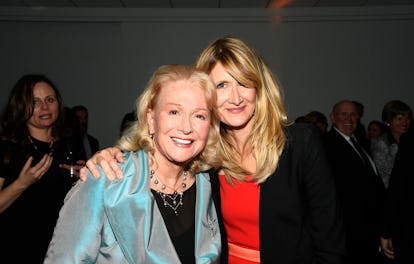 Frazer Harrison/Getty Images
Ever since Harvey Weinstein's decades-long history of sexual misconduct was revealed, women in Hollywood have felt increasingly empowered to share their own stories. Laura Dern and her mother Diane Ladd are the latest to do so. The Big Little Lies actress was moved to do so after speaking at the Elle Women in Hollywood event earlier this week, where Jennifer Lawrence and Reese Witherspoon spoke out about the sexual harassment and assault they've endured throughout their careers. Dern, who was being honored at the event, didn't share her experience then but did so later in an interview with Ellen DeGeneres.
"It was an extraordinary experience," she reflected on the event. "Perhaps more than ever, to have this shared space and a tribe of women and artists talking about this industry and ultimately therefore talking about sexual harassment in the workplace. And a very interesting thing happened this morning, which was I woke up and realized that in that space I talked about how I was one of the lucky ones because I was raised by actors who told me their stories and told me what to look out for and I realized I was still justifying behavior. And it was my mom who said, 'No, no, no, Laura, that was sexual assault. That was harassment. That was assault. No, you were 14 then, you were—' And you realize how in our culture how we have justified and therefore even condoned behavior as though it's the norm. And I felt very moved by people being honest and direct."
Dern's mother, the actress Diane Ladd, also spoke about about being sexually assaulted as a young woman in Hollywood by former Columbia Pictures head Harry Cohn, an infamous figure who made Hollywood's "casting couch" — a metaphor for the industry's systematic misogyny which required women to offer up their bodies for roles, as History Channel notes — an institutional practice. When she was 17, Ladd says she was asked to have a drink with Cohn where he proceeded to grope her inner thigh, according to The Los Angeles Times. "I picked up his hand and I threw it aside," she said. "And he laughed, got up to walk away and said, 'Kid, you'll never be a star like that.' So I went on to New York, and I have fought most of my life to make this industry better for the next generation."
Sadly, this kind of abuse in Hollywood continues to persist, as evidenced by the dozen-plus women who have spoken out about Weinstein, including Angelina Jolie, Lena Headey, Gwyenth Paltrow, and Kate Beckinsale, to name several. Laura Dern echoed that sentiment on Ellen, saying, "There was no one there who didn't say they'd had the experience. The most exciting part of it is in moving forward, we talked about the forming of a commission, which Kathy Kennedy presented, so to have a place you can feel safe, even anonymously to reach out and say there is an abusive power here, and there's something that's not okay."
Related: How Nicole Kidman's Celeste on Big Little Lies Flipped Hollywood's Script on Domestic Violence
Watch: Laura Dern, Naomi Watts, and More Talk About Working with Legendary Director David Lynch