Lauren Wasser's Guide to Wellness and Sanity During a Pandemic
The model, who has walked for Savage x Fenty and Chromat and is the latest brand ambassador for Shiseido, shares her beauty and mental health routines.
---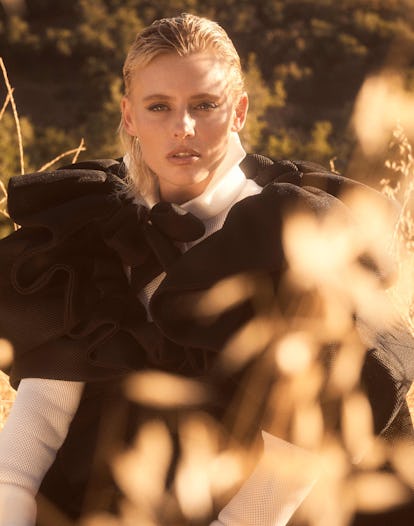 Lauren Wasser photographed by Kelsey Hale.
The summer of the coronavirus pandemic has brought on hardships of all kinds, worldwide. There are some people who have emerged as sources of inspiration—and individuals who overcome daily challenges, continue to persevere and galvanize in their respective fields put things into perspective for those of us who might be struggling.
Lauren Wasser is one of those individuals. The famed runway model and activist first gained the world's attention when losing both legs to Toxic Shock Syndrome. Determined to turn tragedy into something positive, not only did she become active in promoting the transparency of feminine hygiene products, but she still continues to thrive in the fashion world, appearing on runways for Chromat and Savage x Fenty. Now, she's joined forces with Shiseido as one of their global ambassadors.
In addition to her wellness and beauty routine, Wasser spoke with us about some of the more serious notes of life—managing life during a pandemic and how she stays consistently motivated and on course.
How are you personally staying calm and centered during the pandemic?
It's pretty crazy, because when I almost died and was in recovery for months in the hospital, one of the toughest things was that life didn't stop. All my friends, family, and the world were still moving, and things were happening but my whole world was at a halt. So, when this pandemic hit it felt very familiar. But instead of only my life stopping, it was the entire world put on pause. I think of it as a reset for our planet and things that are happening all around us.
It made us stand still and really evaluate what is important in life: which is our health, family, and friends. I think it has put a lot of things into perspective and understanding how priceless our health really is. I've been using this time to grow in all aspects of my life. Living in Los Angeles with my dogs and being able to challenge myself with my goals; I have what I want out of this second chance at life. I am incredibly grateful to be able to run, because without that physical release these circumstances would have been pretty tough.
You are in a profession where your physical image needs to be on the top of its game. How do you take time at the end of a workday to remember about what is important mentally and emotionally?
I believe it is my purpose to introduce a beauty that is perfectly imperfect to an industry that is always focused on perfection. I know that what I physically look like is only my vessel and it's what's inside that really matters. I pray a lot, go for runs, I check in and have conversations with my friends about what is going on in our lives. I provide these outlets and safe places for myself in order to download and process. I love driving to the beach, sitting in the sand, and seeing the power of the ocean—the sound of the waves crashing—and taking in deep breaths.
It's important to take care of yourself whichever way fits you, especially during this uncertain time. Reminding yourself to be present and that this too shall pass. Remember that we are all greater than whatever fears we have, and we have a lot more strength than we give ourselves credit for.
Can you elaborate on the Shiseido campaign and why you chose to align yourself with the brand?
For me, Shiseido is a brand that has consistently been driving new definitions of beauty; a brand that depicts a relentless desire to break through limits and transcend boundaries to bring more beauty to the world. It was powerful for them to highlight someone like myself and give me a global platform to showcase my own unique version of beauty.
Which products of theirs do you indulge in the most?
I love Shiseido's moisturizer and sunscreen range (specifically the Ultimate Sun Protector line). Their sunscreen has "Wetforce technology," which reacts to sweat and water to strengthen the UV protective veil. It's important for my skin to feel nourished, yet protected from the sun. If I'm going to rock a lip, it would be 521 Nocturnal from their Modern Matte Powder Lipstick collection—it's a great, weightless, fall lip. I love how much they research ingredients and all of the technology that goes into creating their products.
Let's dive straight into skincare. What's your skin type and which products do you use consistently to support your skin health?
I've been super lucky with having healthy skin. I think it's mostly because I'm a minimalist when it comes to applying anything on my face. I also am a little apprehensive when it comes to trying products because there are just so many products, it can be overwhelming—so normally, less is more for me. I usually wash my face in the morning (right now, I really like Origins Plantscription Cleanser) and then apply some cold rose water that I keep stored in the fridge. After that, I apply my La Mer eye cream and Shiseido moisturizer to feel fresh and start my day.
Are you prone to breakouts? What do you do about breakouts, especially in the summer when there are more layers on the skin like sunscreen, moisture, and makeup that build up and can cause irritation?
My skin is pretty calm except for those hormonal moments of the month. I try and keep my face hydrated throughout the day, especially in the hot summer. I drink a ton of water and recommend washing your face and re-applying a new layer of moisturizer and sunscreen a few times throughout the day. Another trick is putting your serums and moisturizer in the fridge, so that they stay cold on a hot day. These few tips will go a long way with keeping your skin cool, fresh, and hopefully breakout-free.
Do you go out in the sun a lot?
While I do my best to avoid the sun because I'm very pale, for the last two years, I've been training for the NYC marathon, so I'm out in the sun, running every day. This means I make sure to apply my Shiseido sunscreen, wear a hat, and some sunglasses, otherwise I will burn and look like a lobster.
Do you get facials often? If so, what type and with whom?
Yes, I love getting facials. I highly recommend it to anyone who is able to. I get one at least once a month. I found an amazing aesthetician named Corrine at Nurse Jamie Beauty Spa in Santa Monica. I feel revived after a good facial. There's nothing like getting all the junk out of your pores and getting a face massage. I always leave feeling so fresh and radiant. Her rose water is my favorite go-to, which I store in my fridge. When I am at home, sometimes the night before a shoot, I'll throw on a quick mask. My go-to mask is normally SkinCeutical's Biocellulose Restorative Mask. It has a really dope cooling effect, which feels amazing after a facial or a tough run.
Give us a valuable makeup trick you have learned from photo shoots.
When I am doing my own glam, or have an event, one trick I love is to apply a setting spray onto my eyeshadow brush to get a more intense and deeper shadow pigment. It basically doubles your eyeshadow options. I really like Urban Decay's all-nighter setting spray. Once I'm done with my makeup look, I spray it all over a few times to set it, which helps it stay and look fresh all day. I also love a natural brow—to keep it fluffy, natural, and not overly done, I comb my brows up and to the side and fill in pretty minimally. Brow pencils that are double-ended like Flower Beauty's Draw the Line eyebrow pencil are key, and you can do it anywhere quickly.
With all of the above, I want to point out that I really believe in extreme moisturizing and getting enough sleep the night before. I also wake up early, drink more water, throw on one of my favorite perfumes: YSL Libre or Scent One Hinoki from Comme de Garçons, and arrive to work with a clean, hopefully moisturized face. For editorials, I don't normally love heavy foundation or heavy tinted creams on my face. My favorite part about glam for editorials are definitely the eyes and the artistry that comes with that. I have been fortunate enough to work with some amazing makeup artists who always help me push the boundary with new eye shadows and pencils.
In terms of physical activity, what's your workout routine these days in a social distancing world?
I was training for the New York City marathon last year, but didn't end up doing it because of my busy schedule, so I continued to train for 2020, but then the pandemic happened. I have a treadmill at home, so when we had our initial lockdown, I was thankfully still able to be active. I also did virtual Pilates with my instructor and got a Peloton bike just at the right time. Now that we are able to run outside, I've ran 50 miles in the month of August and am trying to beat that this month. I miss playing basketball, but running has definitely been my safe place. I'm able to use it as my own personal time, no social media or phone calls—just me, my music, and my [running] blades. It's been very therapeutic, and I hope to inspire more people to run.
Since losing your legs to Toxic Shock Syndrome, you've actively been promoting legislation that furthers the study of the effects of feminine hygiene products on women's long-term health. What is the latest on government action on this bill?
It's important to note that Toxic Shock Syndrome has been around for over 30 years—before I was even born. When I met with Congresswoman Carolyn Maloney in New York to discuss The Robin Danielson Act, Congresswoman Maloney told me that had this bill been passed, I would possibly still have my legs. It's a bill that seems like a no-brainer for us women and our safety. We should be allowed to know what is going inside of us and what the long-term effects are if we continue to use a product, especially a women hygiene product. Transparency and change is what the bill is about; it's holding corporations accountable for what they are using to make their feminine hygiene products. Most major name-brand tampons contain toxic chemicals that don't need to be there but because of "cost efficiency" it's cheaper to use bleach, rayon, and chlorine.
Since sharing my story with the world in 2015, countless women around the world have reached out to me to share their stories of survival—even a mother who lost her 18-year-old baby girl to TSS shared this with me. It's heartbreaking to know that I'm one of the few lucky ones to survive and basically the only face people have ever seen in connection to TSS. I was using the product as I was directed, and I barely got away with my life. I hope that we can pass the bill and use it as a platform to amplify our demands about safer feminine hygiene products for future generations. I want people to know that Toxic Shock isn't rare, it's real! It happens and it's deadly.
It is still crazy to say that a tampon almost killed me.
Can you advise our readers who use tampons which are the safest to use? What ingredients would be best to avoid in tampons? What do women need to look out for when scanning the products composition?
If you have to use a tampon, I would recommend using 100% cotton tampons. I would also recommend period-proof undies, especially for those young girls who are just starting their periods. Make sure you are paying attention to what goes into the products you're using—look out for toxins like rayon, bleach, chlorine and any product that says "etc." on their ingredients list. How can they not list every single ingredient that we are literally inserting into our bodies, in the most absorbent part of our body? Companies that make women hygiene products need to be more transparent about what they are using to create them. Also, make sure you are aware of the different symptoms of TSS, which we unfortunately aren't always taught.
Given what you went through, did you ever think of starting your own feminine hygiene company?
I have definitely thought about it. I would like to make something one day, but I think that would have to come after making my documentary, which I'm in the process of working on. There's a ton of research to be done, which I will make happen, just need to hold a beat.