Law & Order: Special Style Unit
Three alums of the long-running TV franchise are getting creative offscreen.
---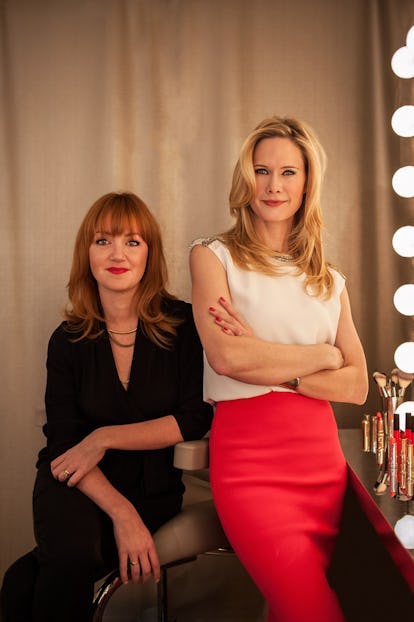 Photographer: John Messinger
Stephanie March
____On Law & Order: SVU, March played the ethical and arrestingly beautiful assistant district attorney Alexandra Cabot. In real life, she's bringing justice to the needy as well—specifically, those in need of a beauty fix. In partnership with the show's head makeup artist, Rebecca Perkins, the Texas native has launched Rouge New York, a salon and cosmetics line that delivers makeup equality, she says, "to women of all races, ages, creeds, and economic realities." Charming and big-hearted (she works a lot with children's charities), March fully understands that not everyone is contractually entitled to a professional makeup artist. And so, with a little business savvy from her husband, the celebrity chef Bobby Flay, she and Perkins opened Rouge as an all-inclusive friendly place that offers reasonably priced makeup application as well as waxing. (The staff makes house calls, too.) "Rouge is like getting a quick blow-out," she says. "But for the face."
Rouge New York, 130 Thompson Street, New York, 212.388.1717, rougeny.com
Jennifer Esposito
Esposito was never a regular on Law & Order, but she did launch her career with an appearance on the series in 1996 and, four years later, memorably starred as a rape victim on SVU. Offscreen, she faced down another scary situation: celiac disease. "If I have gluten, I get extremely ill," she says. "I'm down for a week. I have stomach issues and painful sun sensitivity. I used to have panic attacks about it. Going to restaurants was a frightening experience." To help others in the same boat, last year she opened Jennifer's Way Bakery, a 100 percent gluten-free East Village spot that offers everything from bagels to birthday cake. Says Esposito, "I want to remove the fear of eating and let people like me feel human."
Jennifer's Way Bakery, 263 East 10th Street, New York, 646.682.9501, jenniferswaybakery.com
Carey Lowell
As evidence that actors are often radically different from their onscreen personae, Lowell has been quietly making pottery ever since she was introduced to clay in high school some 35 years ago. The Bond girl (Licence to Kill), former Calvin Klein and Ralph Lauren model, and, most famously, outspoken assistant district attorney Jamie Ross on Law & Order built a small studio at her home in Westchester County, New York. "I have a kiln and a throwing wheel," she says. Lowell handcrafts organically shaped ceramic vases, cups, and the items that have become her signature: gazing bowls. Contemplating the ceramic petals sprouting from inside the vessels is meant to offer, she says, "a sense of tranquillity and spirituality." For the actress, they've turned into a thriving side business: In addition to showing her work at the Celadon Gallery in Water Mill, New York, and Greenwich House in Manhattan, she's also received orders from Barneys New York, Kirna Zabête, and man-about-town Waris Ahluwalia's new curiosity shop, House of Waris Rare, at the Gritti Palace in Venice, Italy.
Photos: Law & Order: Special Style Unit
March with Perkins at their beauty bar, Rouge New York.

Photographer: John Messinger
Mists and serums from Rouge New York. Courtesy of designer.
Esposito at her New York bakery, Jennifer's Way.

Photographer: John Messinger
Exterior of Jennifer's Way. Courtesy of shop.
Photographer: John Messinger
Lowell's porcelain gazing bowls. Courtesy of the artist.