Le Fooding 2011: Hugue Dufour of M. Wells
Chef Hugue Dufour's destination diner M. Wells in Queens, New York, might be shuttering at the end of the month, if only briefly—the Montreal émigré and his wife Sarah Obraitis, a food purveyor, have already...
---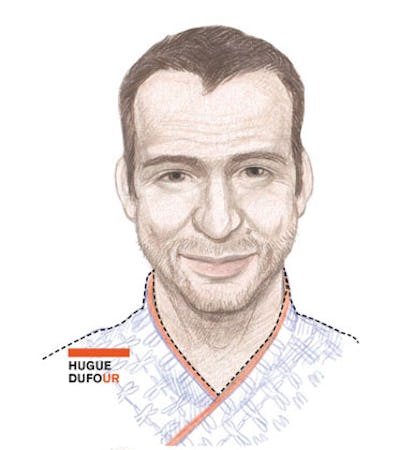 Chef Hugue Dufour's destination diner M. Wells in Queens, New York, might be shuttering at the end of the month, if only briefly—the Montreal émigré and his wife Sarah Obraitis, a food purveyor, have already found a new space nearby in Long Island City after a rent dispute with their current landlord (the details of which "would turn your stomach," Obraitis said in an email)—but Dufour's mix of maximalist cooking (a free hand with foie gras and bone marrow) with minimal hauteur (it's a diner in Queens) can be had via a series of themed farewell dinners every weekend until its close, and also at next month's third annual New York blowout thrown by Le Fooding, the French restaurant guide-cum-cultural/philosophical movement. Dufour will plan and prepare the opening chapter of a 52-hour "exquisite corpse" dinner with chef Andrew Carmellini of The Dutch.
When I spoke to him about a month and a half ago, the French-Canadian chef was dealing with the itinerant chaos of a Travel Channel shoot (Anthony Bourdain was filming an episode of "No Reservations" at M. Wells). "Crazy or not," he said wearily, "it is something you got to do." Dufour, who does not seem like a man very into promotion or publicity (Obraitis is much better at it), has had to do many such things ever since Sam Sifton, writing this past April in the the Times, opined that M. Wells is an evolution in the city's restaurant scene on par with Momofuku. It's been the worst-kept secret in New York ever since.
Le Fooding 2011 kicks off its two-part celebration the evening of September 17 with a "campfire session"—an outdoor party featuring renowned international chefs (like Inaki Aizpitarte of Le Chateaubriand in Paris) cooking alongside renowned musicians (James Murphy), and performances by the likes of Sondra Lerche and Hanni El-Khatib—at the Elizabeth Street Garden in Manhattan's Nolita. Part two, which is where Dufour comes in, is more conceptual: a pop-up restaurant will appear in the Chelsea art venue Honey Space starting September 23, where a sequence of chefs (six per day) will prepare 4-course meals, each passing on their stoves, pans, and a symbolic touch of their predecessor's soup stock—like a nonstop 52-hour game of culinary telephone.
Dufour and Carmellini will get things going with a preview dinner sponsored by Mastercard. When I asked him what he was thinking of making, Dufour—who could maybe best be characterized as lovably irascible—replied, "It takes me forever to come up with a menu. I might come up with one tomorrow, but I might change it as well. Sometimes I am not even familiar with my own menu. It's like, Come on—it's happening in fucking September." I asked if he knew Carmellini personally. "He used to come here when I had no business," Dufour said. "I have a huge respect for that."
Dufour, who has cooked at Au Pied de Cochon, a well-regarded place in Montreal, did not initially want to start a restaurant when he moved here to be with Obraitis, which might be why he has little sympathy for the ever-so-trendy foodistas—especially the Manhattanites—who complain about trekking up to Long Island City only to find themselves the victims of M. Wells's rather irregular, almost whimsical hours. "I am doing food for people from Queens," he said. "I would never, never, never go to Manhattan."
If you remember, Sifton concluded his Times rave with this thought on Dufour: "You know those biographies where the great artist first moves to New York, has a cold-water flat in a desolate part of town? We are in that chapter now." Usually, those artists move to nicer parts of town, to bigger galleries: they become the Establishment. The Establishment probably shouldn't hold its breath for Dufour. Go eat his food on September 23—it might be the only time you see this emerging artist in Chelsea.
As special offer, W readers can purchase limited early tickets for both Le Fooding events at legrandfooding.com. Part of the proceeds will support Action Against Hunger, made possible by Mastercard, Jameson, San Pellegrino and Veuve Clicquot.
Click here for Campfire Session and here for Exquisite Corpse