Five Minutes With Lea Seydoux
The French actress chats about how love lead her to acting, her summers spent at sleep-away camp and how French and American girls differ.
---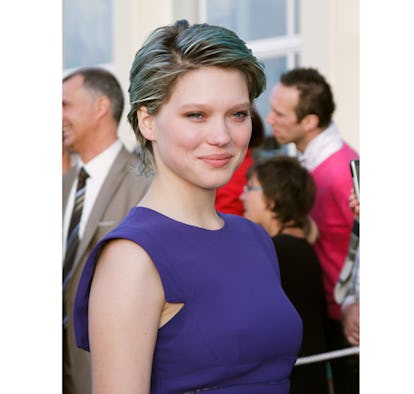 Lea Seydoux has French film royalty in her blood. Her grandfather is the chairman of major studio Pathé and her great uncle the CEO of another big studio, Gaumont. But the 27 year-old Paris native didn't arrive at acting until she was 19 and since then, her roles have earned her serious thespian street cred beyond any surname. This past year alone, she pulled off an assassin in Mission Impossible: Ghost Protocol (her first action movie) and a servant with a sexually suggestive relationship with Marie Antoinette in Farewell My Queen.
This Friday brings one of her toughest parts to date with the opening of the Swiss-French film Sister, directed by Ursula Meier. Seydoux plays Louise, the film's namesake, who spends her days and nights getting drunk and sleeping around while her 12 year-old brother, Simon, becomes a serial thief at the local ski resort to put food on their table.
In town to promote the film, Seydoux, sporting a mussy short 'do (she cut her hair and dyed it blue for the upcoming Blue is a Hot Color), chatted about how love lead her to acting, her summers spent at sleep-away camp and how French and American girls differ.
Was it the first time you played a maternal character? Yeah, I wasn't used to that. And it's true that the difficult thing was that many times in the films that I've done, I'm without a family. I'm always an orphan or I always have a problem with my family. It's still the case in this film, but in fact she's not the adult in the story. He is the adult and she's the kid.
So much of your onscreen time is with Simon. What was it like having your co-star be a child actor? It wasn't easy because you can't just do your job. You're with a kid so you have to support him as well. So I had to spend time with him and I remember one day we bought chocolates and went shopping, I had to create something in real life with him, outside the film.
I'd read that you originally wanted to be an opera singer and then you got into acting to impress a boy you liked? Yup. Actually, I started to become an actress because I met someone who was just a friend and I found his life wonderful, I thought, Oh my god, you can travel, you're free, you can do what you want, you're the boss. And then I met an actor and I was in love with him. And I remember I went to see all his plays and all his movies and every time he was like, Oh, hi, what's your name again? And I was so embarrassed and annoyed and I thought to myself, One day I will become more famous and he will fall in love with me.
And it worked out? Yes and no. Complicated.
But are you more famous than him now? Maybe in a way yes and in a way…he's famous, as well.
You just finished Blue is a Hot Color in which you play an older girl who starts a relationship with a teenage girl. How was that? It was difficult. I didn't feel comfortable at all. Never. So you can't think about yourself, because if you start to think about yourself… like in every point. Even in between takes, you emerge yourself. So you don't have a life for six months. But I like it. You can't always play, "Hello Nanna, you want a cup of coffee? Okay, Nanna."
Your English is so good. I read that you went to summer camp in Maryland? That's rather unorthodox for a French girl… For six years. In cabins, I was in cabin 10. I did canoeing, all that stuff. Volleyball. It was not weird, but it's not French at all. It's something very American. It was nice because I could understand the culture, see America from the inside and in a way I grew up with American girls. Maybe that's why I feel so comfortable here.
What do you think is the biggest difference between American teenagers and French ones? In America it's good to show people you are fine, you're healthy, you're sporty, you're happy to do things, to live. And in France it's more like you don't have to show you have success. We always have to see your fragile part, you have to show your vulnerability, you have to show your weakness. In America, you don't have to be weak, you have to be strong. You need to have both. Sometimes when something's wrong, you need to say it and not hide it. But you also need to enjoy life and be happy.
Photo: Getty Images