Leighton Meester Talks Gossip Girl: "I Don't Know If It Was the Healthiest Environment"
She opened up about the experience of growing up on the set.
---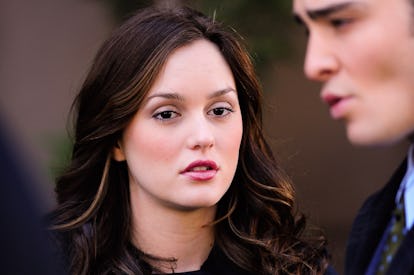 Ray Tamarra/Getty Images
While Blair Waldorf's life on Gossip Girl was the envy of many—both on- and off-screen—Leighton Meester's while filming it was apparently anything but. In a new interview with Porter, the actress said that while she values her experiences working on the show, in retrospect it definitely could have been a healthier place to grow up.
"I was young when I started Gossip Girl. A lot more people were suddenly around and I was being looked at," she told the magazine (she auditioned and signed for Gossip Girl at the age of 19). "If you don't have the right perspective, you could definitely be confused by people being that nice to you or judging you for behavior that's typical of a 20, 21 year old…making mistakes but having to make them very publicly. I'm not haunted by that time, but it's been interesting and helpful for me to look at it and examine it as an adult and go, 'I don't know if it was the healthiest environment.'"
In the interview, Meester said that she—along with the rest of the cast and crew—filmed for 16 hours a day, five days a week, for six years at a studio based in Long Island City in New York. "I would get there at 5 a.m. and leave at 8 p.m.; a lot of days I didn't see the sun," she said. But she said it wasn't so much the taxing schedule that got to her but the age at which she was thrown into it. "Everyone has their own journey, especially in their early 20s, when they're just figuring out who they are," she told Porter. "Because of the success of that show, I was put in a place where that journey was sped up. I had to figure it out quickly and with not a completely developed mind to discern between what's real and what's not, who I can trust and who I can't. I got really lucky and was able to very early on find and stay friends with people who are true."
Ultimately, Meester said that her time on Gossip Girl was "very special…filled with challenges that have nothing to do with [Gossip Girl] and also sometimes things that did have something to do with it."
"But I wouldn't trade it for anything. It's sort of a time capsule," Meester told Porter. A lot of the questions that come from it are: 'Do you miss it?' 'Did you love what you wore?' And I understand that, but—and I say this with nothing but love—it is like saying, 'High school was an amazing time for you, do you wish you could go back?' And the truth is, it was so special and such a unique, amazing experience, but no, I wouldn't wanna go back to it, I was a kid!"
There goes the Gossip Girl reunion, it seems. When Meester was asked about the possibility by Vanity Fair last year, the actress wasn't very enthusiastic, although she didn't say no outright. "Yeah, I don't really hear [talk of] that…I guess I hear that in fits and starts here and there, but it's hard to say," she said. "If everyone was into it and if the timing was right, you know?…I don't want to say, 'No, never …'"
Other cast members, like Blake Lively, were more into it. "Of course. I'm open to anything that's good, that's interesting, and that sort of feels necessary.… I imagine we all would [consider it]. I can't speak for everyone else, but we all owe so much to this show, and I think that it would be silly not to acknowledge that," she told Vanity Fair.
Related: 8 Fashion Lessons We Learned from Blair Waldorf, Former W Intern and Gossip Girl's True Arbiter of Style