Leïla Slimani, Award-Winning Author of the So-Called "French Gone Girl," Keeps Virginia Woolf's Diary and an Elena Ferrante Novel on Her Bedside Table
Meet the French-Moroccan writer who's enough of a superstar in France to reject Emmanuel Macron.
---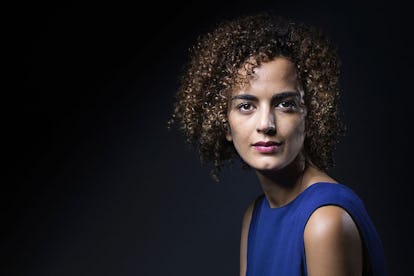 Joel Saget/AFP/Getty Images
It may have only just made its way to the United States, but it's an understatement to say that when Leïla Slimani's novel The Perfect Nanny, aka Chanson douce, was published in France in 2016, it made waves. Before long, the French-Moroccan writer won France's highest literary honor, the Goncourt prize; landed a cover of Elle that declared her a "superstar"; and actually turned down Emmanuel Macron, even after he praised her publicly. (At least at first—while she declined the role of his minister of culture, she's since become the president's personal representative to French-speaking countries.)
Sure, a literary prodigy pops up ever year or so, but by all accounts, Slimani was never meant to be the next. She's the first to point out that a 35-year-old Moroccan woman doesn't "have the ordinary profile of a Goncourt winner," but even less ordinary is the fact that the president went chasing after the author of a novel so unabashedly morbid that it launches into the story of a couple discovering the nanny they'd thought was perfect has in fact stabbed their two children to death with the shocker of a first sentence, "The baby is dead."
Slimani, who researched similar, real-life cases and went "very deep into my fears and my nightmares" to write the novel, didn't always plan for it to be so unapologetically jarring; in fact, she insists that her "first version of The Perfect Nanny was very boring," which is why she ultimately decided to dive head first into the murders, right off the bat. Instead of outcry, that decision has instead won the novel endless comparisons to Gone Girl, which Slimani admits she's quite "flattered by"—even though that means confessing she's only seen the movie. She sheds some more insight into her much, much less morbid life with two children and beloved nanny in Paris with her culture diet, here.
What's the first thing you read in the morning?
My emails and Le Monde.
What books are on your bedside table right now?
Virginia Woolf's diary, Chekhov's short stories, and the last novel by Elena Ferrante.
What TV shows have been keeping you up at night?
I love cooking shows! I'm not a bad cook myself, but I must say, that I admire the creativity of those young chefs. It makes me jealous… and hungry.
What's the last movie you saw in theaters?
I travel a lot these days, so it's been a long time since I saw a movie in the theater; it was a French comedy, called Le Sens de la fête.
What's the last piece of art you bought, or ogled?
I bought a photograph of Thomas Jorion. He takes pictures of abandoned places and buildings all over the world; it's very melancholic.
What's the last museum exhibition that you loved?
I visited the Institute of Contemporary Art in Miami during my holidays, and my son, who is six years old, was absolutely fascinated. I love looking at pieces of art through the eyes of a child.
What upcoming release are you most eagerly anticipating?
I'm very frustrated that I can't go to the cinema more often. I really want to see La douleur, a movie adapted from a very famous novel by Marguerite Duras.
What's the last song you had on repeat?
I don't listen to music. I know it's weird, and I have no explanation for that. But I never do.
What's the last concert you went to?
I've never been to a concert! Don't laugh at me!
What's the last thing you googled?
"Weather India." I am going to a festival in Jaipur tomorrow and I needed to know what to pack.
What are your favorite social media accounts to follow?
When you become a "public person," I find it very difficult to keep following social media. It is too harsh, too violent. I only read newspapers online.
Related: The 10 Best Memoirs of 2017 Were All Written By Women