The 10 Best Memoirs of 2017 Were All Written By Women
We've spent enough time this year reading about the lives of terrible men.
---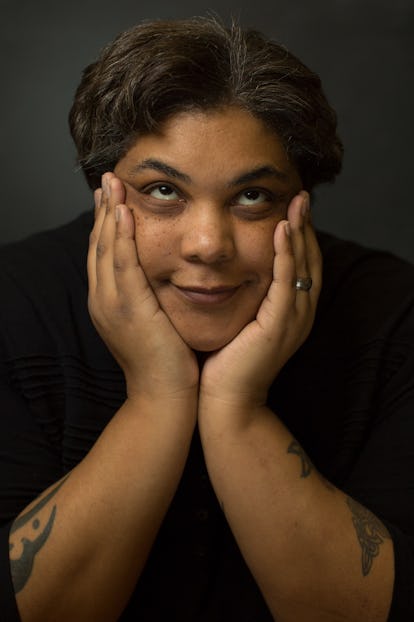 Jay Grabiec
We've spent a long year reading about the ugly details of the lives of powerful, despicable men. Here, then, why not spend the last days of 2017 with these incredible women. Here the 10 best memoirs from 2017, all written by astonishing, hilarious, brilliant women who have been through it all.
Surpassing Certainty: What My Twenties Taught Me by Janet Mock
As a trans woman herself, Janet Mock has been a longtime advocate and spokesperson for the trans and queer community at large. For all the outward-facing work that Mock has done these past years, we're fortunate to have a stellar memoir like Surpassing Certainty, in which Mock takes readers down her own personal history as a young person coming into her independence. From one of her early jobs as a stripper, to navigating her first sexual experiences, to establishing herself as a career woman in a cutthroat industry, Mock's tales of late adolescence and life in her 20s are remarkably universal, even through the lens of a trans woman of color trying to figure where she fits in the world.
The Last Black Unicorn by Tiffany Haddish
How is it that a relative unknown stole not only the entirety of the blockbuster Girls Trip but became America's favorite new comedian practically from the moment she appeared onscreen? But, as her side-splittingly hilarious memoir The Last Black Unicorn astutely observes, Tiffany Haddish is not the overnight success that many people would assume; she has been a workhorse within the comedy scene for many years. In her memoir, Haddish recalls growing up in South Central L.A. where she struggled through childhood as an outsider and had troubling encounters with toxic romantic partners. If you've ever seen Haddish perform stand-up, then you're already familiar with her extreme down-to-earthness. Always true to herself, Haddish, in that no-f—s-given way, tells it like it is in this must-read end-of-year release.
Priestdaddy: A Memoir by Patricia Lockwood
Patricia Lockwood wrote a personal life story that could very well be adapted into a TV show or movie—it is truly that bizarre and wonderful. After medical bills force the poet and her husband into near-poverty, the couple decide to move in with her parents back home in the Midwest. As the title aptly suggests, Lockwood's father is a priest, but this story is not your typical story of religious rebellion (though there is some of that, too). Instead, Lockwood's is a truly unique, funny, and charismatic family portrait of a priest father who runs around half-nude slaying a guitar in the living room and an eccentric mother who fears catching STIs in motel rooms. Lockwood also recalls childhood experiences, like being a four-year-old at an anti-abortion protest. In the book, Lockwood asks what it means to be raised in a Catholic household, the ways in which we recognize our parents' flaws, and how to eventually leave the religion you were raised into.
Where the Past Begins: A Writer's Memoir by Amy Tan
The novelist Amy Tan has long been mining what might be called the Chinese-American version of Lady Bird—in-depth, complicated mother-daughter tales from an immigrant perspective. In her memoir Where the Past Begins, Tan digs up the stories behind the stories and uncovers real-life tales that inspired Tan to write about themes relating to shame, pain, and dark family secrets. The book also gives a voice to her mother, who has lived through horrors like surviving an abusive marriage, fleeing her first husband (and, consequently, three daughters from that relationship), and relocating to California to start anew while coping with both guilt and relief. And that's just a mere sampling of what's within the pages of this gripping book.
This is Just My Face: Try Not to Stare by Gabourey Sidibe
Before Gabourey Sidibe's wildly affecting performance as the teenage titular role in Lee Daniels's tragic 2009 drama Precious (a role that would gain her an Oscar nod), she grew up as a precocious child of New York City. With a mom who busked in the subways to raise money to support her kids and Sidibe's early job as a sex phone operator, her life was certainly unconventional. In her breakout memoir, Sidibe recalls her rise to fame and life post-Precious—where she eventually landed roles in acclaimed series like American Horror Story and Empire—and shares with readers the everyday challenges she faces as a large black young woman making a name for herself in Hollywood. Trust: Sidibe has staying power (not that we needed to tell you that). In fact, the actress made her stunning directorial debut with her short film "Tale of Four," which premiered on Refinery29 earlier this year. There's more to come for this powerhouse.
Wedding Toasts I'll Never Give by Ada Calhoun
It began, as many memoirs do these days, with a Modern Love column; in it, an annoying vacation mix-up causes author Ada Calhoun to reflect on the complexity of her 11-year marriage. ("There is so much beauty in the trying, and in the failing, and in the trying again," she writes.) The popularity of that essay was the seed for this frank collection, which meditates on marriage as an ever-evolving thing, one full of failure and triumph and lots of change. Throughout eight essays, Calhoun expands upon her Modern Love column's original themes, tackling the whimsical idea of soulmates and "the boring parts" of being partnered up. A hilarious relief from the "happily ever after" narrative.
Hunger: A Memoir of (My) Body by Roxane Gay
"This is not a weight-loss memoir," writes Roxane Gay early on in her raw and vulnerable memoir. "This is a book about learning, however slowly, to allow myself to be seen and understood." In Hunger, Gay writes candidly about her life as a self-described fat black woman. She shares her personal history with her body, from a traumatic event during puberty to her adult relationship to her form. If you follow her on Twitter, or have read Bad Feminist, you know that Gay has never been one to shy away from tough topics. Here, she leads us into the uncomfortable corners of her own psyche. Her writing is so personal that it sometimes feel like she's reckoning with her own conflicting feelings about her body as she writes them.
What Happened by Hillary Rodham Clinton
In What Happened, the famously close-lipped Hillary Clinton shares her innermost thoughts and feelings about her rise as the Democratic Party's candidate, her uncomfortable debates, and the silent car ride home from on the night she lost the election to Donald Trump. Through the lens of hindsight, Clinton ruminates on what she would have done differently, and the incredible moments she'll never forget. (For even more insight, we recommend listening to her revealing interview on the Longform podcast.) Both a cautionary tale and a call to action, we're planning on gifting Clinton's memoir to our college-bound cousin set to someday take over the world.
Too Much and Not The Mood by Durga Chew-Bose
Not quite a traditional memoir, Durga Chew-Bose's debut nonfiction collection—titled after a phrase in a Virgina Woolf journal entry—merges the personal with the poetic. Through 14 tenderly crafted essays, the writer and regular Buzzfeed contributor recounts growing up in Canada as the daughter of Indian immigrants, moving through school in awe of older girls, getting a place of her own, and falling hard for films and the stories they tell. Through her romantic obsession to detail, Chew-Bose serves the reader tactile descriptions of life's tiny gifts and tragedies—"the lathery shade of peach on the bottom corner of a painting at the Met," the sinking feeling of "gifting someone I love earrings she will never wear," or the way elegant women she admires "nimbly [deliver] their long necks from circuits of wool scarves." It's like reading a love letter to the world itself.
The Mother of Black Hollywood by Jenifer Lewis
If you were born after 1990, you probably know Jenifer Lewis in her current role as Ruby Johnson on ABC's Black-ish; but if you're a bit older, you know her as "the Black Mother of Hollywood," a title coined for her roles as mothers in movies like What's Love Got to Do With It and Poetic Justice. In her memoir Lewis reflects on her nearly 30-year career, beginning wit Black-ish and winding backwards to her early start on Broadway. Her rise to fame wasn't without its setbacks—including a mid-career bipolar disorder diagnosis—but Lewis has weathered it all with humor and grace. Her book is a lesson in radical self-love.