Roxane Gay Must Know What DJ Khaled Is Doing at All Times
Fresh off publishing her first-ever short story collection, Difficult Women, the author talks Beyoncé, DJ Khaled, and her picks for best reads of the new year.
---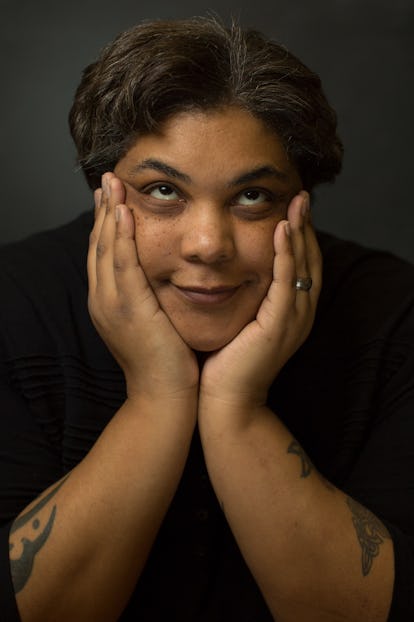 Jay Grabiec
Though the writer Roxane Gay has been keeping readers waiting for the release of her eagerly anticipated memoir, Hunger, she made something of a peace offering: Difficult Women, her first-ever short story collection, which touches on everything from strippers putting themselves through college to Gay's own romances in the Midwest, was published this week. In between tweeting at Ina Garten and regularly stealing the show in the op-ed section of the New York Times, Gay shared what else she's been up to lately with her culture diet. (DJ Khaled and Beyoncé are keys).
First thing you read in the morning: My email. It's a terrible habit but I just have to know if I've received some kind of incredible, life-changing email during the hours whilst I slept. Then I check in on Twitter, Facebook, and Snapchat. I've got to know what DJ Khaled is doing at all times.
Books on your bedside table right now: Insurrections by Rion Amilcar Scott; What It Means When a Man Falls From the Sky by Lesley Nneka Arimah; This is Just My Face: Try Not to Stare by Gabourey Sidibe; All the Birds in the Sky by Charlie Jane Anders; We Love You, Charlie Freeman by Kaitlyn Greenidge; and Thrill Me: Essays on Fiction by Benjamin Percy.
The TV shows keeping you up at night: Reruns of SVU, Grey's Anatomy, and Criminal Minds.
Last movie you saw in theaters: Moonlight, which is an absolutely breathtaking, nuanced, beautifully directed film. It is, by far, the best movie I saw in 2016. There was no competition, frankly.
Last thing you saw at the theater: The off Broadway show Kung-Fu.
Last piece of art you bought, or ogled: The last piece of art I ogled was "Reflections on Crash" by Roy Lichtenstein. I want to own a painting of his so very much. I covet. I covet. I covet.
Last museum exhibition that you loved: "Hard Truths" by Thornton Dial at the Indianapolis Museum of Art.
Release you're most eagerly anticipating: I am always ready for whatever Beyoncé is doing next. And I can't wait to read Abandon Me by Melissa Febos; Sing, Unburied, Sing by Jesmyn Ward; Made for Love by Alissa Nutting; We Are Never Meeting in Real Life by Samantha Irby; and This Will Be My Undoing by Morgan Jerkins.
Last song you had on repeat: "Countdown" by Beyoncé.
Last concert you saw live: LOL Beyoncé's Formation Tour. (My obsessions are pretty clear.)
How you get your news: I get most of my news online via Twitter, the New York Times, and Google News. I used to use Google Reader, the most amazing reader that Google cruelly and inexplicably did away with. Not a day goes by that I don't mourn the loss of Google Reader.
Favorite social media accounts to follow: My favorite Twitter follows are my real life friends. In terms of other people, I enjoy following Josh Gondelman, Sophia Bush, Retta, The Points Guy, Is SVU on USA Now, Bobby Finger, Saladin Ahmed, People Magazine, Kim Kardashian, DJ Khaled, The Root, John Legend, and many others.
Last thing you do before you go to bed: I just sighed loudly. The last thing I do before bed is check my email one last time, hoping to see an email from a certain someone before I close my eyes. I'm hopeless.
See W's most popular videos: