Jada Pinkett Smith Says Golden Globes Voters Wouldn't Even Watch Girls Trip
But Tiffany Haddish could still be nominated for an Oscar.
---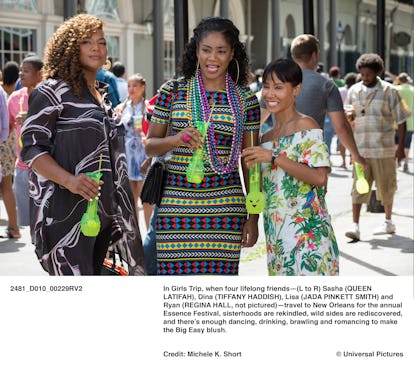 Michele K. Short/Universal Pictures
Want to know why Tiffany Haddish wasn't nominated for a Golden Globe for her work in Girls Trip? Co-star Jada Pinkett Smith thinks she knows: Golden Globes voters didn't even see it.
Haddish's omission from the Best Supporting Actress category set off some anger in the Twittersphere on Monday, and Smith, who was one of the most vocal celebrity voices to elevate the #OscarsSoWhite movement during 2016, originally only offered her brief thoughts about the situation. "I have so much to say on why @TiffanyHaddish was not nominated for a Globe… but I won't," she tweeted. Twenty hours later she decided she actually did have more to say.
While explaining that she wasn't necessarily upset that neither Haddish or Girls Trip were nominated, she was upset that she didn't think they got a fair shot at all. She also stuck up for The Big Sick, another critically hailed and commercially successfully comedy that was even more shockingly completely snubbed.
Basically, Smith is claiming that the Hollywood Foreign Press Association, the group of 90-something foreign entertainment journalists that runs and votes on the awards, wouldn't set up a special screening or press conference for the film.
According to the Golden Globes official consideration roles, for a film to be eligible HFPA members must be invited to a screening of the film any time before it is officially released or within one week of the premiere. Though, those screenings don't have to specifically be for HFPA members.
However, special screenings and press conferences for HFPA members are arranged by the body throughout the year. (The Golden Globes website includes galleries of the outfits stars wore to those various press conferences throughout the year, by the way.) Public rules don't specifically touch on these except for the fact that such events are forbidden during the period between when nominations are announced and when final votes are due.
Of course, Girls Trip, a crowd pleasing summer comedy, wasn't a put together as a movie that was trying to get major awards in the first place, but, as Smith points out, sometimes Hollywood isn't sure what to do when movies that aren't put together as traditional awards season contenders prove to be actually worthy of awards…or at least recognition and nominations. Perceptions of what's awards worthy can also go hand in hand with other issues like sexism and racism. It's worth noting that Jordan Peele, the director of Get Out, a genre movie that became a sensation, was snubbed for a Golden Globe nod.
Of course, all awards season hope isn't lost for Haddish. She's racked up best supporting actress nominations and wins from various film critics groups, and she may follow a similar path to a nomination as the one Melissa McCarthy took when she was nominated for Bridesmaids in 2011. McCarthy wasn't nominated for a Golden Globe either.
Related: Jada Pinkett Smith Calls Tupac Biopic "Deeply Hurtful"