Jada Pinkett Smith Calls Tupac Biopic "Deeply Hurtful"
Jada Pinkett Smith was high school friends with Tupac Shakur, but feels All Eyez on Me misrepresents their relationship.
---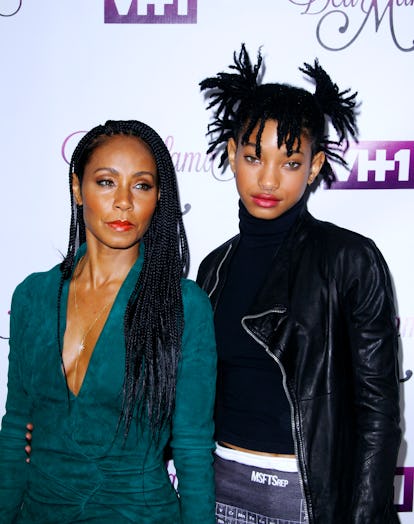 Photo by Getty Images.
Long before either was famous, a young Tupac Shakur and Jada Pinkett Smith met as high school students at Baltimore School for the Arts and their bond persisted even as Shakur became a hip-hop icon and Smith climbed the ladder in Hollywood. Though, All Eyez on Me, Hollywood's first major Tupac biopic that opens this weekend, imagines the pair's relationship in ways that aren't totally truthful, and Smith isn't happy about it.
The film is littered with fictional representations of real life icons that played a part in the late rapper's life. Faith Evans, Sean "Diddy" Combs, The Notorious B.I.G. and Snoop Dogg all pop up, but it's Pinkett, played here by Kat Graham, who gets the most attention. A review in The Chicago Sun-Times' notes that, "Graham's Jada Pinkett is the conscience of the film, at one point berating her old friend Tupac at a party for becoming a caricature of the hard-partying hip-hop star." A less positive review from Paste says, "it's a shame All Eyez on Me eventually forces Pinkett to become the d ull voice of reason when Tupac's life begins its downward spiral before his death."
Whatever the case, Smith isn't appreciative of her portrayal in the film and went on Twitter to clarify some things on what would have been Shakur's 46th birthday.
Smith however did go on to praise both Graham and the films star Demetrius Shipp Jr., noting, "You both did a beautiful job with what you were given. Thank you both." Indeed, the pair's chemistry onscreen is said to be one of the saving grace's of the film.
Indeed, Smith isn't the only person to have problems with the film. Critics, by and large, aren't pleased by the film. It's racked up just a 26 percent freshness rating over at Rotten Tomatoes.
It also lacks the 50 Cent stamp of approval. In two Instagram posts he called the film "TRASH," and proclaimed, "the shit felt like I was watching a life time TV movie in a theater. I wanted to change the channel. The new edition story was better then that shit. SMH."
The $40 million film however is still expected to be a relative commercial success. While family friendly Cars 3 will undoubtedly come out on top, but, as per Deadline, All Eyez on Me may very well sneak past Wonder Woman for a solid second place spot with a weekend take somewhere in the neighborhood of $35 million.
Related: Jada Pinkett Smith Calls 2017 Oscar Nominations a "Beautiful Step" a Year After #OscarsSoWhite
See What's Trending in W Video: