Lena Dunham Called Out American Airlines After Hearing Transphobic Talk from Two Employees
She blasted the airline on Twitter.
---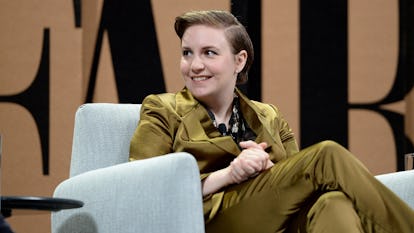 Michael Kovac/Getty Images
Most people (celebrities included) only take to Twitter to complain about their own treatment on a flight, but Lena Dunham's recent social media complaint had nothing to do with her own seat. Rather, she blasted an airline after she overheard two employees making transphobic comments.
"Not gonna call out the airline who delayed cuz sh*t happens BUT I did just overhear 2 @AmericanAir attendants having a transphobic talk" she tweeted, followed by, "At this moment in history we should be teaching our employees about love and inclusivity @AmericanAir. That was worst part of this night."
By "this moment in history," Dunham was likely referring to the ongoing conversation about transgender rights in the wake of President Donald Trump's tweets about banning transgender people from serving in the military. Such a ban would not only violate transgender people's rights as citizens, it would also hugely hurt the trans community economically, as the military is currently our nation's largest employer of transgender people. (For their part, the U.S. Military has said it will not enforce Trump's tweets unless they are given a more concrete plan of action through official channels.) Trump also rescinded basic rights for transgender young people in school.
Dunham obliged American Airlines' request for more information and direct messaged them on Twitter with her account of what she heard, writing:
"Hi! I heard 2 female attendants walking talking about how trans kids are a trend they'd never accept a trans child and transness is gross. I think it reflects badly on uniformed employees of your company to have that kind of dialogue going on…What if a trans teen was walking behind them?…Awareness starts at home but jobs can set standards of practice…Thank you for your consideration!"
The airline responded asking for more specific information and thanked Dunham for passing along the information. It's not yet clear whether American Airlines is taking any action in light of the incident, and one can only hope that the two attendants Dunham overheard choose their words with more compassion and less ignorance in the future. See Lena Dunham's full tweets on the incident below:
Related: Lena Dunham's Short Hair and Topless Instagram Is an Homage to Kathy Acker and Sinead O'Conner
See What's Trending in W Video: