Lena Dunham, Maya Hawke, and Austin Butler Join Quentin Tarantino's Once Upon a Time in Hollywood
The cast of Quentin Tarantino's next film, Once Upon a Time in Hollywood, is shaping up to be quite a grab bag.
---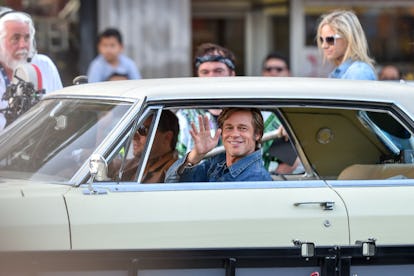 PG/Bauer-Griffin/Getty Images
The cast of Quentin Tarantino's next film, Once Upon a Time in Hollywood, is shaping up to be quite a grab bag. Though the stacked cast already includes Brad Pitt, Leonardo DiCaprio, Margot Robbie, Al Pacino, Dakota Fanning, Damian Lewis, James Marsden, and Luke Perry, it just keeps growing: Lena Dunham, Maya Hawke, Austin Butler, and Lorenza Izzo have all officially joined the party, according to Deadline.
Once Upon a Time in Hollywood takes place in 1969, during the summer of the Tate-LaBianca murders by Charles Manson and his followers. DiCaprio plays a washed-up television star, and Pitt plays his stunt double, while Robbie plays the ill-fated Sharon Tate. A first look was released a couple weeks ago, after Tarantino transformed an entire block in Los Angeles to look identical to 1969, with DiCaprio, Pitt, and Robbie all looking very much of the era.
It is unclear which roles Dunham, Hawke, Butler, and Izzo have signed on to play, and the film will likely remain shrouded in mystery until its release, but it is curious that Hawke—the daughter of Uma Thurman and Ethan Hawke—has agreed to participate. Earlier this year, Uma Thurman revealed the assault she endured on the set of Kill Bill, claiming that Tarantino demanded she drive an unsafe vehicle, which crashed and left her seriously injured, to the point where she now experiences chronic pain in her neck and knees. Thurman could have died, according to reports, and Tarantino refused to release the footage of the accident until months after the film's producer, Harvey Weinstein, was accused by many women of rape and sexual assault. However, Thurman has since signaled that she's accepted Tarantino's apology and would work with him again.
Once Upon aTime in Hollywood will be Tarantino's first film since The Hateful Eight in 2015. Lena Dunham has appeared in films before, but nothing of this magnitude. The movie will also be an introduction for many Americans to the Chilean actress Lorenza Izzo (who is married to actor-filmmaker Eli Roth, an occasional Tarantino collaborator). Austin Butler, who may be best known for his roles on teen shows like Zoey 101 and The Carrie Diaries—or for being Vanessa Hudgens's boyfriend—had a stint on Broadway in The Iceman Cometh, but Once Upon a Time in Hollywood will likely be a major boost for his career as well.
With a cast of Hollywood A-listers (Pitt, DiCaprio, Robbie, Pacino, Fanning), cable television rabble-rousers (Lewis, Marsden, and Dunham), heartthrobs of yesteryear (Perry), heartthrobs of today (Butler), and newcomers (Hawke and Izzo), it seems like this film will have something for everybody.
Related: See Margot Robbie Channel Sharon Tate in Go-Go Boots for Once Upon a Time in Hollywood