Lena Waithe's New Series The Chi Drops First Trailer Starring Moonlight's Alex Hibber
Catch a glimpse of one of the most anticipated shows of 2018.
---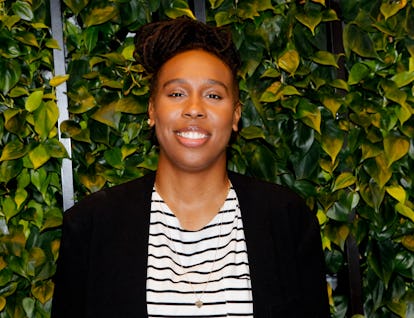 Tibrina Hobson/Getty Images
Lena Waithe has had a breakout 2017, as the star of this year's Emmys and the mind behind one of Master of None's best episodes to date. Judging by the first glimpse at her next project, 2018 might be just as exciting for the actress. Today brings the first look at Waithe's new drama series, which she is writing, producing, and starring in, and it promises to be one of the more buzzed about shows of the new year. In the trailer, you get an overview Waithe's native city, Chicago, as well as the many characters of the show. Some of them include Moonlight's Alex Hibber, Straight Outta Compton's Jason Mitchell, The Get Down's Yolanda Ross, and Sleight's Jacob Latimore.
Those aren't the only names attached to the project though: fellow Chicagoan Common will be co-executive producing alongside Waithe. Plus, the premiere episode of the Showtime series is being directed by Rick Famuyiwa, who helmed 2015's Dope.
As for the narrative, the series will provide a deeper look into the connected lives of those South Siders who live in one of the most sensationalized regions of the U.S., as Chicagoist reports. As Showtime describes it, The Chi will be "Exploring the humanity beneath the headlines sensationalizing the South Side of Chicago, 'The Chi' is a coming-of-age story centering on a group of residents who become linked by coincidence but bonded by the need for connection and redemption."
One castmember, Ntare Guma Mbaho Mwine, best known for her role on Treme, elaborated on the show's premise to the Chicago Tribune, saying, "When Lena wins (an Emmy), or when you think of Michelle Obama — they're considered outliers. But they're not. These are people who are from this soil. We think of the exception as the 'other,' but the exception is part of this world. So for me, the only goal is that the show resonates with the folks not just on the South Side but all of Chicago — as Treme did for folks from New Orleans. I'll be very happy if that happens. But that's a big challenge to meet."
Take a look at the trailer below.
Related: Lena Waithe: There Are More Donald Glovers, Sterling K. Browns, and Lena Waithes Out There
Ashley Graham, Self-Described Body Activist, Explores the Weird World of ASMR: