Lena Waithe: There Are More Donald Glovers, Sterling K. Browns, and Lena Waithes Out There
"It's about finding new voices of color," says the history-making award winner in a new post-Emmys interview with W.
---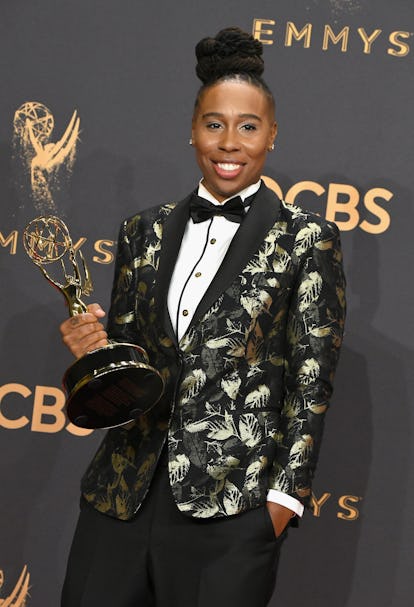 Photo by Steve Granitz/WireImage
When Lena Waithe accepted her Emmy Award for Outstanding Writing in a Comedy Series with her Master of None co-writer Aziz Ansari on Sunday night, she began in disbelief ("Wow, wow, wow") and concluded by saying: "And for everybody out there that showed so much love for this episode, thank you for embracing us, a little Indian boy from South Carolina and little queer black girl from the South Side of Chicago. We appreciate it more than you could ever know."
Master of None is a show filled with personal stories culled from its writers' own experiences, but no episode felt more personal than last season's "Thanksgiving." Spanning several Thanksgivings over several decades, the episode follows Denise, played by Waithe, from youth to adulthood as she grapples with her sexuality, eventually coming out as lesbian to Aziz Ansari's Dev and, in a particularly difficult conversation, her mother, played by the brilliant Angela Bassett. The episode is a powerful depiction of Waithe's own coming out to a household of headstrong, black matriarchs. So at the Emmys, when Waithe became the first black woman to win in the category of comedy writing (she was also the first to be nominated), it was a breakthrough moment not only for her, but for so many others whose work and whose stories the industry so often overlooks.
"I was concerned that the moment was not just about me, because it was so much bigger than me," she said yesterday afternoon from Los Angeles. "I knew I wanted to speak from the heart and I knew I wanted to share that moment with brown people, queer people, people that have been othered, women, women of color who write comedy that came before me, that stand next to me, that will come after me."
Given the episode's impact and resonance, it's hard to believe that this is a story Waithe never thought she would tell. In early talks for the proposed "Denise episode" for Season 2, Waithe was recounting stories about her girlfriend to co-creators Aziz Ansari and Alan Yang, expecting the result to be a very Master of None-esque relationship episode. That's when Yang asked Waithe about her coming out story.
"They were like, 'That's amazing, we want to focus on that!'" she recalled. "And I was like, 'Cool! Y'all go write it and let me know where to show up.'" But Ansari insisted that Waithe, who'd never written for the show, co-write the episode. He even flew to London, where she was filming Steven Spielberg's Ready Player One, to accommodate her schedule. According to Waithe, they wrote the whole thing in a hotel room in three days—and what they wrote is exactly what wound up onscreen. "We literally poured our hearts, our minds, our souls, our guts onto the page and we felt it," she said. "For people to embrace it enough for it to win an Emmy, it's icing on the cake."
Waithe wasn't the only Emmy winner to make history on Sunday. Sterling K. Brown became the first black actor to nab a statue for outstanding lead actor in nearly two decades for his performance in This is Us, Donald Glover became the first African-American to win for directing a comedy, and Riz Ahmed became the first South Asian man to win an Emmy for acting. And while some think the Television Academy has been a little too busy patting itself on the back for a more diverse pool of nominees and winners, Waithe believes it's important to enjoy this moment. "I think we should celebrate it and we should give the Academy a little bit of credit, because that's where the change happens," she said, adding, "But I do think we as a business still have to keep working, and not say, 'That's cool, we'll always go to Lena for this.' It's about finding new voices of color and new diverse voices and really walking the walk. There are a lot of Donalds, there are a lot of Sterlings, and there are a lot of me's out there."
Naturally, Waithe, whose next project is a Showtime series she wrote and executive produced called The Chi, did some celebrating after the ceremony, stopping by the Governor's Ball before heading to, where else, the Netflix party. "They let me have, like, a plus-10," she said. "So all my homies were there and we partied so hard that I didn't go anywhere else. Literally, Netflix wore me out. Me and my girlfriend went home, took off our fancy clothes and just hung out."
As for the Emmy statue itself, Waithe has put it in the most appropriate place imaginable. "Right now it's in my office, sitting on a shelf next to a sketch of Beyoncé."