Meet Lennon Gallagher, Liam Gallagher's 17-Year-Old Son and the Face of Pharrell's New G-Star Campaign
The only member of the Gallagher clan his father can stand, probably.
---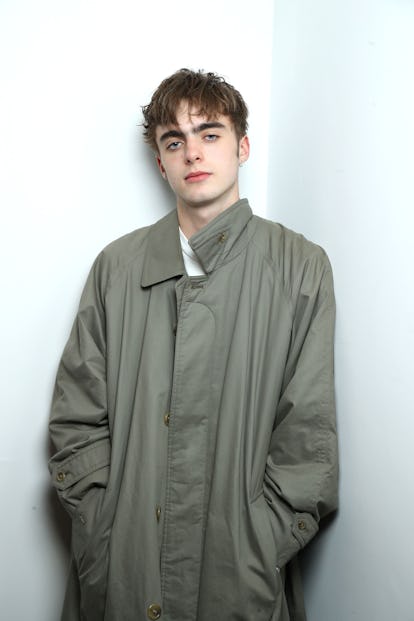 Mike Marsland/Getty Images
It takes a lot to earn the approval of famous grouch Liam Gallagher—even if you're in the former Oasis lead singer's family. His famed feud with his brother Noel, for example, dates back to when Liam was just 15, after he decided to pee all over Noel's new sound system.
So because Liam is far better known for his Twitter excoriations than for his generosity, it caught the eye when he tweeted recently, "Lennon Gallagher rules." It may seem a simple enough brag from a father about his 17-year-old son, but Liam's endorsement is never perfunctory—and his boast is backed up, now, by Pharrell, who in his capacity as the creative director of G-Star Raw tapped the teen Gallagher, an aspiring actor-turned-model, to be one of the brand's latest faces.
The Dutch denim label's new fall 2017 campaign, shot by Collier Schorr, puts Gallagher alongside Adwoa Aboah, Jean Campbell, and, yes, Pharrell himself. (It's a big break for any up-and-comer, but especially for a campaign that claims to be about "the people [you] surround yourself with.")
Per his Instagram, it appears that young Lennon Gallagher often surrounds himself with his girlfriend (he also enjoys a smoke), but behind the scenes, he's busy becoming a serious model: Now signed to DNA Models in New York and Models 1 in the U.K., Gallagher made his debut at London Fashion Week Men's on the runway for Topman earlier this year, and walked again earlier this summer for MSGM—before going on to star in MSGM's fall 2017 campaign, shot by Alasdair McLellan and cast by Anita Bitton, Marc Jacobs's longtime casting director.
But when earlier this summer Gallagher appeared as one of the covers of the fifth issue of Buffalo Zine (Pamela Anderson was one of the other cover stars) wearing a gray Blur t-shirt, he did manage to incur dad's disapproval.
Blur, you see, was a famous rival of Oasis back in the day, so when Liam appeared on his own magazine cover in May, he took the opportunity to ever so slightly slam his son's: "Everyone makes fashion mistakes, and I'm sure that's his first one," he told NME, as he dropped a print-out of the image to the floor.
"He didn't say anything," Liam went on. "He didn't tell me. My other kid told me. He said 'dad, what the f—'s all this about?' I said 'I dunno, fashion for you, innit?' Could be worse though."
Still, Liam added, "Good-looking kid. Takes after his dad."
Related: Lexi Jones, David Bowie and Iman's 17-Year-Old Daughter, Sure Knows How to Rock a Septum Piercing
See W's most popular videos: