Leon Bridges Talks Grammy Nomination and Kendrick Lamar
The musician on meeting Kendrick Lamar, Saturday Night Live and Will Smith's Concussion.
---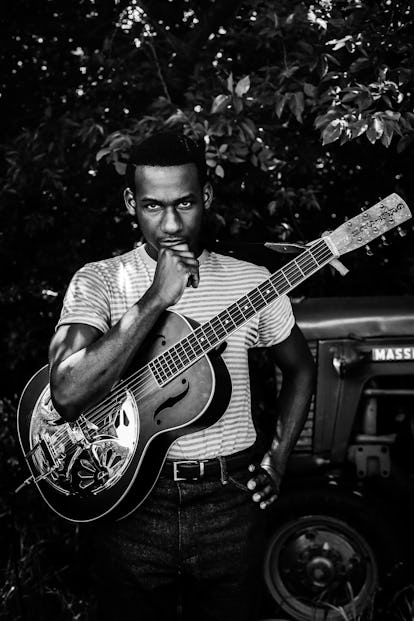 Soul Singer Leon Bridges maintained his signature cool when he found out he'd been nominated for his first Grammy award for his debut Coming Home, listed alongside legends like D'Angelo in the best R&B album category. But speaking on the phone on the night of the news, he couldn't restrain himself from geeking out about what Grammy night might actually mean: meeting Kendrick Lamar and Drake. The 26-year-old confessed he would really, really like to meet Drizzy. On a streak lately after performing on Saturday Night Live, Bridges spoke from the road as he's crossing the country on his new tour.
Congratulations, you must be thrilled. Yeah, I totally didn't expect this, so I'm on cloud nine right now.
Where were you when you found out that you were nominated? We were leaving Bloomington, Indiana. I didn't think that the results would come in that early in the morning. My guitar-player, Austin, he told me. I'm really a low-key person, even when I get the most amazing news. It was one of those surreal moments. I was just speechless. I never thought that I could get nominated for a Grammy.
Did you call your mom? She found out about it as I was texting her. She beat me to the punch.
Who are you excited to meet when you go to the Grammys? There are lots of people, but I really want to meet Kendrick Lamar. And, I mean, Drake would be awesome.
What would you say to Drake? I'd tell him I love his music.
Can you do the "Hotline Bling" dance? No, I haven't tried.
If you're stuck in a room with Nicki Minaj, would you go up to her__?__ I'd be too nervous. I'd be scared.
What are you going to wear? Are you going to maintain your signature look or go for something different? I want to keep it classic, but I might go with some Sandro, Paris stuff. I really like their suits.
You've been on tour—any standout moments? Performing on SNL was a great experience. It was a really cool vibe. All the skits were really funny and I felt confident in all my performances. It was nice meeting all the comedians. But I was nervous. Everything that I do now has to be spot-on because people are watching and expecting something good.
You also just wrote a song for the new Will Smith movie, Concussion. What was that process like? I just got my acoustic guitar and went at it. The song comes from a personal place, with people back in my hometown saying I don't deserve to be where I'm at because I haven't been working as long as others. That's what the song comes from.
Do you really believe you don't deserve your success? No, I don't think that, but that's what some people back home say. The song is like, 'I love where I'm from, but maybe I need to leave because I don't feel the love anymore.' I'm not going to leave, but that's how I was feeling at a certain point in life.