Leonardo DiCaprio, Brad Pitt, and Quentin Tarantino's Movie: Everything We Know So Far
Margot Robbie might join them.
---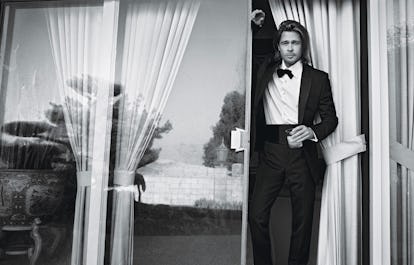 Mario Sorrenti
It's been one of the most talked about potential Hollywood projects for months, and now it's official. Quentin Tarantino is bringing Leonardo DiCaprio and Brad Pitt together (for the first time in a feature, mind you) for his next project Once Upon A Time In Hollywood. Tarantino has also reportedly approached Margot Robbie to join them in his first post-Weinstein film, but we imagine she's probably waiting until at least after Sunday's Oscars before signing on to anything new.
There's been a lot of rumors about what the film will exactly entail, with the earliest buzz painting it as Tarantino's definitive take on the Charles Manson murders. Though that would be about as accurate as calling Inglourious Basterds his definitive take on Hitler. Neither Pitt nor DiCaprio will be playing the cult leader and murderer, but the film will be set in Los Angeles in 1969 and Robbie's part, should she accept, would be Sharon Tate, the Manson Family's most famous victim. Pitt and DiCaprio, however, will be playing two showbiz vets still struggling to survive in Hollywood, and interesting choice for the men who are almost inarguable's the towns most famous actors.
Here's everything we know so far.
Leo and Brad play Rick and Cliff, Hollywood has-beens.
DiCaprio will play Rick Dalton, the former star of a Western-themed television show who is now washed up and struggling to figure out a path forward in new Hollywood. Pitt, meanwhile, plays Cliff Booth, who used to be Dalton's stunt double on the show. Likewise, he's been wayward sense.
Westerns will have a big influence on the film.
DiCaprio's role as a Western star doesn't seem random. The film's title, Once Upon a Time in Hollywood, is a direct reference to Sergio Leone's famed Spaghetti Westerns Once Upon A Time In America and Once Upon A Time In The West, according to Deadline. Tarantino has long found inspiration in the work of Leone, and has a habit of adding a Western-inspired twist to even his non-Western films.
Yes, Tom Cruise was reportedly in discussions.
It's long been reported that Cruise was also in talks for a role in the film, which certainly seemed intriguing. The superstar's career is certainly in a precarious place at the moment, and Tarantino is famed for reviving and redefining fledgling careers (most famously with Cruise's Scientology cohort John Travolta). Though, it appears Cruise was under consideration for one of the roles that ultimately went to DiCaprio and Pitt.
The Manson connection is all about real estate.
You might be wondering how two fading stars relate to the Manson murders and Sharon Tate, but DiCaprio's character happens to be next door neighbors with Tate.
It also marks Tarantino's return to Los Angeles as a primary setting.
Tarantino grew up in Los Angeles and the metropolis was the main setting of his first three films Reservoir Dogs, Pulp Fiction and Jackie Brown. The city made an appearance in the Kill Bill films, but Tarantino hasn't revisited it cinematically since. Once Upon a Time in Hollywood marks his grand return, and he's excited about it.
"I've been working on this script for five years, as well as living in Los Angeles County most of my life, including in 1969, when I was seven years old," the director said in a statement." I'm very excited to tell this story of an LA and a Hollywood that don't exist anymore. And I couldn't be happier about the dynamic teaming of DiCaprio & Pitt as Rick & Cliff."
This marks Leo and Brad's first onscreen team-up in an actual film.
Both DiCaprio and Pitt have worked with Tarantino before, but the pair have never shared a marquee with each other. Though, they did star in a short Martin Scorsese-directed film that was commissioned to celebrate a resort and casino opening in China.
There's no indication if or how the #MeToo movement may affect anything.
Tarantino has been under fire lately after Uma Thurman came forward with a story about her injury on the set of Kill Bill, but she says she since made peace with the director. This is also Tarantino's first film after cutting ties with his long association with Harvey Weinstein (Sony is his new home). There're also rumors that director Roman Polanski, who hasn't set foot in America in the decades following his 1977 rape of a 13-year-old girl, may be a character in the film. Which wouldn't be a stretch considering Polanski was married to Tate at the time of her murder. Tarantino has also had to apologize for his 2003 remarks in which he defended Polanski.
Tarantino said he's been working on the script for five years, so clearly it wasn't envisioned as a reaction to or comment on recent societal developments, but certainly the film will be received with an eye towards those developments.
Oh, and there's already a release date.
August 9, 2019. Not incidentally, it marks the 50th anniversary of the Manson family's LaBianca murders, and a day after the anniversary of the Tate murder.
Related: Can Quentin Tarantino Do For Star Trek What He Did for John Travolta's Career?