Leonardo DiCaprio's "Homemade Fanny Pack" Was an Accidental High Fashion Statement
Leonardo DiCaprio, Hollywood's king of no-nonsense brocore dressing, accidentally rocked a look that looked ripped straight from Patrik Ervell's runway.
---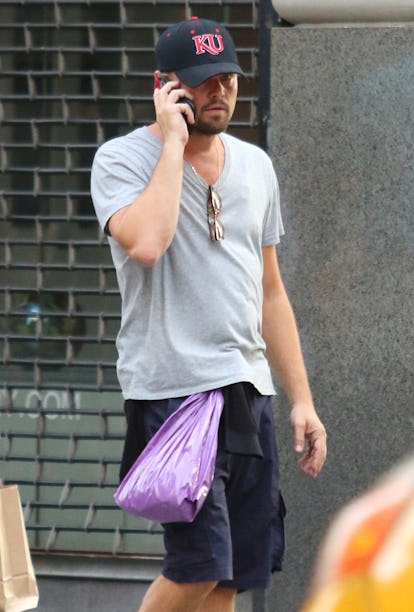 Splash News
For all of his talents, one thing Leonardo DiCaprio is not known for is his personal style. Sure, he cleans up rather nicely on the red carpet in a classic tuxedo, but in his downtime DiCaprio is notoriously "anti-fashion." His closet mainstays seem to be baggy cargo shorts, loose t-shirts, plaid button-ups, Kangols and backward baseball caps, Birkenstocks and utilitarian sneakers.
Oh, and fanny packs. The man is quite a fan of fanny packs.
Not that there's anything wrong with that, per se, it's just that DiCaprio is not one you'd expect rocking the latest high fashion trends while out and about. He's more basic bro, less Balenciaga.
Yet, even the less fashionable accidentally wind up on trend every once in a while.
Indeed, the Oscar winner was caught walking around New York City's East Village on Saturday with what Page Six dubbed a "homemade fanny pack." It was quite literally a plastic purple shopping bag looped around a belt that was also holding up his navy blue cargo shorts.
One would not expect this to be a look at the cutting edge of fashion, and, yet, as it turns out, it actually is.
Indeed, just days before DiCaprio was sporting the look, Patrik Ervell, one of New York's most acclaimed young menswear designers, sent similar belt loop bags down the runway during New York Fashion Week: Men's. Ervell's were just as brightly colored as the actor's, but his designer version were made out of nylon (a theme in his Spring/Summer 2018 collection).
In fact, though DiCaprio seems to scorn high fashion in his personal life, he might actually find a lot more in the latest Ervell collection that he'd enjoy. There's baggy short (though, sans cargo pockets and made out of polyurethane leather and other athleisure-like materials), roomy, breathable t-shirts, the types of windbreakers and athletic jackets DiCaprio favors when it's a bit breezier out, and, yes, even utilitarian sneakers. (There weren't any baseball caps on the runway, but Ervell does sell them online.
Perhaps Ervell is as suited as any designer to inspire DiCaprio to add a bit more flair to his daily wardrobe. Coincidences like these happen for a reason after all. And, yet, we think DiCaprio will likely stick with his regular bro-core outfits. Which, hey, is a power dressing move all its own.
Related: Leonardo DiCaprio Is Developing Two New Projects, and They're Both True-Crime Dramas
Leonardo DiCaprio's Notorious Dating History:
Leonardo DiCaprio's Evolution from Teen Heartthrob to Oscar-Winning Actor
The actor's career began to take of with his role in 'What's Eating Gilbert Grape' in 1993. At the Hollywood premiere he gave complete '90s layering style with opting for a black suede jacket, black t-shirt, under a black knit sweater, tucked into blue slacks with a tan cut belt.

Getty Images/WireImage
DiCaprio stole the hearts of many teenage girls in a prom-ready black three-piece suit and colorless button-down shirt at the 51st Annual Golden Globes.

Getty Images/WireImage
At his 1996 premiere for Romeo and Juliet, the actor turned heads as he walked the red carpet with his girlfriend and co-star Claire Danes. He looked cool and relaxed in a navy blue four-button satin suit with a plain white button down shirt, with the first few buttons left undone.

Getty Images/WireImage
At the Hollywood premiere of his career-changing film Titanic, Leonardo DiCaprio debuted what would soon become his sartorial red carpet style. Dressed in a navy pantsuit, with a silver silk button-down and a dark grey tie, the actor looked dapper and fresh.

Getty Images/WireImage
At the 55th Golden Globes, the actor went for a classic tuxedo, a vest, and a bow tie.

Getty Images/WireImage
At the 2002 Gangs of New York premiere, DiCaprio not only debuted his new film but also a mature red carpet suit style. He opted for a charcoal grey tailored suit, white button-down and antique gold tie for a more "grown-up" look.

Getty Images/FilmMagic
Off the red carpet, DiCaprio likes to keep his looks simple and comfy. At the New York premiere of George Butler's Going Upriver: The Long War of John Kerry he paired his dark blue denim jeans with a white Kerry & Edward graphic T-shirt, black open shirt and a pair of grey Nike sneakers. He completed this relaxed look with a backward styled baseball cap.

Getty Images
A couple months later, the actor returned to his formal red carpet look at the premiere of his film The Aviator. He looked quit dashing styled in his go-to black suit look paired with a white button down and grey tie.

Getty Images/FilmMagic
Exuding classic elegance in a black tuxedo look with perfectly coiffed hair, DiCaprio owned the red carpet of the 77th Annual Academy Awards.

Getty Images/WireImage
Leonardo DiCaprio fused his relaxed off-duty style with his red carpet sartorial as he posed for the Body of Lies photocall in Paris in 2008. He made a navy blue V-neck sweater look super chic by pairing it with striped gray slacks and black leather dress shoes.

WireImage
The actor looked incredibly handsome and well dressed in a black suit look with a polka dot blue tie, as he posed on the red carpet of the L.A. premiere of Revolutionary Road.

Getty Images/WireImage
DiCaprio wore a patterned gray blazer, relaxed white button-down shirt and gray slacks for a more stylish look at the 12th Annual AFI Awards in 2012.

Getty Images
At the 2010 world premiere of his film Inception, Leonardo DiCaprio looks debonair dressed in yet another black suit paired with a black and white striped tie.

Getty Images/WireImage
Spotted walking the streets of New York in October 2013, Leonardo DiCaprio reverts back to his basic street style. Pairing a navy crewneck sweater with light blue denim jeans, blue slip on sneakers and gray ivy cap, allowed him to stroll the city incognito.

Getty Images/FilmMagic
At the 7th Annual Oceana's Annual SeaChange party, DiCaprio added a pair of casual sneakers and a beard to a tailored black suit.

Getty Images/FilmMagic
DiCaprio looked suave as he arrived to the 2015 premiere of his film The Revenant in a black suit paired with a white and black graphic polka dot tie.

Getty Images
The actor looked like Hollywood royalty dressed in an elegant black tux for the 88th Annual Academy Awards. He completed his look with a black bow tie and shiny patent leather oxfords–and an Oscar.

Getty Images/WireImage